Watch: As Joe Biden remembers Capitol riots, he forgets its date in latest gaffe
Jan 07, 2023 01:28 PM IST
Joe Biden Latest Gaffe: Joe Biden said, "It's not an exaggeration to say that America owes you, owes you all, and I really mean this, a debt of gratitude."
On the second anniversary of the Capitol Hill riots, US president Joe Biden awarded the "Presidential Citizens Medal" to those who defended the building and lawmakers when the attack took place at a ceremony. But during the speech, Joe Biden mistakenly said the wrong date for the attack.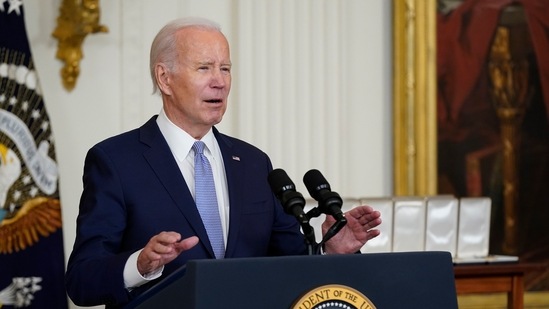 Read more: Video of South Sudan's president wetting himself goes viral. Then this happened
"It's not an exaggeration to say that America owes you, owes you all, and I really mean this, a debt of gratitude. One we can never fully repay, unless we live up to what you did," Joe Biden said in a video widely shared video on social media.
"If I can halt for a second, and just say to you, the impact of what happened on July the 6th had international repercussions beyond what any of you I think can fully understand," he said with the wrong date.
During the ceremony, Joe Biden awarded 14 medals, saying, "Despite our differences in opinion, we must say clearly with a united voice...there's no place, zero, zero place in America for voter intimidation...for political violence."
Targeting former president Donald Trump and the Republicans, Joe Biden said,
"All of it was fueled by lies about the 2020 election but on this day two years ago our democracy held because we the people...did not flinch. History will remember your names..remember your courage and remember your bravery."