Pakistan puts Nawaz Sharif, daughter Maryam on exit control list
Hindustan Times, Islamabad |
Imtiaz Ahmad
Jul 10, 2018 10:32 PM IST
The move means that Nawaz Sharif and his daughter Maryam will be allowed into Pakistan but they will be unable to leave once they land.
Three days ahead of their likely arrival, Pakistan's interior ministry has placed the names of former prime minister Nawaz Sharif and his daughter Maryam Nawaz on the country's Exit Control List. This means that while they will be allowed into the country, they will be unable to leave once they land. As things stand, the caretaker government has said that both would be arrested on arrival.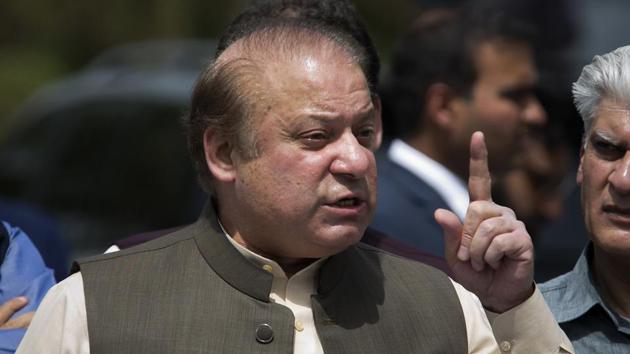 The Sharifs have announced that they would be arriving in Pakistan on July 13. The former premier and his daughter have been in London since June 15. They had gone to spend time with Sharif's wife Begum Kulsoom Nawaz, who is suffering from cancer. A day before their arrival in London, Begum Kulsoom suffered a cardiac arrest and has since been on life support at the Harley Street Clinic.
In a related incident, an angry mob tried to attack Nawaz Sharif as he was entering his son's residence in Avenfield House on Sunday. Video footage showed a group of youth trying to break into the building and hurling abuses at Sharif. One protester threw a shopping cart at a member of the Pakistan Muslim League-Nawaz's UK chapter while another was seen hurling eggs at the door.
Another video showed dozens of people holding the Pakistan Tehreek-i-Insaf (PTI) flags protesting and chanting slogans outside the building. Local media reported that shortly after the incident, the Metropolitan Police reached the luxury housing area and started a search of vehicles parked nearby. They, however, made no arrests, saying the Sharif family had not lodged any complaint.
Maryam Nawaz termed the attack part of what she called an ongoing escalation being propagated by the PTI and its chairman Imran Khan. "The kind of language being used by Imran Khan himself in his campaign as well as this attack are all part of the same process which indicates a lack of training in the leader as well as his followers," Maryam told journalists outside Harley Street Clinic where her mother is under treatment.
The PTI's UK chapter distanced itself from the attack and said there was no truth in the accusation the party's workers were behind the incident. "We are not associated in any way with the attack on Hussain Nawaz's residence or the related protest," the party's UK spokesperson was quoted as saying.