Ukraine war highlights: US Prez Biden announces new security aid for Ukraine
May 07, 2022 04:24 AM IST
Highlights: Ukraine and Russia said fighting had been heavy across the south and east over the past day.
Highlights: Scores of Ukrainians remained trapped on Thursday in a Mariupol steel works that has been rocked by heavy explosions as Russian forces fought for control of Ukraine's last stronghold in the ruined city and the United Nations rushed to evacuate civilians.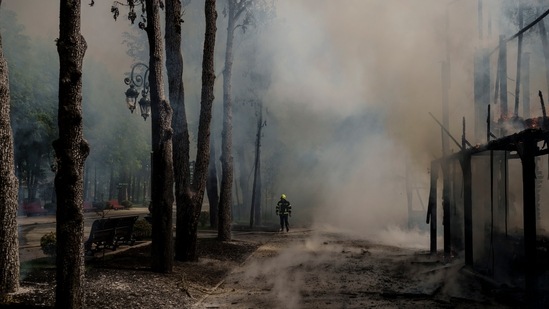 As the war entered its 72nd on Friday, Ukrainian President Volodymyr Zelensky said more civilians had been rescued from Mariupol but Russia was shelling the Azovstal steel plant where an estimated 200 civilians were still in underground bunkers with little food or water.
Meanwhile, sweeping sanctions from Washington and European allies have hobbled Russia's $1.8 trillion economy, while billions of dollars worth of military aid has helped Ukraine frustrate the invasion. European Union countries are "almost there" in agreeing the bloc's proposed new package of sanctions against Russia, including an oil embargo, EU foreign policy chief Josep Borrell said.
Russia calls its actions a "special military operation" to disarm Ukraine and protect it from fascists. Ukraine and the West say the fascist allegation is baseless and that the war is an unprovoked act of aggression.
More than 5 million Ukrainians have fled abroad since the start of the invasion.
Follow all the updates here:
May 07, 2022 02:56 AM IST

US Prez Biden announces new security aid for Ukraine

United States President Joe Biden on Friday announced new security aid for Ukraine.

May 07, 2022 01:19 AM IST

50 more civilians rescued from Mariupol steel plant

Fifty more civilians, including 11 children, were rescued on Friday from the tunnels under the Azovstal steel plant in Mariupol, where Ukrainian fighters have been making their last stand to prevent Russia's complete takeover of the strategically important port city.

May 06, 2022 11:22 PM IST

Report that US intelligence aided Ukraine not accurate: White House

The White House clarified on Friday that that a report which stated that United States intelligence aided Ukraine was not accurate.

May 06, 2022 10:55 PM IST

Remain deeply concerned about worsening situation in Ukraine: India at UN

India on Friday said it remained deeply concerned about the worsening situation in Ukraine and reiterated its call for an immediate cessation of violence and end to hostilities. Pratik Mathur, counsellor at India's Permanent Mission to United Nations, "We believe that no solution can be arrived at by shedding blood and at the cost of innocent lives. We have emphasised right from the beginning of the conflict that the path of diplomacy and dialogue should be the only viable option." Read more

May 06, 2022 10:17 PM IST

Zelensky says he invited German chancellor to visit Kyiv on May 9

Ukrainian President Volodymyr Zelensky said Friday he had invited Chancellor Olaf Scholz to Kyiv for the May 9 holiday marking the end of World War II, after the German leader declined to commit to a visit. Scholz's government has been accused of being slow to help arm Ukraine and he and German President Frank-Walter Steinmeier long backed closer energy ties with Russia. Ukraine declined a proposed visit by Steinmeier last month.

May 06, 2022 09:57 PM IST

Didn't help Ukraine in sinking Russian warship Moskva, says Pentagon

The Pentagon on Friday denied reports that it helped Ukrainian forces sink the Russian warship Moskva in the Black Sea last month in a stunning setback for Moscow's invasion. "We did not provide Ukraine with specific targeting information for the Moskva," Pentagon spokesman John Kirby said in a statement.

May 06, 2022 09:10 PM IST

Russian firing hampers rescue of Mariupol civilians, say Ukrainian officials

Ukrainian officials accused Russia of violating a ceasefire on Friday aimed at evacuating scores of civilians trapped in a bombed-out steelworks in the city of Mariupol, after fighting thwarted efforts to rescue them the previous day, Reuters reported. Mariupol, a strategic southern port on the Azov Sea, has endured the most destructive siege of the 10-week-old war, and the sprawling Soviet-era Azovstal plant is the last part of the city still in the hands of Ukrainian fighters.

May 06, 2022 08:41 PM IST

Shell Will Sell Russia Fuel Stations as Part of Exit Plan

Shell Plc is in talks to sell its fuel stations in Russia as it withdraws from the country in response to the invasion of Ukraine, Bloomberg reported. "We can confirm the ongoing negotiations on the sale of Shell Neft, which owns a retail network and lubricants plant which is located in Torzhok," Shell's press office said in a statement. "Our key priority is safety of our people and operations, maintaining employment and compliance with the Russian legislation.

May 06, 2022 08:20 PM IST

Russia to stay in southern Ukraine 'forever', says senior lawmaker

A senior official from the Russian parliament said Friday that Russia will remain in southern Ukraine "forever", speaking on a visit to the Moscow-controlled city of Kherson, AFP reported. "Russia is here forever. There should be no doubt about this. There will be no return to the past," Andrey Turchak said, according to a statement from the ruling United Russia party.

May 06, 2022 07:38 PM IST

G-7 leaders to discuss potential new sanctions against Russia

Group of Seven leaders will discuss potential new sanctions against Russia over its war in Ukraine on Sunday, according to people familiar with the plan. The call will give the countries the opportunity to coordinate -- and potentially finalize -- any new measures, said one of the people.

May 06, 2022 07:23 PM IST

PzH 2000 Howitzers: How Germany is arming Ukraine with most potent weapon | Watch

Amid the Russia-Ukraine conflict, Germany has now joined the West in its bid to modernise the Ukrainian military. German Defense Minister Christine Lambrecht has announced that his nation will supply Ukraine with seven self-propelled armored howitzers. Watch full video

May 06, 2022 06:56 PM IST

Pope Francis says Russia's war in Ukraine is particularly "barbarous"

Pope Francis says Russia's war in Ukraine is particularly "barbarous" given that it involves Christians killing fellow Christians in a scandal that should drive the faithful toward unity, AP reported. Speaking to members of the Vatican office that promotes Christian unity among Catholics, Orthodox and other Christian churches, Francis said Christians should ask themselves what they have done and can do to foster fraternity with one another.

May 06, 2022 06:24 PM IST

Watch: Europe's Russian oil embargo hits roadblock: Hungary balks, calls it 'red line'

The European Union's proposal to embargo Russian oil by the end of 2022 has kicked up a storm. After Hungary and Slovakia showed resistance to join the plan, the European Union is now planning tweaks to its proposal. A ban on Russian oil, essentially means that the 27 member political and economic bloc will move to non-Russian sources of crude oil. Watch full video

May 06, 2022 05:59 PM IST

Russia thinks it can escape war crimes prosecution because of nuclear threat: Zelensky

Ukrainian president Volodymyr Zelensky says Russia thinks it can escape war crimes prosecution because of nuclear threat, Reuters reported.

May 06, 2022 05:47 PM IST

Ukraine finance minister wants total embargo on Russian oil and gas

Ukrainian Finance Minister Serhiy Marchenko said on Friday that current international sanctons against Russia over the war in Ukraine were not enough and called for a full embargo on Russian oil and gas, Reuters reported.

May 06, 2022 05:14 PM IST

WHO members want Moscow office shut over Ukraine

The World Health Organization's European office will next week consider a resolution calling for the closure of a specialised WHO office in Moscow over Russia's invasion of Ukraine, the health body said Friday. A two-day special session of the UN health agency's regional office for Europe has been called for May 10 to discuss the issue, AFP reported.

May 06, 2022 04:58 PM IST

Nearly 25 million tonnes of grain stuck in Ukraine, says UN food agency: Report

Nearly 25 million tonnes of grains are stuck in Ukraine and unable to leave the country due to infrastructure challenges and blocked Black Sea ports including Mariupol, Reuters quoted a U.N. food agency official.

The blockages are seen as a factor behind high food prices which hit a record high in March in the wake of Russia's invasion of Ukraine, before easing slightly in April, the FAO said on Friday.

May 06, 2022 04:39 PM IST

More civilians rescued from Mariupol steelworks, says Ukraine

More civilians have been rescued from the tunnels under a besieged steel plant in Mariupol, a Ukrainian official said Friday, even as fighters holed up at the sprawling complex made their last stand to prevent Moscow's complete takeover of the strategic port city, AP reported.

May 06, 2022 04:15 PM IST

Russia says allegation it is stealing grain from Ukraine likely 'fake'

Information that Russia is stealing grain from Ukraine is likely to be fake, Kremlin spokesman Dmitry Peskov said on Friday, after a U.N. food agency official said there were signs that Russia had been trucking grain out of occupied regions of its neighbour, Reuters reported.

"We have no information, it appears to be fake," Peskov said.

May 06, 2022 03:54 PM IST

Poland could be a 'source of threat', says Kremlin

Kremlin spokesperson Dmitry Peskov said on Friday that there was hostile rhetoric coming out of Poland, and that Warsaw could be "a source of threat", Reuters reported. Poland has led calls for the EU to toughen sanctions and for the Western NATO alliance to arm Ukraine as it tries to resist Russian forces that have poured into its east.

May 06, 2022 03:38 PM IST

Compelling evidence to prove Russia committed war crimes in Ukraine, says Amnesty

Amnesty International said on Friday there was compelling evidence that Russian troops had committed war crimes, including extrajudicial executions of civilians, when they occupied an area outside Ukraine's capital in February and March, Reuters reported. Civilians also suffered abuses such as "reckless shootings and torture" at the hands of Russian forces during their failed onslaught on Kyiv in the early stages of the invasion launched by the Kremlin on Feb. 24, the rights group said in a report.

May 06, 2022 03:24 PM IST

'Russia lost 24,900 troops, 1,110 tanks:' Ukrainian govt claims on Russian losses

Ukraine's foreign ministry claims Russia lost nearly 25,000 troops, 1,110 tanks in the war since February 24. Full report

May 06, 2022 03:09 PM IST

Anti-Kremlin journalist fined one lakh roubles for 'discrediting' Russian army amid Ukraine war

An anti-Kremlin Russian journalist and municipal deputy said Friday he faced a fine of up to 100,000 rubles for discrediting the army amid Moscow's military campaign in Ukraine, AFP reported.

Ilya Azar said authorities had opened an administrative case against him "for discrediting the use of Russia's armed forces in order to protect the interests of the Russian Federation and its citizens, to maintain international peace".

May 06, 2022 02:44 PM IST

Won't use nuclear weapons in Ukraine, says Russia

Russia will not use nuclear weapons in Ukraine, foreign ministry spokesman Alexei Zaitsev said on Friday. Zaitsev told reporters the use of nuclear weapons by Russia - a risk that Western officials have publicly discussed - was not applicable to what Moscow calls its special military operation in Ukraine.

May 06, 2022 02:20 PM IST

We want Ukraine to win this war, says European Commission chief

European Commission president Ursula von der Leyen said the bloc's place is at Ukraine's side. "We want Ukraine to win this war," Reuters quoted Leyens.

May 06, 2022 01:59 PM IST

Elton John visits Mariupol, appeals for 'a full humanitarian corridor'

As the Russian invasion of Ukraine entered day 73, Celebrity singer Elton John paid a visit to Mariupol on Thursday to take a look at the evacuation of civilians in the port-city. "I've been to Mariupol and I am heartbroken to see that access is still limited. A full humanitarian corridor is essential to save life," the 75-year-old said as per the ministry of foreign affairs of Ukraine. Mariupol, a key connection to the Black Sea, has been a target since the start of the war on Feb. 24, when Russian President Vladimir Putin launched what he calls a "special military operation" to demilitarise and "denazify" Ukraine.

May 06, 2022 01:14 PM IST

Russia says it shot down 2 Ukrainian war planes: report

Russia's defence ministry says its air defences shot down two Ukrainian warplanes, Reuters reported quoting TAS media outlet.

May 06, 2022 12:33 PM IST

Ukraine says UN-led Mariupol mission rescues 'almost 500 civilians'

Almost 500 civilians have been evacuated from the devastated city of Mariupol and its besieged Azovstal steel plant in a UN-led rescue operation, the Ukrainian president's office said Friday.

May 06, 2022 10:48 AM IST

UK says Russia continued ground assault on Azovstal steel plant for 2nd day

Russian forces in Ukraine's Mariupol continued their ground assault on the Azovstal steel plant for a second day, British military intelligence said in a tweet on Friday.

Ukrainian President Volodymyr Zelensky said in a video address on Thursday that Russian forces were still storming and shelling the Soviet-era Azovstal plant, where civilians and military forces are sheltering.

May 06, 2022 10:02 AM IST

Mariupol factory ceasefire in doubt, reports AFP

The Russian military had announced a three-day ceasefire starting Thursday at the besieged Azovstal steelworks in the southern port city of Mariupol, where Ukrainian forces are making a last stand.

But a commander of the Azov regiment which is defending it says in a video on Telegram that "heavy bloody fighting continues", accusing Russia of violating its promise of a ceasefire.

President Vladimir Putin says the Russian army is "still ready" to give safe passage to civilians trapped at Azovstal.

"As for the militants remaining at Azovstal, the Kyiv authorities must give them an order to lay down their arms," the Kremlin quotes Putin as saying.

May 06, 2022 08:53 AM IST

No winning side in Russia-Ukraine conflict: India tells UNSC

Asserting that there will be no winning side in the Russia-Ukraine conflict, India has told the UN Security Council that diplomacy will be a lasting casualty while underscoring the immediate need to evacuate innocent civilians from areas witnessing intense fighting in Ukraine.

Speaking at the UNSC briefing on Ukraine on Thursday, India's Permanent Representative to the UN Ambassador T S Tirumurti said India remains on the side of peace, news agency PTI reported.

May 06, 2022 07:38 AM IST

US assures Sweden, Finland amid Russian threat over NATO application

The United States is confident it can address any security concerns Sweden and Finland may have about the period of time after they apply for NATO membership and before they are accepted into the alliance, the White House said on Thursday.

Sweden and Finland are concerned they would be vulnerable to Russian threats during an application process, which could take up to a year to be approved by all 30 NATO members.

May 06, 2022 07:05 AM IST

3rd operation to evacuate Mariupol civilians underway: UN chief

U.N. Secretary-General Antonio Guterres told the Security Council that a third operation was under way to evacuate civilians from Mariupol and Azovstal. In joint efforts with the Red Cross, the U.N. has helped nearly 500 civilians flee the area over the past week.

"We must continue to do all we can to get people out of these hellscapes," Guterres said. He declined to give details on the new operation "to avoid undermining possible success."

May 06, 2022 05:59 AM IST

Zelensky says Russia damaged nearly 400 healthcare institutions

Russia's invasion of Ukraine has devastated hundreds of hospitals and other institutions and left doctors without drugs to tackle cancer or the ability to perform surgery, President Volodymyr Zelensky said on Thursday.

"If you consider just medical infrastructure, as of today Russian troops have destroyed or damaged nearly 400 healthcare institutions: hospitals, maternity wards, outpatient clinics," he told the gathering.

Topics

Story Saved