Gala, Fuji, or Red Delicious: What's your pick?
Mar 16, 2018 11:39 AM IST
Dig into Washington Apples, which are known for their juicy and crisp taste.
Washington Apples are one of the most popular apples in India. They come from the fertile valleys and plateaus of America's far western state of Washington. Each and every Washington Apple is picked by hand, thereby maintaining its quality.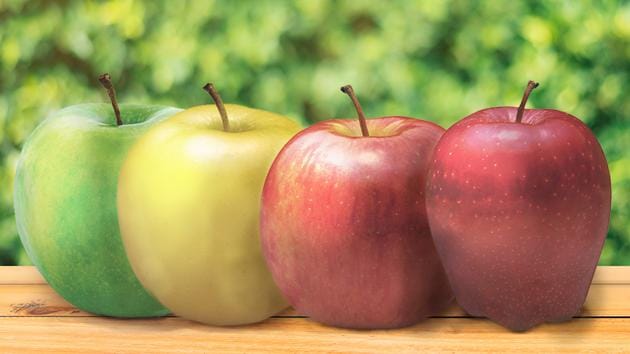 Unlike in the past, when we only saw Red Delicious apples from Washington, we have many more varieties today. The apples differ in their sweetness (refer to the sweetness meter) and taste but they are all fantastic to eat. Let's take a look at the spread.
Red Delicious: This variety has a deep ruby skin, and is heart-shaped. Its mildly sweet flavour and distinctive juicy crunch make it a great snack.
Gala: This is the perfect take-along snack. Heart-shaped, with a distinctive yellowish-orange skin marked by red stripes, Gala has a sweet taste that is beyond comparison. It also works great in salads.
Fuji: The crispy, juicy Fuji varies in colour from yellow to green to red. Its spicy, sweet flavour makes it excellent for salads or eating out of hand.
Golden Delicious: This all-purpose cooking apple has a firm, white flesh, and skin so tender that it doesn't require peeling. When baked or cooked, the Golden Delicious maintains its shape and flavour.
Granny Smith: Granny Smiths are bright green, sometimes with a pink blush. The flavour is tangy, perfect for baking, and the bite is crisp.
Cripps Pink: The Cripps Pink is known for its sweet taste and firm, crisp flesh. It is yellow in colour with a pink blush. The Cripps Pink is great for cooking and eating out of hand.
Honeycrisp: Honeycrisp has a bright-red and pale-green outer skin, and a cream-coloured crispy, yet juicy, inner flesh. With a sweet, yet slightly tart flavour, this variety of apple can be eaten as a snack, or used for salads, baking, and cooking.
Washington Apples are available at retail stores in major Indian cities. So, go ahead and grab them all! Also, don't forget to click here for more nutrition updates and recipe ideas.