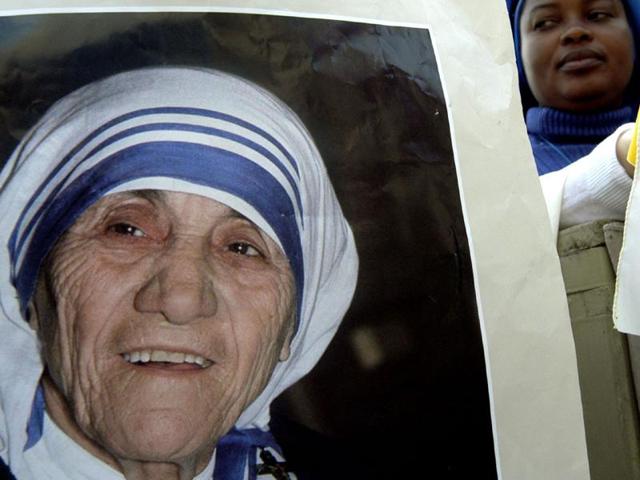 Celebrating Mother Teresa's canonisation is not minority appeasement
Mother Teresa was never known to be a saviour only of Christians. In celebrating her life and her passage to sainthood, petty communal issues should not be allowed to dominate
UPDATED ON SEP 03, 2016 07:35 PM IST
The NDA government seems to be leaving no stone unturned to celebrate the canonisation of Mother Teresa, which is to take place on Sunday. A mega delegation is going from India with representation at the highest level in the form of external affairs minister Sushma Swaraj. Mother Teresa's contributions to India and the city she lived in, Kolkata, have received effusive praise from Prime Minister Narendra Modi.
Read: A Layman's Guide to Canonization
This seems to have irked both the RSS and its affiliates, which feel that this is to legitimise conversion, which they have long accused Christian missionaries like Mother Teresa of doing. In fact, the VHP has gone as far as to say that celebrating miracles which Mother Teresa is associated with is specious and betrays a lack of scientific temperament.
Read: Trademark sarees are Titagarh's gift to the Vatican
This argument might have had some resonance if it had come from a rationalist but the VHP and those like it who celebrate a mythical past in India where all sorts of improbable feats were achieved have no business to say this.
But the arguments that missionaries are engaged in forcible conversions are not backed by any authentic data. If a person converts on his or her own volition, no one can have a quarrel with that. Even in Indian states which have laws on religious conversion, there have hardly been any convictions for conversion by force or through inducements. In Odisha, where the Freedom of Religion Act has been in force since 1967, not a single case of forced conversion has been reported in the last decade. Yet, Union home minister Rajnath Singh in 2015 called for a national anti-conversion law. Apart from Odisha, Madhya Pradesh, Arunachal Pradesh, Gujarat and Himachal Pradesh have anti-conversion laws in place.
Read: A saint who was more of a mother: Remembering Blessed Teresa
At a time when the nation is celebrating the canonisation of Mother Teresa, the sangh should not try and make this an issue of minority appeasement. It is not and Mother Teresa was never known to be a saviour only of Christians. In celebrating her life and her passage to sainthood, petty communal issues should not be allowed to dominate.
Close