Malvika's MIT has a history: Delhi couple and their 6 homeschooled kids
'One important part of homeschooling is to get them to read, to learn how to learn. Once you have taught them that they'll learn anything they are interested in. You just have to provide them the access. So instead of giving school fees you have to buy them books, get aircraft models for those interested in craft,' says Arun Rao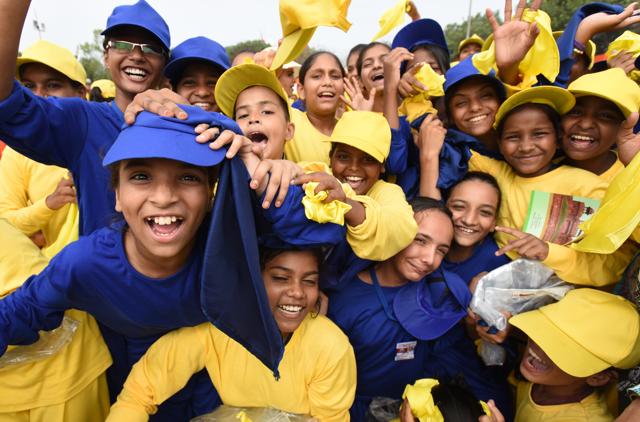 Updated on Sep 02, 2016 05:34 PM IST
Arun C Rao, who ran an NGO for the hearing impaired in Delhi a few years ago, and his German wife Christina, have homeschooled their six children. All of them are today scattered across the globe, running NGOs, working as chefs or bartenders, doing things that matter to them.
When their eldest-born daughter lost her hearing when she was six months old, Arun and Christina went on mission mode, desperately looking for ways to help her. Researching schools for people with hearing impairment and meeting other parents they realised such schools did not have much to offer.
Read: Homeschooled city teenager pursues science degree at MIT
"We met some older kids who were about 12 and their knowledge levels were so dismal that we decided to teach her at home," says Rao, who is now "following a dream", working as game ranger and guide at Kruger Park in South Africa.
Applying to John Tracy, a private non-profit education centre for infants and preschool children with hearing loss in Los Angeles, US, was a way out. Study and play material were sent to India and the Raos started working on the child's language development and education.
Read: Parents prefer homeschooling over formal education
Soon, when their second daughter was born, they decided to homeschool her too. "By the time our first child was five or six she was reading on her own – something which is difficult for kids with hearing loss, so we decided to teach all the other five children at home, when they arrived later," Rao says.
The couple later connected with US-based Christian Light Publication Service to get homeschooling material, which included report cards, workbooks and textbooks. It was a structured programme where parents had to be the teachers so Arun and Christina studied for a diploma in teaching with the service provider.
Read: All parents can opt for homeschooling: MIT girl Malvika Joshi's mother
"You were free to teach them in any which way you wanted. Benches and tables were set up in a room and a blackboard was used for math. Sometimes studies were done around the dining table. Children have to understand the fundamentals of reading, writing and arithmetic. I also recommend every homeschooler's parent (and other parents) to read Glenn Doman's How to teach your baby to read. I used that to inculcate in them a love for reading, not just to read, but for the pure joy and pleasure of reading," Rao told HT.
Read: Malvika gets MIT success, but homeschooling may not be ideal and easy
Two of their children were reading unabridged classics such as Gulliver's Travels, Oliver Twist, the Count of Monte Cristo, by age of 10 and 11.
"One important part of homeschooling is to get them to read, to learn how to learn. Once you have taught them that they'll learn anything they are interested in. You just have to provide them the access. So instead of giving school fees you have to buy them books, get aircraft models for those interested in craft. We used to be up to our knees in Legos and puzzles. Some of the children wanted paint and everybody was doing graffiti on the wall with paint cans," Rao laughs.
Both parents gave time to the children, as Rao was his own boss running his NGO and Christine was a homemaker.
All parents, he says, have to teach their children endurance, patience, perseverance and determination. "These are life's qualities that have to be taught to each child. Despite all the high grades and qualifications and certificates, kids in India are taught to memorise and don't have problem-solving abilities - I've met an MBA who could not even write a letter when I was interviewing for a company in 2012," he says.
On challenges faced, Rao said higher studies were a problem after school for the eldest four. Equivalency was a problem for the eldest daughter who enrolled with the National Open School (now National Institute of Open Schooling) after Class 10 and three others who did General Educational Development (GED tests are a group of four subject tests which enables test takes to gain American or Canadian high school level academic skills).
The colleges they applied to abroad had all sorts of demands – wanted to see the entire schooling portfolio or other skill certificates. For the other two who did Cambridge O and A levels faced no problems – they had to pay the fees, study and give the exams.
"It would have been ideal for the older ones but we did not know about it then," says Rao.
All the children left home after school and today the eldest one runs a consultancy in Britain and comes to India to help women with hearing impairment. The second daughter is studying for a pedagogy degree in Canada. The third son is a bar consultant and has worked in Britain, Lebanon and Mexico; the fourth boy is a chef in Berlin; the fifth son has worked in London as a caterer – has taken a year off to chill. The youngest daughter is training to be a nurse in Berlin.
He also feels that interactions among children at school do not have to necessarily be healthy because of peer pressure and bullying. When structured interactions on sports fields or gyms were required, his children had access to sports clubs and music schools. "The kids went swimming, played basketball at a local club, joined a music school. They built a self-image very early in life and had the confidence to talk to anyone. Their friends too accepted them for who they were," he says.
"To conclude," he says, "the most important thing is be aware of is your own biases, desires or hopes and make sure you do not pass them on to anybody. Be a clear channel for the child to explore and develop his or her own life."
Close Story
Personalise your news feed. Follow trending topics