The Kashmir manifesto: Delhi's policy playbook in the Valley
Jul 11, 2016 01:19 PM IST
India's political class operates with a flawed policy playbook in the Valley which inevitably stokes unrest
India's political class operates with a flawed policy playbook in the Valley which inevitably stokes unrest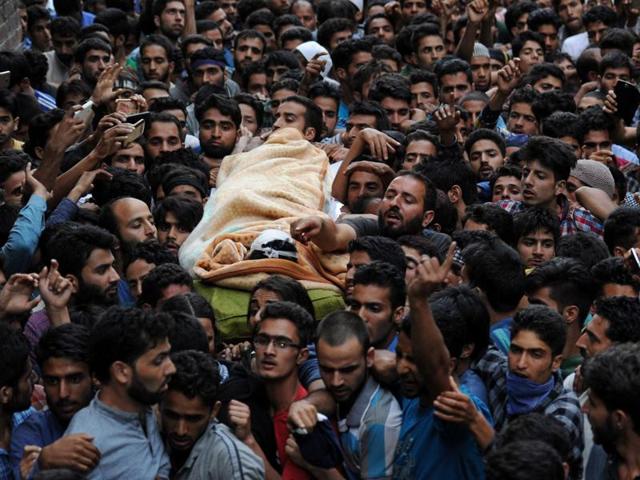 The popular 22-year old Kashmiri militant leader Burhan Wani was killed by security forces on Friday. Thousands gathered for memorial prayers across Kashmir. Protesters clashed with security forces who shot 17 civilians dead. The reaction has been on expected lines. Kashmir is in deep distress. The national media's coverage is frenzied and often lacks balance. Hardline nationalists on Twitter are blaming Kashmiris. More unrest is expected.
But how we got here has a longer history. It has proximate roots in a controversy over the Amarnath Yatra in 2008 and summer-long protests in 2010 where 120 youth were killed by security forces. What we are seeing is an outcome of the way Kashmir has been handled by India's political class and security establishment. If Delhi's policy towards Kashmir during the UPA years and now is to be represented as a manifesto for J&K then the establishment's playbook would read something like this:
Insist that Kashmir is an integral part of India, but treat it like you treat no other state. Trigger unrest when even none exists. Maintain an incentive structure in the armed forces where cash rewards exist for killing militants, creating the context for fake encounters like at Machil in April 2010.
Read | Burhan Wani: Better living than dead?
When civilian protests erupt, react with gratuitous violence. Let paramilitary forces do crowd control which they are not trained for. Don't invest in adequate riot control gear. Induct non-lethal crowd control equipment after using live ammunition against protesters three summers in a row. Buy some non-lethal gear but don't train security forces to use them. Institute judicial probes to buy time. Let the media do the job of forgetting them for you.
Show little contrition for excessive force. Instead blame hardliner Syed Ali Shah Geelani and Pakistan for poisoning Kashmiri minds. Arrest thousands of youth after protests, release them after making families grovel. Deny right to assembly by frequently pre-empting protests. Block student politics, hold up passports, put separatists in preventive detention, impose curfew for extended periods, cut off the Internet and text messaging on occasion. Get security forces to video street gatherings. Watch Facebook posts. Mistake protester fatigue for acquiescence.
When Kashmir's dust literally settles, hang the prisoner who emerges as a symbol for India's capacity to deliver justice. Don't inform his family. Assume Speed Post works faster than the phone.
Have no way of being accountable for the past or plan for the future. Just have no Kashmir policy. Boil it down to hollow rhetoric. Kashmir is an integral part. The sky is the limit. Insaniyat ke dayire mein. Zero tolerance for human rights violations. We are ready to talk to separatists. Indicate readiness for talks without making any concessions on the ground, thus scaring off moderates who fear hardliner rhetoric about compromise.
Ignore moderate separatists; refuse to distinguish them from radicals. Nurture an uncomplicated view of their past and present. Don't take cues from foreign and Indian governments who sign peace deals with insurgents. Allow Naga warlords to run parallel economies, but detain Kashmiris each time they want to take out street protests. Be very afraid of foreign media's coverage of unrest.
Read | Kashmir's disturbing new reality
Meet separatists once in a decade. Ask them for ideas and ignore them when they come back with policy documents. Refuse to believe that moderates are opposed to religious extremism; that they are among the few options left to pacify the Valley. Don't treat them as political peers who have the visibility to shape Kashmiri opinion. Instead outsource contact to intelligence agencies — who view them with contempt because they know a lot about their past.
Institute a process but back out — every time. Appoint well-known figures as interlocutors. Arrange their meetings with J&K stakeholders but ignore recommendations when they call for a "new compact" between Delhi and J&K. Hold out the promise of autonomy without disclosing what it takes to restore it. Get close to a non-territorial solution with Pervez Musharraf but tell no one, lest there be a public debate to move things forward.
Brook no discussion on the scale of Army presence and its control of real estate in J&K. National security must always trump transparency. Security arrangements must not evolve with circumstance, even if militancy-related violence declines from 4,507 killed in 2001 to 174 deaths in 2015. There is no need to differentiate and rationalise troops needed for defending borders and those deployed for counterinsurgency operations.
Have an extended debate on the Armed Forces (Special Powers) Act and encourage chief ministers to lobby for lifting it in two districts. But lose your nerve at key moments and give in to ministry of defence pressure. Always handy to have a chief minister who takes the blame for decisions taken elsewhere. Maintain that mainstream parties are more important than separatists -- but undermine the authority of state governments regularly.
Read | In their own country, Kashmiri students are under attack
When crackdowns and curfews pause, deploy history for good measure. When in the Opposition call for a debate on Article 370 obscuring the fact that J&K's special status has not existed in practice for decades. Make no gesture to thousands of Kashmiris killed. Invoking Vajpayee is gesture enough. Reciting nationalist creeds is more important than the health of subjects. Kashmir is an integral part. Indian history — in Hegelian terms — is the inexorable march of the Spirit towards the Parliament resolution of 1994. National belonging is preordained; it has no elective character as history progresses, it does not correspond to state action and it is certainly not dynamic.
Manage the narrative. Pakistani liberals must be applauded for criticising their "deep state" but our journalists and opinion makers must get the balance of discussing militancy and everyday indignities of Kashmiri life entirely wrong. The Indian citizen must possess no more nuance on Kashmir than the average film star who raves about its beauty. Suggesting that Kashmiris have suffered more than others is communal. Focus on radicalisation and the increasing number of mosques. Put the fear of Kashmiris among landlords across the country. Talk about Wahhabi beliefs and politicised forms of religion that are threatening Kashmir's Sufi-inspired Islam but note that Delhi's policies have nothing to do with that process.
In short, stick to blaming extraneous factors and malevolent actors. Avoid doing what is in your control to restore dignity, agency and democratic practice. Don't grapple with J-K's complexity. Wait for Lashkar-e-Taiba, Hizbul Mujahideen and the ISI to make things simpler for you.
Then repeat from above.
sushil.aaron@hindustantimes.com
Read | The Kashmir reading list: 11 books to understand the conflict
"Exciting news! Hindustan Times is now on WhatsApp Channels
Subscribe today by clicking the link and stay updated with the latest news!"
Click here!