Rakshabandhan myths, 6 tales about the origin of the festival
Rakshabandhan 2018: Ever wondered about why we celebrate the festival of Rakshabandhan? Here are some of the most popular stories about it.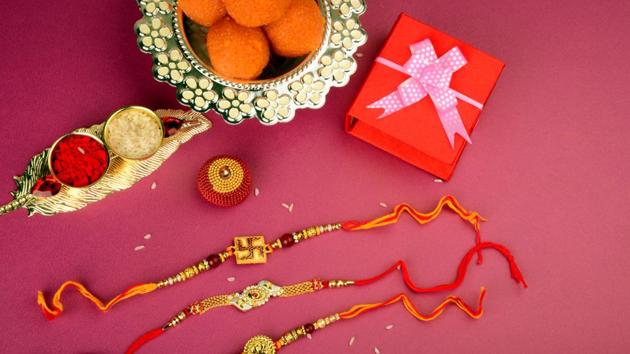 Updated on Aug 23, 2018 08:58 AM IST
Rakshabandhan 2018 will be celebrated on August 26 this year. The festival celebrates the bond between a brother and sister. Sisters tie rakhis on their brother's wrist, and in return brothers pledge to protect sisters from adversities. Sisters are also given gifts, while brothers are treated to mithai. Here are some of the popular myths associated with the festival:
* Krishna and Draupadi: One of the most popular rakhi stories is that of Lord Krishna and Draupadi. When Krishna cuts his little finger, Draupadi is believed to have torn off a part of her sari and bandaged his finger. In return, Lord Krishna promised to protect her in times of distress.
* Yama and Yamuna: A popular legend says that when Yamuna tied a rakhi to the lord of death Yama, he granted her immortality. He was moved by the gesture and declared that any brother who was tied a rakhi and offered to protect his sister would become immortal.
* Rani Karnavati and Emperor Humayun: Rani Karnavati was regent of Mewar after the death of her husband Rana Sanga. When Bahadur Shah attacked Mewar, Karnavati wrote to Emperor Humayun for help and sent a rakhi seeking protection. While the emperor didn't manage to reach on time, he eventually restored the kingdom to Karnavati's son Vikramjit.
* Roxanna and King Porus: A popular story says that when Alexander the Great invaded India, his wife Roxana sent Porus a sacred thread and requested him to not harm her husband on the battlefield. Porus honoured the request and when he confronted Alexander, he refused to kill him. Eventually, Porus lost the battle of the Hydaspes River.
* Santoshi Maa: A popular tale says that when Manasa, Lord Ganesha's sister visited him to tie him a rakhi. Seeing this, his sons — Shubha and Labha — begin insisting on having a sister. Ganesha then created goddess Santoshi Maa from the divine flames that emerged from his consorts Riddhi and Siddhi.
* Goddess Lakshmi and King Bali: Goddess Lakshmi disguised herself as a shelterless woman and approached king Bali. He opened the door of his palace to her without any hesitation. Pleased, the goddess brought along prosperity and well-being. On a full moon day in Shravana, Lakshmi tied a thread of coloured cotton on Bali's wrist and wished for protection. Bali asked her what she desires. She pointed to the gatekeeper who was Vishnu in disguise protecting Lord Bali. Vishnu revealed his true identity. Bali then requested Vishnu to return home with his consort. In return, Vishnu promised to return and be with Bali for four months of the year.
Follow @htlifeandstyle for more
Topics
Close Story