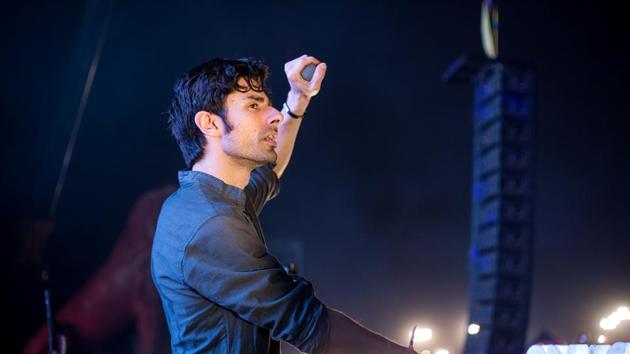 Root cause: Why DJ Kshmr's music highlights the conflict in J&k
Indian-American DJ Kshmr grew up listening to his grandparents' stories of Kashmir. Now, he uses music to highlight the strife in the area
UPDATED ON DEC 29, 2016 04:33 PM IST
Indian-American DJ Kshmr grew up listening to his grandparents' stories of Kashmir. Now, he uses music to highlight the strife in the area.
Last year, at Sunburn, Goa, DJ Kshmr (real name Niles Hollowell-Dhar, 28) invited his grandfather on stage during his performance. He then proceeded to play Kajra Re (Bunty aur Babli, 2005), one his grandfather's favourite Bollywood numbers. He was also wearing a kurta gifted by his grandfather. Kshmr says, "He brought me a few kurtas over the year during my visits to Delhi, and they have sentimental value for me. I've worn them at every show, and now, I'm launching my own line of kurtas as official merchandise."
He will return to India to headline Sunburn, Pune, this weekend. Kshmr was born in California and traces his ancestry to India, through his father. "He was 25 when he came to America, where he met my mom, who's from San Diego. My grandparents are from Kashmir but moved to Delhi," he says.
READ MORE: Musician Dhruv Ghanekar on marrying Indian sounds with western grooves
The Indian influence is evident not only in his stage name, but also in his music. He uses Indian melodies in EDM (electronic dance music), and the video of his song, Jammu, depicts a moving story about a boy who takes to terrorism after losing his mother to conflict. As the song progresses, we see him as a suicide bomber about to blow up a bus. He decides against it in the end, breaking the cycle of violence.
Kshmr, who wrote the storyline, says, "I wanted to explore the human aspect of terrorism: why are people led to such violence? How does a child evolve into someone capable of that? I often remember how beautifully my grandparents described Kashmir, and how sad it made them to see the places they grew up in turning into rubble." Kshmr's grandfather is a part of an organisation that provides aid to Kashmiris forced to emigrate, and the DJ has plans to contribute to it via a charity event in India.
READ MORE: Maati Baani's The Music Yantra features 50 musicians from 20 countries
Although he himself hasn't visited Kashmir yet, he has fond memories of visiting India throughout his childhood. "I stayed in Delhi, Kolkata, and Bengaluru, but also travelled to other places, [such as] Agra to see the Taj Mahal... I now hope to visit Jammu and Kashmir soon."
He also remembers watching Bollywood movies with his father on television. Post his Sunburn gig, he has plans to meet Bollywood composers Pritam and Amit Trivedi, and singers Arijit Singh and Amaal Mallik. Also on his itinerary are plans to fly to Delhi to spend time with his family. "I'm especially looking forward to the food," he says. That's as Indian as one gets.
Be there
What: Kshmr will perform at Sunburn on December 31.
Where: Sunburn Hills, Kesnand, Pune district
Tickets: Rs 2,750 onward on bookmyshow.com
Close