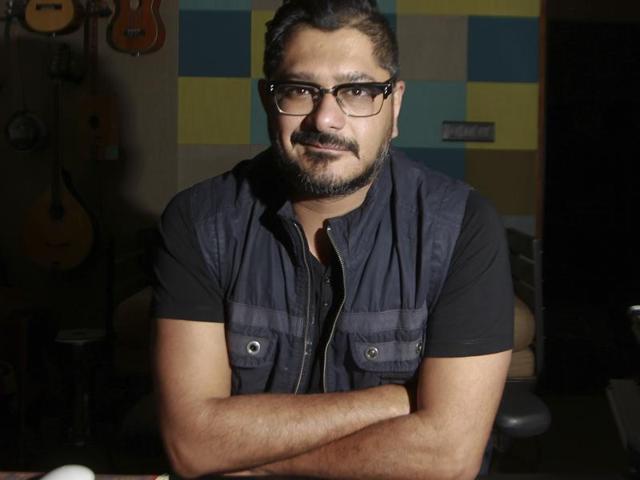 Musician Dhruv Ghanekar on marrying Indian sounds with western grooves
UPDATED ON DEC 03, 2015 12:36 AM IST
A djembe doubles up as a lamp stand, a gramophone's horn is hung high on the wall, and more than a dozen guitars are stacked next to each other. We're at composer and musician Dhruv Ghanekar's studio, Wah Wah Music, in Khar. Unusual instruments like a ukulele (a small Hawaiian origin guitar), a cigar box guitar (a primitive string instrument that uses an empty cigar box for a resonator) and a tin oil can bouzouki (a long-necked Greek form of the mandolin), take up another wall. "I have a fetish for collecting interesting and weird sounding guitars," says Ghanekar.
Ghanekar is more than a musician. For the longest time, he made musicians. As the co-founder of Bluefrog, Lower Parel, he is largely credited with revolutionising the live music scene in the city. Over the years, the venue has hosted innumerable international acts while providing a much-needed platform to local artists. "I'm no longer involved in the management of the company [although he still holds equity]. It's impossible to wear a musician's hat and a corporate hat at the same time. I want to focus more on my music career now," he says. Ghanekar, who released his debut album, Distance, five years ago, launched his second, Voyage, a world music album, this year.
Ever since he can remember, Ghanekar was drawn to quirky genres that fall into a sort of no-man's-land. At 16, he found himself naturally gravitating towards jazz and fusion. "My ears always perked when I heard music that had Indian sounds but fused with other influences. I listened to the likes of L Shankar, Trilok Gurtu, and Shakti."
For Voyage, it was a natural choice then to collaborate with musicians he'd long admired — Karim Ziad (Algerian drummer), Raul Midón (New Mexico-born singer), and Étienne M'Bappé (Cameroonian bassist). "I just reached out to them, played them the songs I'd sketched out and they responded to it extremely positively. I have been listening to Ziad's music for 10 years. I chased him for six months to get a recording date. I flew to Paris (where is he based) for the recording," he says.
He will also debut a new song, Revolution, at his gig at NH7 Weekender's Pune edition, this Friday. "It's the first time I've written something with a political angle. It's about the state of the country right now," he says. "I don't think the music community is doing enough. Artists need to stand up and speak out." His 40-minute set at the music festival will feature songs from Voyage, as well as those from his episode on Coke Studio. "The idea is not recreate the album. That never works well. We'll be amping up the song five notches," says Ghanekar, who will sing as well as play the guitar. Accompanying him will be a motley set of musicians including Gino Banks, Sheldon D'Silva and Kalpana Patowary.
Be there
What: Dhruv Voyage will perform live at Bacardi NH7 Weekender on December 4, 7pm.
Where: Bacardi Arena, Laxmi Lawns, Magarpatta City, Pune
Tickets:Rs 2,500 onward on insider.in
Close