Congress, Samajwadi Party will fight UP election in alliance: Ghulam Nabi Azad
Congress announced on Tuesday an alliance with the Samajwadi Party for the February-March assembly elections in Uttar Pradesh.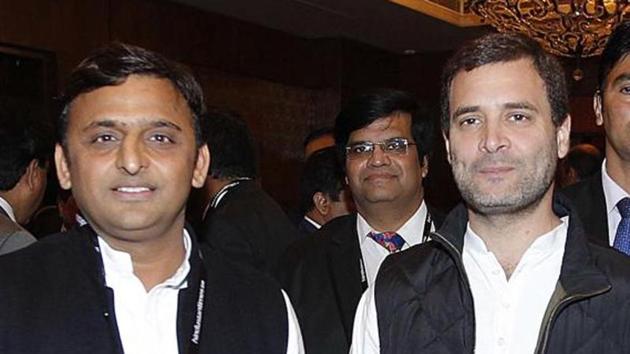 Updated on Jan 17, 2017 02:38 PM IST
The Congress announced on Tuesday that it will ally with the Akhilesh Yadav-led Samajwadi Party for the upcoming assembly elections in Uttar Pradesh.
"There will be a Congress-SP alliance in the UP polls," Congress leader Ghulam Nabi Azad told media, adding that they will decide on a broader tie-up of political parties – a maha-gathbandhan – in the coming days.
Azad also confirmed that the two parties will contest the polls under Akhilesh's leadership, a decision that enjoyed Congress chief ministerial candidate Sheila Dikshit's wholehearted support.
The two parties are currently engaged in negotiations over seat sharing. The SP is likely to give around 120 out of the total 403 seats to the Congress, Rashtriya Lok Dal and the Krishna Patel faction of the Apna Dal.
The Congress' announcement came a day after the Election Commission allotted the Samajwadi Party's 'bicycle' poll symbol to the faction led by Akhilesh.
The national party has been relegated to the state's political margins ever since it was voted out of power in 1989, while the Samajwadi Party has undergone a virtual split between Akhilesh and his father, Mulayam Singh Yadav. An internal assessment conducted by the Congress on running alone came up with "not-so-encouraging" results.
The buzz around the coalition had grown louder after Akhilesh surprised everybody in September by terming 46-year-old Congress vice president Rahul Gandhi as a "good human being". Gandhi, for his part, dropped broad hints of a tie-up at a party convention. "UP mein majaa aayega (It will be fun in UP)," he said.
The Akhilesh faction views the "secular and socialist" alliance as a good way to beat anti-incumbency in India's most populous and politically crucial state. The group believes the Samajwadi Party feud has only strengthened the chief minister's image, positioning him as a major challenger to his rivals in the BJP and the BSP.
Mulayam had proposed a grand alliance for the UP polls, although he had walked out of a similar coalition between the Janata Dal (United), Rashtriya Janata Dal and the Congress ahead of the 2015 elections in Bihar. He was unhappy with the number of seats granted to his party there.
Close Story