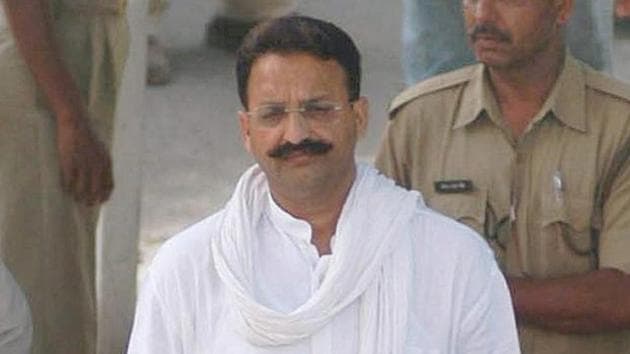 UP election: 6th phase has maximum 'bahubalis' candidates including BSP's Mukhtar Ansari
There are 126 'criminals' in the fray for the penultimate phase in the Purvanchal (eastern) region of UP.
UPDATED ON MAR 06, 2017 06:51 AM IST
All political parties seem to be banking on 'bahubalis' to script victory in eastern Uttar Pradesh in the 6th phase of polling scheduled on March 4.
There are 126 'criminals' in the fray for the penultimate phase in the Purvanchal (eastern) region of UP.
"It is indeed a sad state of affairs. But the sixth phase surpasses the five previous ones with 20% contestants (the maximum so far) having criminal cases registered against them," said Ajay Prakash, coordinator of UP Election Watch and Association for Democratic Reforms (ADR), which analysed the affidavits of 635 aspirants.
And they are no petty criminals. As many as 17% or 109 out of the 126 facing criminal charges have serious charges related to murder, attempt to murder, rape, crime against women and kidnapping registered against them. At 160 (25%), the 'crorepatis' (multi-millionaires) are just a notch above their criminal contenders locking horns with them for a berth on the 49 assembly constituencies of the seven districts going to hustings. And nowhere is the battle of the ballot being more keenly watched than on the home turf of three dreaded dons from the region, namely Mukhtar Ansari, Brijesh Singh and Munna Bajrangi. All three are in jail. Their proxy political war is being fought on the ground by their relatives and better halves.
Mukhtar is a BSP nominee from Mau. Brijesh's nephew Sushil Singh has got the BJP ticket from Saiyadraja in Chandauli Lok Sabha constituency. Munna Bajrangi is in the fray on the Apna Dal ticket from Siryahu seat in Jaunpur.
Alarmed over the presence of so many tainted candidates, the advocacy group has classified as 24 out of the total 49 assembly seats as 'red alert constituencies.'
"A red alert constituency is one which has three or more contestants, who have criminal cases against them," explains Prakash. Mau, Sahajanwa in Gorakhpur, Bansdih in Ballia and Fazilnagar in Kushinagar top the list in this category, with each having six criminals flexing their muscles for a win.
The BSP tops the list or giving tickets to maximum number of criminals and crorepatis. Of its 49 nominees, 24 (49%) have criminal charges against them. Thirty-three others (73%) are crorepatis. The BJP occupies the second position with 18 (40%) criminals and 28 (70%) multi-millionaires followed by 15 (38%) tainted contestants and 28 (70%) crorepatis put up by the ruling Samajwadi Party.
The top three moneybag aspirants are all from the BSP. Mubarakpur contestant Shah Alam aka Guddu Jamali has declared assets of over Rs 118 crore, followed by Vinay Shankar Tiwari (son of another don Harishankar Tiwari) from Chillupar in Gorakhpur with over Rs 67 crore and Aijaz Ahmed from Nautanwa in Maharajganj with declared assets of over Rs 52 crore. Gangster Mukhtar Ansari occupies the top slot not for the maximum number of cases but for having the highest liabilities of over Rs 6 crore.
Close