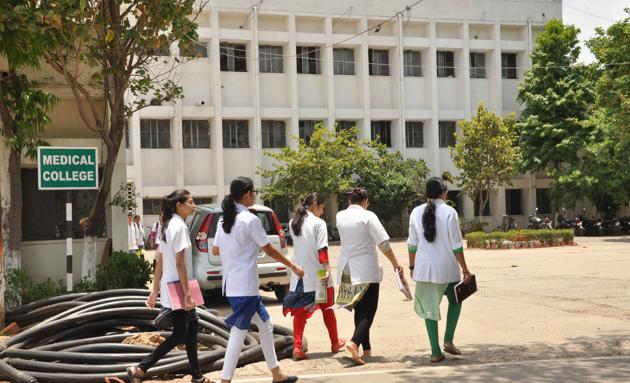 Parents told to arrange ventilator worth Rs 1 cr, child dies, doctor suspended
A lady doctor was suspended and inquiry instituted into death of a child at the teaching hospital of Bundelkhand Medical College after a video clip went viral on social media showing the enraged doctor asking the child's parents repeatedly to arrange a ventilator worth Rs one crore for the hospital
Hindustan Times, Bhopal/Sagar | By Anupam Pateriya
UPDATED ON FEB 11, 2019 10:41 PM IST
A lady doctor was suspended and inquiry instituted into death of a child at the teaching hospital of Bundelkhand Medical College on Sunday after a video clip went viral on social media showing the enraged doctor asking the child's parents repeatedly to arrange a ventilator worth Rs one crore for the hospital as the hospital didn't have a ventilator, as per hospital administration.
The doctor was suspended on the charge of showing inappropriate behaviour towards the child's parents and slackness in treatment, as per the hospital administration.
One-year-old Anshika Ahirwar from Sagar, 186 kilometres north east of Bhopal, suffered 70% burn injuries when she reportedly fell into a pot of boiling water a few days back. She was later taken to the hospital.
The child's uncle Brijendra Kumar Ahirwar said, "The doctors were not treating the child. They asked us to take the child to a private hospital. We lodged a complaint with the hospital authorities. It was when a lady Dr Jyoti Raut came to treat the child. An enraged Dr Raut first told us that the child needed a ventilator but it was not functioning at the hospital. Then she said the hospital didn't have a ventilator and she would treat the child if we could arrange a ventilator the cost of which was Rs 1 crore. The apathy of hospital and the doctor took the life of the child."
Ahirwar said, "The doctor also said that since there was no ventilator she was doing it manually in the section of the hospital where she was working. The child died later. They lodged a complaint with a hospital staff."
On Sunday, a delegation of district youth Congress, Sagar led by the district unit president Ashraf Khan submitted a memorandum to the dean of the medical college and demanded action against the hospital staff who, the delegation alleged, were responsible for death of the child.
Dr Jyoti Raut said, "The video clip is edited and doesn't show the entire conversation. I was surrounded by the relatives of the patient and they were exerting unnecessary pressure on me to give treatment to the child by calling other doctors. There was no security. I was already treating the child and did my best."
The medical college dean Dr GS Patel said, "The medical college has 17 ventilators but the burn ward doesn't have any. The doctor's behaviour was inappropriate. That's why she was suspended."
Sagar divisional commissioner Manohar Dubey said, "An inquiry has been ordered in the matter. A five-member committee led by additional commissioner VS Rawat and four doctors of the college will conduct the and submit its report in two days."
Close