Aishwarya Rai Bachchan shares colourful new vacation pic with Abhishek Bachchan, Aaradhya. See it here
Apr 21, 2019 05:58 PM IST
Actors Aishwarya Rai Bachchan and Abhishek Bachchan, who are currently vacationing in the Maldives to mark their 12th wedding anniversary, posed together for a new Instagram picture with daughter Aaradhya.
Actor Aishwarya Rai Bachchan has shared a new family picture on Instagram, a day after celebrating her 12th wedding anniversary with husband and actor Abhishek Bachchan. The new post shows the couple posing with their daughter, Aaradhya.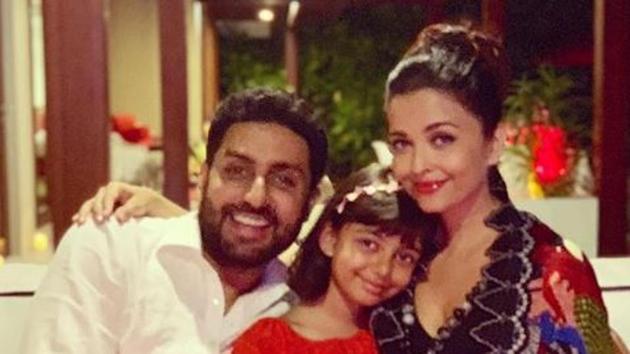 Aishwarya captioned the image, "Love." She is seen wearing a colourful shrug, with her hair tied up in a bun. Aaradhya is wearing a red dress, while Abhishek is wearing a white shirt and blue pants. They're all smiling at the camera, with their arms around each other.
Abhishek and Aishwarya celebrated their 12th wedding anniversary on Saturday, on a private island in the Maldives. To mark the occasion, both actors took to their social media to share pictures. Abhishek, sharing a picture of Aishwarya in bright moonlight, wrote, "Honey and the moon."
Aishwarya, meanwhile, shared a picture of herself with Abhishek, taken by Aaradhya, and captioned it, "Our Togetherness captured by The Divine Light of Our Lives. LOVE YOU AARADHYA."
On Saturday, Abhishek shared more pictures from their beach vacation. The first showed Aishwarya and Aaradhya chilling in a pool. He captioned it, "Happiness. My girls." The second was a panoramic shot of the beach. He captioned this one, "A big thank you to all the staff at @niyamamaldives for making us so comfortable and taking such good care of us during our short holiday."
Aishwarya and Abhishek have worked together in films such as Dhai Akshar Prem Ke (2000), Kuch Naa Kaho (2003) and Guru (2007). The two got engaged in 2007 and were married in a private ceremony at Amitabh Bachchan's Juhu residence, Jalsa. Aaradhya was born in 2011.
Follow @htshowbiz for more