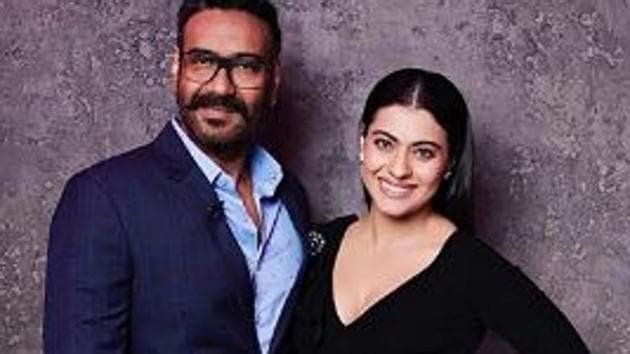 Ajay Devgn reveals how Kajol reacts when she catches him staring at other women
Ajay Devgn has said that it's natural for him to be attracted towards other women, and this is how Kajol reacts when she catches him staring at them.
UPDATED ON MAY 14, 2019 05:11 PM IST
Ajay Devgn, who plays a middle-aged man who is dating a girl half his age in the upcoming film De De Pyaar De, making his ex-wife jealous, has said that he has 'never had that kind of a relationship as shown in the film.'
Ajay did, however, confess to in.com that he 'must have felt' attraction towards other women, but wife Kajol would pass it off with a comment. "It's just normal to feel," he said. "You can't turn around and say I never felt (that way)."
Upon getting caught staring at other women, Ajay said Kajol 'would pass a comment, which would be a joke.' Asked if his wife has seen the trailer for the film, he said she has and 'she was okay (with it).' "She knows this is a movie and she is from the industry and is much aware of how it functions," he said.
In the film, his ex-wife is played by his friend and actor Tabu, who insists that she is single because she hasn't found the right partner. Ajay reacted to this by saying, "She wants a guy like me, which she won't get."
+ +
Ajay and Kajol recently celebrated their 20th wedding anniversary, and appeared as featured cover stars for Hindustan Times' Brunch. He said in the interview, "I've reached a point when, without even looking at her, I can sense that she's feeling low. Similarly, she knows in a second if something's wrong with me. Then we talk it out and comfort each other. That's how much our relationship has evolved."
"Contrary to what you may believe about marriage, it's not all rosy in the beginning," says Kajol."Initially you're trying to please each other, feeling your way around, so it's difficult to take the relationship to the next level. Only when the storm has settled, and the routine has set in – when you've seen the good, bad, indifferent sides of each other – does your relationship evolve. We work at our marriage. We see it as a structure that we need to look after."
Ajay and Kajol have two children, Nysa and Yug. De De Pyaar De is scheduled for release on Friday.
Follow @htshowbiz for more
Topics
Close