Elli AvrRam: I never worried that I have to survive in Bollywood film industry
Ex-Bigg Boss contestant Elli AvrRam says that despite the debacle of her debut film, Mickey Virus, she didn't give up and remained thankful that she at least got to work in Bollywood.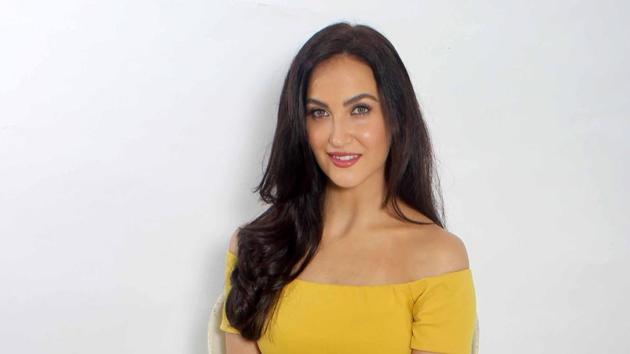 Updated on Jul 02, 2017 03:48 PM IST
Hindustan Times |
, New Delhi
Monika Rawal Kukreja
Actor Elli AvrRam, despite being an outsider in Bollywood, doesn't get anything bog her down. Even when her debut film, Mickey Virus (2013) failed to create an impact at the box-office, the actor didn't let it affect her zeal to move on. "I didn't take up the movie with a thought that this is going to be a hit or not. I was just grateful that I had signed my first Bollywood film. Also, I feel it happens with a lot of films made in Bollywood where even the biggest of projects turn flops. So, while signing a movie, you cannot predict. That is when you are going to hurt yourself," says the Greek-Swedish actor, who shot to fame when she first appeared on reality show Bigg Boss season 7 in the same year.
Elli says that she was clear in her mind that her hard work and efforts landed her a film. "It takes a lot to get your first film and to achieve that in my life was nothing short of fulfilling my dream. I was successful in my own way and I didn't think beyond that. I never had this worry that I have to survive in this industry. I love acting and I like to play characters and that's about it."
+
Unlike a lot of actors who slip into a shell after a box office failure, Elli was rather "satisfied" with all the feedback that came her way. "I got a lot of great critics for my role and my part in Mickey Virus. Many of them even said that they couldn't believe it was my first Hindi film," adds the actor, who worked with Kapil Sharma in her second film Kis Kisko Pyaar Karoon (2015).
Elli, however, confesses that she was a bit confused when she was approached for Bigg Boss. "But I sent out a prayer to the Universe to guide me in my journey and help me decide what I should do next. I told my manager that he won't pitch my name for Bigg Boss and if it has to come my way, it will. And when I did Kis Kisko Pyaar Karoon, my directors Abaas Mustan told me that they spotted me in Bigg Boss and thought I was fit for the role," shares Elli.
Follow @htshowbiz for more
Close Story