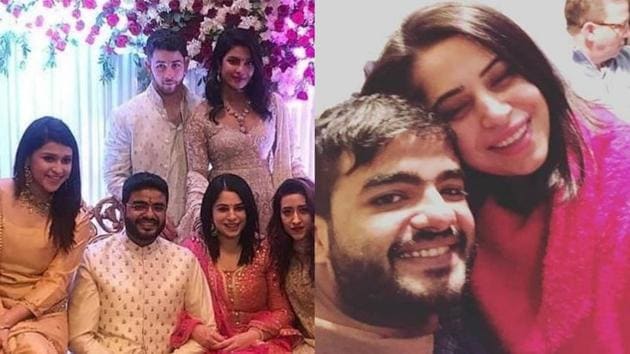 Priyanka Chopra's brother Siddharth's fiancé deletes all proof of bridal shower, roka ceremony from Instagram
Actor Priyanka Chopra's brother Siddharth Chopra was supposed to marry fiance Ishita Kumar at the end of April but the wedding was called off just days before the scheduled date.
UPDATED ON MAY 08, 2020 05:55 PM IST
Actor Priyanka Chopra's to be sister-in-law Ishita Kumar has deleted every wedding-related picture from her Instagram account, after it was rumoured that her wedding to Priyanka's brother Siddharth had been called off. Priyanka had recently come to India for the celebrations, which were reportedly supposed to take place at the end of April. Her cousin Parineeti Chopra, too, joined the family in Mumbai. But the actors flew back without any vows having been exchanged between Siddharth and Ishita.
Ishita had earlier deleted pictures from her and Siddharth's roka ceremony and had shared fresh pictures of herself, hinting at 'new beginnings and beautiful endings'. According to a report in Mumbai Mirror, Ishita has now deleted her solo pictures from the roka ceremony as well as the bridal shower that took place in London.
Ishita has posted a new picture of herself hanging out at a restaurant with the caption, "Cheers to new beginnings. With a goodbye kiss to beautiful endings." Her mother Nidhi Kumar had written on the post, "Close old book and write," whereas her father had commented, "We are with you; Feel the expanse of the universe and be the star you were born to be."
Earlier, it was reported that the bride-to-be had undergone an emergency surgery just days before the wedding, which was thought to be the reason for the postponement. There has been no official word from the family regarding the matter.
Priyanka, however, ended up attending brother-in-law Joe Jonas' surprise wedding with fiance and Game of Thrones actor Sophie Turner in Las Vegas. Sophie and Joe tied the knot in a private ceremony soon after attending the Billboard Music Awards with the rest of the family. The Jonas Brothers performed at the awards and were cheered on by their wives, after which they headed to the Little White Chapel for the wedding. Priyanka was wearing a halo of white ribbons and is assumed to have played one of the bridesmaids to Sophie.
Follow @htshowbiz for more

Close