Shahid Kapoor says he's simpler than Mira Rajput, she likes to be bit extravagant
Shahid Kapoor says that he craves normalcy in his life, and wife Mira Rajput and daughter Misha help ground him.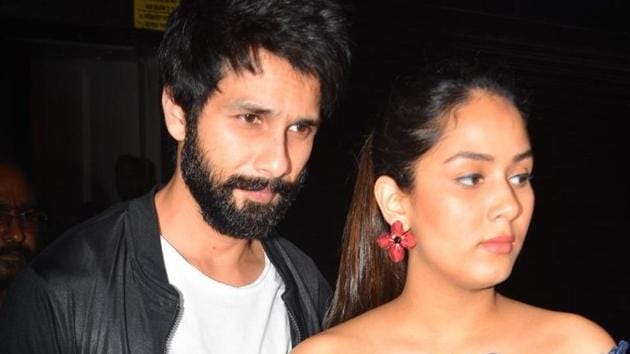 Updated on Sep 05, 2018 05:59 PM IST
Shahid Kapoor in a recent interview spoke about having to share his life and how his daughter, Misha, has prepared him for becoming a father for the second time. Speaking to Rajeev Masand, Shahid spoke about how he manages to stay grounded even after a 15 year career in Bollywood. Shahid credited his wife, Mira, whom he married in 2015. "I got lucky. I married Mira," Shahid said. "She's as normal as it gets. We kind of hit it off and decided to get into an arranged marriage. By God's grace it's been wonderful, the last three years, and she's been a huge part of that for me."
Mira was a student in Delhi University when Shahid met her. They married after a brief courtship. But despite the fame, Shahid said he has always craved normalcy in his life. "I'm very simple as a person," he said. "And although I might live a very lavish lifestyle, I'm very happy I share my life with someone who has a similar mindset."
In fact, Shahid said, he feels that he might be "a little simpler than she is. She likes to be a little extravagant sometimes, which I feel is wonderful."
But most actors live in a bubble, Shahid said. "We need a reality check once in a while. If we can't experience life how can we represent it," he said, talking about his acting process.
Shahid isn't on Twitter, but he's very active on Instagram, and like his wife, shares frequent updates from daughter Misha's life. "I don't know why but I enjoy Instagram. In the beginning it was tough for me to understand why people are so interested in her, and why I should be sharing her life, because I have a protective instinct."
Although, he said, "Mira does it more than me." He often finds himself telling her to not post as often, but "she's like 'it's fine. If I feel proud as a mother and I feel like I want to share that they why not?'"
Shahid and Mira recently announced in an Instagram post that they were expecting their second child. "I am very happy. We just felt like sharing it with everybody. Mira said she wanted to put it on Instagram, and I felt the photograph was really cute. So, it was a spontaneous decision and it just happened," Shahid said at the red carpet of Dadasaheb Phalke Foundation Awards recently.
Follow @htshowbiz for more
Close Story
Personalise your news feed. Follow trending topics