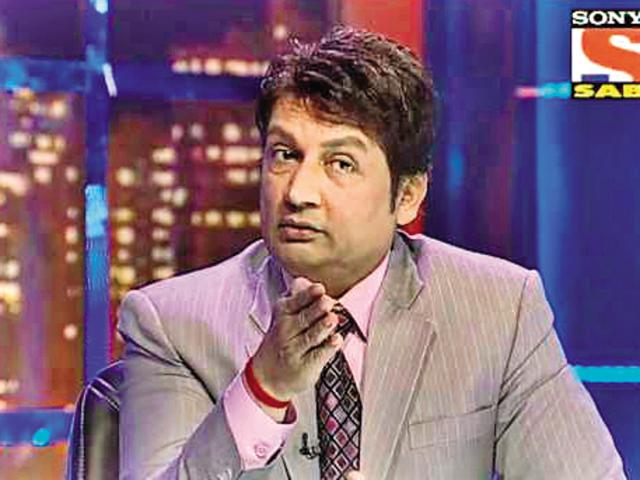 "Anybody who says anything now comes under fire," says Shekhar Suman
Shekhar Suman talks about Movers & Shakers, the 'first late night show and political satire that this country had seen.'
By Saudamini Jain
PUBLISHED ON JAN 09, 2016 07:23 PM IST
How did Movers & Shakers happen?
It came out of the idea of a common man voicing his opinion. It was influenced by RK Laxman's cartoons. I thought, what if the common man were to get a voice and start expressing himself?
But it was inspired by the Late Night Show.
There was a gentleman, Sailesh Dave, who was working with In House productions. He had worked in America and was influenced by Late Night. He worked out the details: how the table should be designed, the way I should sit, everything. I was completely oblivious to the American version. So when the press started writing that the show looked like a Leno or Letterman show, I started asking people, who is Jay Leno, who is David Letterman? Because I didn't know!
Then, Sony sent me to Los Angeles, and I watched Leno live. In terms of structure, there were similarities. But otherwise, ours was a very different show!
How did it evolve?
Movers & Shakers started on 31 December, 1997 (Yes! On New Year's Eve!) We all thought, is this some sort of joke? People go out and party on the 31st! We were so surprised it raked in huge TRPs on the first day itself.
There was no budget in the beginning. For the first two episodes, we had two solitary chairs and an apology for a plant. We started off as a weekly, and eventually aired five times a week. It was the first late-night show and political satire that this country had seen. And then it took on a life of its own. We were getting 48 guests a month!
Did you face any political wrath?
Some people were perturbed. But there was no attempt to stop the show or send notices. Anybody who says anything now comes under fire, which is so surprising. Back then, I talked about the underworld and nothing happened!
What went wrong in Season 2?
The channel matters a lot. Sab TV had a very different audience. And this is what I'm not able to understand – it just takes a remote to change the channel and watch your favourite show but people don't do that! And then suddenly, I was asked to avoid talking about this or that. The irreverence was the USP of the show! If you tone it down, people were not going to like it.
From HT Brunch, January 10, 2016
Follow us on twitter.com/HTBrunch
Connect with us on facebook.com/hindustantimesbrunch
Close