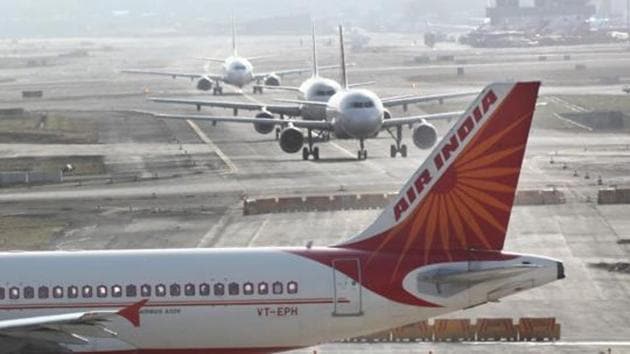 Cabinet approves Air India disinvestment, panel to decide timeline and procedure
The Indian government on Wednesday gave an in-principle nod for disinvesting its stake in Air India.
Livemint, New Delhi | By Tarun Shukla
UPDATED ON JUL 10, 2017 08:30 AM IST
The Union Cabinet on Wednesday formally approved the privatisation of national airline Air India Ltd and five of its subsidiaries.
Disclosing this, finance minister Arun Jaitley said at a press briefing that he would be heading a group to work out procedures for the Air India disinvestment.
The move will not only embellish the credentials of the National Democratic Alliance (NDA) as a reformist administration, but also ease the fiscal pressure on the union government — especially in indirectly servicing the airline's outstanding debt burden of Rs52,000 crore.
The group under Jaitley will decide on the treatment of unsustainable debt of Air India, hiving off certain assets to a shell company, spinning off and selling stakes in three profit-making subsidiaries, the quantum of disinvestment, and the eligibility criteria for the bidders, the government said in a statement.
This group will then report back to the Union cabinet for final approvals. The constitution of the group will be done "quite fast", Jaitley said without mentioning any timelines.
Air India was launched in 1932 by JRD Tata as Tata Airlines. Its name was changed to the current one in 1946. The government decided to take it over in 1953.
In 2000 too, also under a Bharatiya Janata Party (BJP)-led government, there was a move to privatize Air India but it went nowhere.
The airline has the largest domestic and long-haul fleet of 140 planes in the country and flies to nearly 41 international and 72 domestic destinations.
Apart from the planes, the airline also has vast land holdings, including nearly 32 acres in central Mumbai, besides its iconic headquarters on Marine Drive valued at more than Rs 1,600 crore. It also has properties in New Delhi, London, Hong Kong, Nairobi, Japan and Mauritius.
Amrit Pandurangi, formerly the head of Deloitte Touche Tohmatsu India LLP's aviating practice, welcomed the government's move but said it should not be hurried.
"It's a right decision but it has to be executed correctly; if not, it will become a bigger mess than what it already is," he said.
Pandurangi said it is important to 'extract value" from Air India.
"Valuation should take into account valuable bilaterals that Air India holds," he added, referring to bilateral flying rights. And there should be some thinking on the airline's highly unionized employees, and the state of its finances even "before the process begins," he said.
The civil aviation ministry declined comment.
A former employee said privatization was the only way ahead.
"The last 10 years have shown that in its current avatar Air India cannot be transformed into a great airline under government ownership ," said former Air India executive director Jitender Bhargava. "It's good that the government is acting swiftly as time is not on Air India's side because the longer you delay the more marginalized Air India gets."
Because there is bound to be opposition to the move, the government should justify it using facts and figures, Bhargava said. Emphasis should be laid equally on the debt and also the huge assets the airline has so that the privatisation is not treated as a "distress sale," he added.
The airline has so far received Rs 23,993 crore of the Rs 30,231 crore equity infusion promised by the government under a financial restructuring plan in 2012. It reported a loss of about Rs 3,587 crore in 2015-16, compared with a loss of Rs 5,859 crore in the previous year.
The Economic Survey 2017 recommended that the government privatize Air India. Late last month, finance minister Jaitley disclosed that the aviation ministry had been asked to look at all options of privatization.
A committee of top bureaucrats which included civil aviation secretary RN Choubey then sent its views on Air India's divestment to the Department of Investment and Public Asset Management (Dipam), which moved the cabinet note that was approved on Wednesday.
(Published in arrangement with livemint.com)
Close