All arrangements in place for Bhagwant Mann's oath-taking ceremony at Khatkar Kalan
Mar 16, 2022 01:36 AM IST
Khatkar Kalan, the ancestral village of Shaheed Bhagat Singh in SBS Nagar, prepares for the oath-taking ceremony of Punjab chief minister-designate Bhagwant Mann and his cabinet on Wednesday
Khatkar Kalan, the ancestral village of Shaheed Bhagat Singh in SBS Nagar district, prepares for the oath-taking ceremony of Punjab chief minister-designate Bhagwant Mann and his cabinet on Wednesday.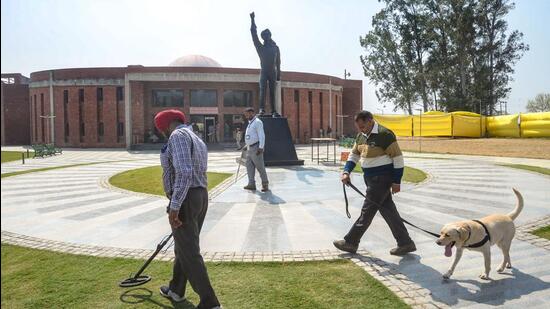 A senior official privy to the development said the oath ceremony will take place around 12.30 pm. Later, the new chief minister, Bhagwant Mann will probably address the gathering.
Also Read| Bhagwant Mann's oath-taking ceremony: Over 3 lakh people likely to attend
Delhi chief minister Arvind Kejriwal, deputy chief minister Manish Sisodia along with the entire Delhi cabinet will be present there. Invitations have also been sent to all Aam Aadmi Party (AAP) MLAs of the Delhi government. Among the special invitees, renowned singer Gurdas Mann, Manmohan Waris and his brother Kamal Heer, Karamjit Anmol, Binnu Dhillon and other famous personalities from the Punjabi music and film industry are there.
The Punjab government has made all arrangements for the mega event where nearly 4 lakh volunteers of AAP and others will attend the ceremony. The government has acquired 150 acres, including parking in more than 40 acres, for the event. Besides, medical teams have also been deployed, in case of a health emergency.
Also Read| Bhagwant Mann's swearing-in: Channi, CMs of other states not invited
Police officials privy to the arrangement said three stages have been set up. The main stage, where the CM will take the oath, the second one for the Delhi chief minister and his cabinet colleagues and the third one for all AAP MLAs from Punjab. "Similarly, separate galleries have been made for district presidents, special invitees and VVIPs," they added.
Police sources said more than 5,000 police personnel, including ADGPs, six IGs, eight SSPs and above 30 SPs and DSPs, have been deployed for the security and traffic management whereas the route was diverted for traffic going towards Anandpur Sahib to attend Hola Mohalla. Besides, four helipads have been prepared for choppers of the governor and other dignitaries.
Also Read| Bhagwant Mann's appeal to Punjab's 3 crore+ population: 'Take oath with me'
A senior AAP functionary said buses have been sent across the state to bring volunteers for the function.
Follow
Karnataka election
news, exit polls, election schedule and results on Hindustan Times