Delhi to launch MR vaccination drive from Monday
Feb 04, 2023 02:24 AM IST
The month-long MR vaccination campaign will commence from February 6, during which an additional dose of the vaccine will be administered to children irrespective of their previous vaccination history
The Delhi government is set to launch its campaign for the administration of the measles-rubella vaccine to children between the age of nine months and five years from Monday, the department of health and family welfare said on Friday, adding it aims to eliminate the diseases from the Capital by December this year.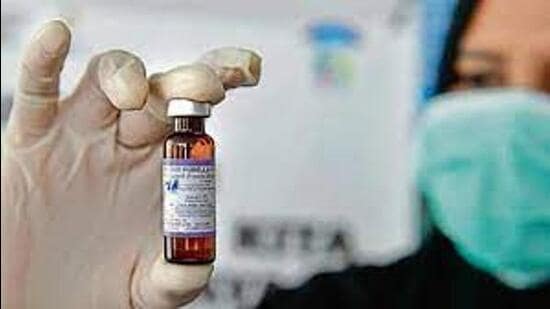 A senior official of the Delhi government's family welfare department said that the month-long MR vaccination campaign will commence from February 6, during which an additional dose of the vaccine will be administered to children irrespective of their previous vaccination history. The official said the department has already administered around 12,000-15,000 doses to children from vulnerable localities to control a possible spread of the infection in these areas.
"The vaccines will be administered in all Delhi government dispensaries and health centres. But we are also in talks with private hospitals to help us increase the reach of the campaign. All children who have received the two doses will be given this additional dose as a booster, and those who have not received any dose should definitely take this dose during the campaign," said another senior official of the health department.
Officials from Delhi government said that 12 localities have been recognised by the administration as "vulnerable areas", where vaccinators will pay special attention to children.
"In these areas, we have asked the district administrations to be more flexible. Instead of strictly following the vaccination slot of 10am to 1pm, we will allow vaccinations in early mornings and late evenings as well. We are also considering that if needed, we will start door-to-door vaccine administrations as well, in these areas," an official from health minister Manish Sisodia's office said.
Measles is a highly infectious viral disease, which causes fever and rashes in children and can also lead to symptoms such as diarrhoea, pneumonia and even deaths among younger children.
Rubella is also a contagious viral infection identified by its distinctive red rash. The disease can spread via direct contact with the saliva or mucus of an infected person or through the air by respiratory droplets produced from coughing or sneezing. Experts said that both these diseases are preventable by vaccines.
India saw as many as 12,700 cases of measles in 2022 (till November) according to data released by the World Health Organization (WHO).
Health department officials said that before the Covid-19 pandemic, Delhi had achieved an "excellent coverage" of about 70% of MR vaccination. However, the pandemic and the resultant lockdowns and resources diverted solely to Covid-19 management, derailed the campaign.
Dr Meena J, senior consultant (paediatrics and neonatology) at Aakash Healthcare said that the MR vaccine is a very important component of the universal immunisation programme in children as measles and rubella cause deadly infections.
"Especially measles has high infectivity, which means one child with measles can infect many others just by droplet and aerosol transmission. The infectivity is very high. If not treated, it can lead to severe infection, even though it is self limiting. The vaccine, which covers both measles and rubella, is the safest and the easiest way to prevent transmission of measles within the community. A lot of children did not receive MR vaccines due to Covid-19 pandemic so this campaign by the government is even more important," Dr Meena said.
Before the Covid-19 outbreak, 11 nations in southeast Asia, including India, were working to eliminate measles in their countries by the end of 2020. India ran a large-scale campaign to control the spread of measles between 2017 and 2019 for immunisation, including the administration of the measles–rubella vaccine, to 410 million children below the age of 15.
Vaccine doses were given to children, irrespective of whether they had previously received the vaccine or not, to ensure broad coverage. The government deemed the campaign a success, reporting that the number of fully immunised children increased by 6.7%every year, a government report stated.