'Nothing happened...': Jamia VC on row over Modi documentary screening
Jan 26, 2023 03:00 PM IST
BBC Modi documentary: The government has also directed social media platforms to block links to the documentary, which it has condemned as 'propaganda'.
Jamia Millia Islamia on Thursday afternoon played down reports of ruckus on its campus over attempts to screen the controversial BBC documentary on prime minister Narendra Modi. University vice-chancellor Najma Akhtar told news agency ANI, "Nothing happened inside our university... attempt was made but it was completely foiled." "Whatever happened... on the streets... small incident blown out of proportion. Precautionary measures were good."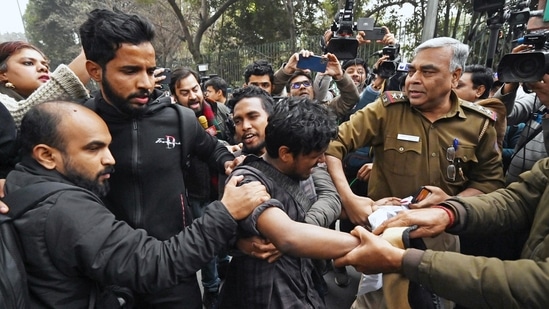 On Wednesday there were dramatic scenes outside the university in Delhi's Okhla area, where scores of students gathered to protest after the detention of four Students Federation of India (SFI) members before the proposed screening.
In the ensuing chaos dozens more were detained by police.
The majority were released later but at least 13 remain in custody as of this morning, news agency PTI said citing SFI officials.
Of these 13, at least four are students of Jamia - SFI Jamia secretary Azeez, SFI South Delhi vice president Nivedya, and SFI members Abhiram and Tejas.
READ | After JNU, BBC doc showdown in Delhi's Jamia; more students detained
Delhi Police said they acted after Jamia officials told them some students were creating ruckus outside the campus after the screening was cancelled.
The screening of - 'India: The Modi Question' - was set for 6 pm Wednesday.
However, Jamia administration said no screening would be allowed without permission and accused 'people with vested interest'.
"University reiterates no meeting of students or screening of any film will be allowed in the campus without permission," a notification read.
"The university is taking all measures to prevent people/organisations having vested interest to destroy peaceful academic atmosphere here."
The commotion at Jamia came a day after ugly scenes at Delhi's Jawaharlal Nehru University, where students alleged they had been attacked with stones while watching the documentary on their mobile phones.
This was after the JNU administration also did not allow the screening.
Aishe Ghosh, head of the JNU Students' Union, alleged they were attacked by the Akhil Bharatiya Vidyarthi Parishad - a student body backed by the Rashtriya Swayamsevak Sangh, the ruling Bharatiya Janata Party's ideological mentor.
READ | BBC doc row: Power cut at JNU; students allegedly attacked | 10 points
The SFI unit in Kolkata's Presidency University has sought permission from the authorities to screen the contentious documentary at 4 pm on Friday.
The government has also directed social media platforms to block links to the documentary, which it has called propaganda' that reflects a 'colonial mindset'.
The controversial two-part documentary is critical of Modi's relation with Indian Muslims and his time as the chief minister of Gujarat when sectarian violence claimed the lives of more than 1,000 people - mostly Muslims - after a train carrying Hindu pilgrims was set on fire - allegedly by a Muslim mob.
READ | On India blocking BBC documentary on Modi, US says, '… we have…'
Over 50 tweets have been taken down and several YouTube videos sharing the documentary have also been deleted following instructions from the centre. The decision to ban the documentary has been condemned by the opposition, including the Congress and Trinamool.