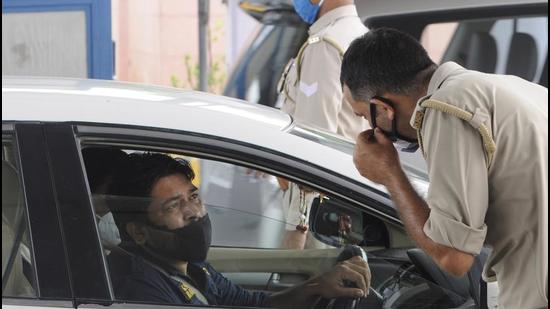 Private car is a public place, masks mandatory even when driving alone: Delhi HC
The Delhi high court chided lawyers who filed four petitions against the rule on masks, saying that if they had complied with the rule, it would have encouraged others as well. The judge described the mask as a suraksha kavach (protective shield) against the Covid infection,
By Richa Banka
UPDATED ON APR 07, 2021 04:01 PM IST
It is compulsory for people to wear a mask in a private vehicle even if they are driving alone, the Delhi High Court ordered on Wednesday, ruling that a private vehicle on the roads is also covered under the definition of a public place.
The high court also chided four lawyers who petitioned the high court last year against fines imposed by the Delhi Police for violating the mask rule, observing that compliance by lawyers encourages common people also to wear the masks needed to curb the spread of the coronavirus disease.
Justice Prathiba M Singh said a private vehicle on the road is a public place and it is mandatory to wear a mask even when one is travelling alone in the car.
"A mask acts as a suraksha kavach (protective shield) which would prevent the spread of the deadly virus," the high court said, recalling that several experts, doctors and researchers have emphasised on the need to wear face masks right from the early days of the pandemic.
Saurabh Sharma, a lawyer who was fined ₹500 for not wearing a mask last year, had challenged the penalty in his petition filed in September last year. Sharma said the officers who imposed the fine had failed to provide any executive order to establish that it was mandatory to wear masks while travelling alone in a private vehicle.
Sharma's petition echoed a view that had been articulated by many people on and off social media who argued that people should be allowed to take off their masks when driving alone.
The central government, which had first made it compulsory for people to wear masks in public places in April last year, did not take a stand and left it to state governments to see how they wanted to implement the rule.
Residents of the national capital, however, have reservations about the high court ruling.
BS Vohra, president of East Delhi's joint RWA forum, said the decision was "not fair". "We have no option other than to obey the court order. But I think wearing a mask while driving a car with all windows closed should not be made mandatory. When all windows of a car are closed and the person is in the vehicle then it is a private environment. The court should also take cognisance of political rallies and protests where hardly anyone is seen wearing masks or following social distancing norms," Vohra said.
Sanjay Rana, president of Greater Kailash-2 RWA, echoed Vohra's statement, and said, "I feel that masks should be mandatory when a person is driving alone with the windows open; but if all windowpanes are closed and the driver is alone in the car, then there should be no such compulsion. The court should do something about crowding in markets and other public places as it poses more danger than a single man driving a car."
A day before Saurabh Sharma filed his petition, the Chandigarh administration told police personnel to stop prosecuting people for not wearing masks if they are alone in the car.
In this case, the Delhi government supported the prosecution of the lawyers during proceedings in the high court.
It is not clear if the Delhi high court's ruling would persuade other states to review their stand on this issue.
Political parties seem to have opposing views on the ruling. Mudit Aggrawal, vice-president of Delhi Pradesh Congress Committee, said, "I would urge the court to reconsider their decision… This would lead to unnecessary harassment and corruption without any actual benefits in controlling Covid-19 cases." He added that by this logic, people must wear masks even at home especially if the door and windows are open.
Bharatiya Janata Party (BJP), however, welcomed the decision.
Delhi BJP spokesperson Praveen Shankar Kapoor said, "We support the court's ruling. We have even run mask and sanitiser distribution campaigns. We call upon our workers to encourage use of masks by distributing them wherever they are needed."
Close