India lost one-third of its natural wetlands in four decades, reveals study
Jan 31, 2020 01:51 AM IST
WISA's report is based on analysis of satellite images of land use and land and ground data of 22 cities and towns.
India has lost nearly one-third of its natural wetlands to urbanisation, agricultural expansion and pollution over the last four decades, a study by non-government organisation Wetlands International South Asia (WISA) has found.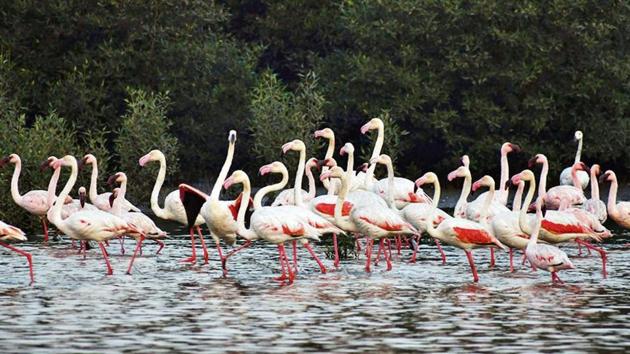 According to the report released on Thursday ahead of the World Wetlands Day on February 2, Mumbai has lost maximum weltands (71%) --- from 1970 to 2014. Other major cities that faced wetland loss include Ahmedabad (57%), Bengaluru (56%), Hyderabad (55%), Delhi and National Capital Region (38%), and Pune (37%). Mumbai wetland cover has gone down from 4.58 sq km to 1.3 sq km and Delhi-NCR's from 2.21 sq kms to 1.36 sq kms during this period.
WISA's report is based on analysis of satellite images of land use and land and ground data of 22 cities and towns.
Natural wetlands are permanently or seasonally saturated in water and create habitats for aquatic plants. They retain large volumes of water and their slow release makes them important for combatting extreme weather conditions like floods and droughts. Wetlands also contribute to water purification, water regulation, biodiversity, aesthetics and recreation, according to the United Nations.
WISA director Ritesh Kumar underlined wetland loss needs to be seen not just as a biodiversity crisis but as a development crisis manifesting into increased water, food and climate insecurity. "An ecosystem health assessment of wetlands under a 100-day programme of the Centre indicated that one in every four wetlands had low to a very low ecosystem health and high to very high threats," he said, referring to overall ecological health of wetlands in the country.
A draft report of the environment ministry reported by HT in December 2019 had listed 42 of the 100 top wetlands in the country in high risk category facing threat from encroachment and high human interference.
India has maximum wetlands in South Asia—7.7 lakh—covering the country's 4.6% geographical area, according to Wetland International, the parent body of WISE. The number of wetlands in India is only next to Japan and China in Asia.
India is home to 37 Ramsar sites or wetlands designated to be of international importance under the Ramsar Convention that are home to over 5,000 species of flora and fauna. They represent at least 23% reptiles, 13% amphibians, 23% fish, 65% birds, and 26% of mammalian species in the country, according to environment ministry website.
The Ramsar Convention on Wetlands is a UN environmental treaty established in 1971 and provides for national action and international cooperation regarding the conservation of wetlands.
New ten new Ramsar sites have been identified in the country, environment minister Prakash Javadekar said on Wednesday. They include six in Uttar Pradesh, three in Punjab, and one in Maharashtra. Kumar said wetlands have invariably been treated as wastelands. He cited examples of places like Chennai, where waste is dumped into Pallikaranai wetland.
"With not more than one-fifth of the municipal solid waste treated in the country, wetlands have become the ultimate waste dumps," said Kumar. "Recognising wetlands under a distinct land use category and recording them in land-use records would be a major step towards protecting them."
Union environment ministry this month released guidelines for wetland conservation across India. They prohibit setting up of industries near wetlands and disposal of construction waste into them. The guidelines call for fresh identification of wetlands. Each state is mandated to set up an authority to define strategies for wetland conservation.
"Different states have responded to these guidelines differently. States like Punjab, Uttar Pradesh, Tamil Nadu and West Bengal have taken up wetland conservation enthusiastically with regular meetings organised by the state wetland authorities while others like Maharashtra and Karnataka have slight issues in understanding the concepts," said Union environment ministry's joint secretary, Manju Pandey.
In 2017, the ministry notified the new Wetland (Conservation and Management) Rules that exclude and derecognise wetlands in coastal regulation zones and salt pans.
Experts said India needs to strengthen its wetland conservation programme. "Wetlands across India are not doing well not just from the biodiversity point of view but even in terms of water security," said Bombay Natural History Society director Deepak Apte. "It is not a good sign if the new rules are facilitating wetland destruction."
Pandey said derecognition of some previously identified wetlands is creating confusion at the district level. "We will write to respective states clarifying these details," said Pandey. "Wetland conservation is likely to improve in the coming years through location-specific workshops with all stakeholders."