Student unions plan to screen BBC documentary at Presidency University
Jan 25, 2023 11:47 AM IST
The government believes the film poses a threat to the sovereignty of the country, its relationships with other nations, and public order
Communist Party of India (Marxist)'s student wing Students Federation of India (SFI) has sought permission for screening the BBC documentary India: The Modi Question at Kolkata's Presidency University on Friday.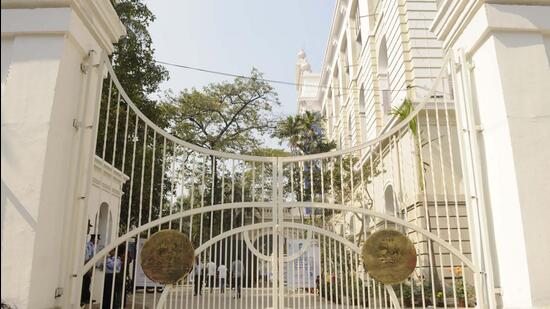 "We sent an email to the university authorities [on Tuesday] seeking permission to book the badminton court of the university to screen the documentary. The university authorities have not responded yet," said SFI's Presidency University unit chief Anandarupa Dhar.
Another section of the students plans to screen the documentary on February 1 at the university's AK Basak auditorium.
The Union government on Saturday ordered video-sharing service YouTube to take down copies of the documentary on the 2002 Gujarat riots. It asked Twitter to remove the related posts.
The government believes the film poses a threat to the sovereignty of the country, its relationships with other nations, and public order.
The documentary is critical of Prime Minister Narendra Modi's role during the riots. Modi was the chief minister of Gujarat when sectarian violence claimed the lives of over 1,000 people— mostly Muslims—after a train carrying Hindu pilgrims was burned allegedly by a Muslim mob.
Separately, a group of 302 former bureaucrats, diplomats, and judges wrote an open letter condemning the film as a "motivated charge sheet against our leader, a fellow Indian and a patriot".
Jawaharlal Nehru University Students Union (JNUSU) on Tuesday alleged students were pelted with stones after a power outage on the campus prevented the screening of the documentary. They blamed the administration for the outage.
The students' alleged power was deliberately cut and marched to the Vasant Kunj police station, seeking a First Information Report on the incident.
Several students watched the film on their mobile phones and laptops as the link was made available by the organisers of the screening. Police said no violence was reported to them.
Santishree Pandit, the JNU VC, said an electricity outage affected some parts of the campus as there was a major line fault.
JNUSU announced the screening of the documentary on Monday even as the administration warned of strict disciplinary action since the union did not seek the authorities' permission for the event.