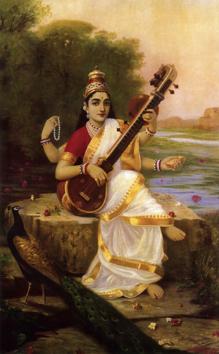 An easy path to a happier you: Shebaba by Renuka Narayanan
Spring is a time to celebrate Sarasvati, the patron deity of knowledge and the arts. And also to ask, how well do you really know yourself?
PUBLISHED ON JAN 20, 2018 05:16 PM IST
It's Vasant Panchami on Monday, the festival that heralds the arrival of Spring. I wonder how many people across the subcontinent, including those across post-colonial borders, will wear a touch of sunny yellow, eat a yellow laddoo or rasmalai or fly a kite on their roof with friends and family.
That's the fun cultural part once shared by communities. For Hindus, it remains the pleasant calendar opportunity to offer bright yellow flowers to the Jagadamba or mother goddess in her aspect as Sarasvati, the patron deity of knowledge and the arts. It is also the Hindu custom in many regions to recite the Yakundendu, a short and charming Sanskrit prayer of praise to Sarasvati.
Why is yellow the colour of Vasant Panchami? Different regions have different theories. Some say it represents the colour of the mustard flower, others, the golden warmth of the Sun. Celebrating communities across the region appear to agree on the 'happy palette' for the festival — tones of haldi-kumkum or turmeric-vermilion, offset by whites and greens.
Beyond the frolic, Basant, as Vasant Panchami is known in West Bengal and parts of the north, is held to be spiritually significant. Just as the Earth awakes again to Spring, the human soul or consciousness is supposed to start shedding its accumulated baggage of negativity.
Tradition is quite understanding of and realistic about human nature. It does not expect one to go cold turkey and banish worry, dislike and resentment on the spot. But the festival does seriously ask us to begin the process of renewing self-awareness, so that by the time Holi rolls around, about six weeks later (on March 1 and 2 this year), we're ready to symbolically burn the junk inside our heads along with the household junk burnt in the traditional Holi bonfire.
If you look closely at the Indian calendar, you will see that under the busy timetable of holy days, there's actually a plan to bond society through many opportunities to interact positively and pleasantly. Like any plan, it can and occasionally will go wrong. But its intentions are good.
The biggest and best punya or merit gained on a holy day is when we are friendly and affectionate to all, and don't shortchange those to whom we owe money and manners. So the punya is of two kinds — one gained by doing the good things that build a cordial society and one gained by not doing the bad things that vitiate the atmosphere.
I'm sure there are many ways to become self-aware and shed negativity, and here's one that I am partial to. When one wakes, think of your chosen deity of whichever creed for two minutes. Be 'religious' about the daily bath and clean, fresh clothes, kind deeds. Think over your day for five minutes at bedtime; say a prayer before sleep. Small steps towards a big result – a happier you.
shebaba09@gmail.com
The views expressed are personal
Close