How to view the bribe-taking voter in India
Updated on May 08, 2016 09:57 PM IST
The elite are disgusted by election freebies for the poor. But they are greater beneficiaries of subsidies for the poor than the poor themselves.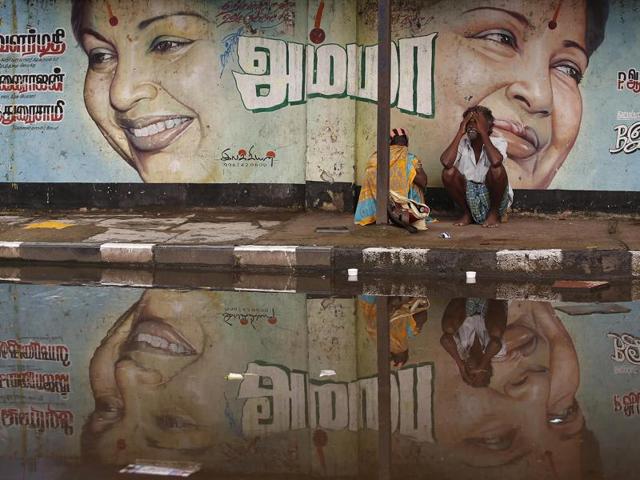 M Karunanidhi, the 91-year-old man in dark glasses, is once again leading his party into polls, and he is using the only ruse that politicians in Tamil Nadu believe works. Pledging a range of alms to the voters, who are now addicted to receiving them. But the days of just free rice and cheap milk, it appears, are over. He has promised the poor free or subsidised smart phones, tablets and laptops; high-speed Internet connection; also 10 GB free download every month, waiver of education loans, and homes.
He is good at this sort of thing. In 2006, a bunch of IIT graduates decided to enter Tamil Nadu politics and they posted on their website this unforgettable introduction to their ideology — "Reality is a continuum. Knowledge system, in shortest, is fragmentation imposed upon the continuum of reality." What Karunanidhi did was offer the poor free colour television. He won, of course.
Read | Jaya unwell, Karunanidhi too old, Vijayakanth incoherent: Ramadoss
The only person he is afraid of is his bitter rival, the incumbent chief minister, J Jayalalithaa, who once had him arrested in the middle of the night, from his bed. As he was led by the police he thought they were going to kill him. He even said, "Aiyoh", which is more commonly uttered by North Indians when they think they are imitating South Indians.
This month she told the masses, "Amma knows what her children need." And she has promised, among other things, eight grams of gold for every bride, presumably every poor bride – that's most of them anyway. Now, by Jayalalithaa's standards, eight grams of gold is called false tooth. But still, for most Tamil brides eight grams of gold means free mangalsutra. She has also offered free laptops with Internet connections for school students, free electricity and subsidised mopeds for women.
There was a time when Tamil politicians used to offer bad saris and the women would fall at their feet. When there was drought Jayalalithaa offered plastic pots. They thanked her for those too. She had to just sing the praise of the poor and the women would proclaim their love for her. Once, she went on a death fast, and hundreds of malnourished women stood around her and wept, and with desperate gestures begged her to eat. But the nation has changed. The antics and the alms are not what they used to be. In fact, today the middle class would not mind standing in line to get some of those alms meant for the poor.
Read | Tamil Nadu parties are buying up elections
These offers are merely the official list. There is a lot of illicit cash and gold coins going for the voters. And liquor, too, though both Karunanidhi and Jayalalithaa have promised to declare prohibition in the state if elected to power. The Election Commission has seized over Rs 80 crore in cash in the state over the past few days as unaccounted money presumably meant to bribe voters. The great actor Kamal Haasan said a few days ago that if you accept bribes, "You will only get a thief as your leader". He is afflicted with so much commonsense he would never be the legend Rajinikanth is. The logic of Tamilians has always been that they would get a thief anyway, so why not share a fraction of the booty.
Over the past quarter of a century, Jayalalithaa and Karunanidhi have taken turns to rule poorly. Once, their most effective policy decisions were that when Karunanidhi would assume power he would change all bus routes designations from 'J' to 'K', and when Jayalalithaa would come to power she would change 'K' back to 'J'. Both are widely perceived as corrupt. Jayalalithaa is more entertaining of the two, though. She arranges men in geometric formations and makes them bow to her. Women love her, including my righteous mother.
Read | Jayalalithaa is online CM, people are offline: BJP's Tamil Nadu chief
As is the case in the rest of the nation, except in Aap's Delhi, all major political parties need to lure voters in crooked ways to win elections. The elite are disgusted not only by the unofficial cash bribes but also the profligate governments that are increasingly giving away expensive alms. But this would be a hollow moral outrage. The wages are so low in the nation, opportunities so meagre and the private sector so exploitative, for the poor crooked and bad politics has often turned out to be humanitarian acts. As the Reserve Bank of India governor recently explained, the Indian voter backs corrupt politicians because the rogue gets things done for him, at least in the short term.
There is another reason why the elite should stop short of moral outrage. They are greater beneficiaries of subsidies for the poor than the poor themselves. Electricity is priced low in India because most Indians cannot afford higher prices. As a result the rich, who have the capacity to consume more power through a range of appliances, benefit more from the prices. Most utilities are cheap for the rich because those prices are meant for the poor. Railway subsidies, too, benefit the upper classes more than the poor as they travel more frequently and on longer journeys than the poor. The poorest 80% of Indian households account for less than 30% of the railways' income from passenger fares. And, the wealthiest half of Indians consume 75% of the subsidised liquefied petroleum gas.
As we know, it is cheap to be rich in India.
Manu Joseph is a journalist and the author of the novel, The Illicit Happiness of Other People. He tweets via @manujosephsan
The views expressed are personal
Personalise your news feed. Follow trending topics