Hindu republic: India is being recreated into a majoritarian state
Oct 21, 2016 08:12 AM IST
The justice system is undermined. Minorities are shown their place. India moves inexorably towards a Hindu republic
"Humko iska badla chahiye and aur hum iska badla le kar rahenge. Hinduon ne chudiyan nahi pahan rakhi hain. In mullon ko jad se ukhaad phenke ge hum...We want revenge and we will achieve this vengeance. Hindus have not worn bangles. We will uproot these mullahs (Muslims) from the roots and throw them away."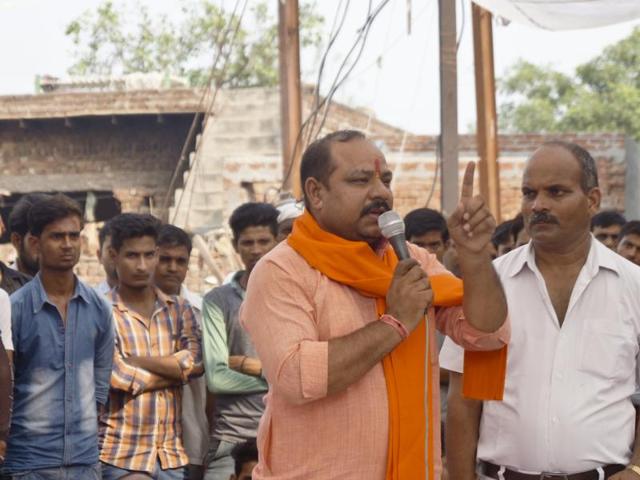 Nothing about this hate speech, its setting and what happened after Kapil Bhati delivered it is now unusual in India. In the video, recorded on October 5, Bhati, who seeks a Bharatiya Janata Party (BJP) ticket, tried to rouse a quiet crowd gathered to honour Ravin Sisodia, a suspect in the lynching death of Mohammed Ikhlaq, a retired ironsmith of a village near Delhi. After dying from either chikungunya or dengue, Sisodia's body lay in an air-conditioned coffin draped with the national flag: In a nation setting new normals, giving a murder suspect a farewell worthy of a soldier might soon be par for the course.
Stay tuned with breaking news on HT Channel on Facebook.
Join Now
Read | Bisada witnesses the disrespect of the National Flag
In normal times — it is hard to say today what such normality might be — Bhati would have been charged with incitement and detained. Instead, Mohammed Ali, a Hindu reporter who released Bhati's hate speech, got a call from a police inspector of Uttar Pradesh's cyber security cell. The inspector, Ali told me, asked him to delete the video. "I told them, file an FIR (first information report, against Bhati), send me a copy and then I will remove the video," said Ali, who covers restive, western UP and is writing a biography of violence-torn Muzaffarnagar. No FIR was filed; the video remains on Ali's twitter timeline.
When Ikhlaq — father of an Indian Air Force corporal — was killed a year ago, the local Samajwadi Party government and the BJP called it an "isolated incident", although it appeared clear that it was a particularly violent manifestation of India's march towards a Hindu rashtra. Three years ago, I wrote that whether in Delhi or the states, driven by the Congress or BJP, secular India was gradually coming apart. The nation was being remade. After Ikhlaq's death and the justifications for it by the Hindu Right — the police have now said there was no evidence of cow slaughter, not that it justified his murder in any way — it was evident that the process of creating a Hindu mirror image of radical Islam was underway. With the BJP gaining confidence, its satellite organisations — the VHP, Bajrang Dal, Hindu Mahasabha (which for the first time has installed a commemorative bust of Mahatma Gandhi's assassin, Nathuram Godse) — are accelerating that process.
Read | Dadri lynching case: Police probing letter threatening to kill accused in jail
Assiduously seeded with majoritarianism and regularly watered with prejudice, India's social and political ground is ripe to be harvested by those who believe — to use Nelson Mandela's words — "the oppression of one by another" is the natural order of things. So it is that incidents worthy of front pages and prime time until a year ago are mostly ignored, flaring briefly on social media before fading into the spreading dark.
The fundamental characteristic of the emerging republic is a majoritarian tone and tenor. The justice system is learning to gloss over hate speech and violent assertions of Hinduism. That is evident nationwide, as police side with attackers, especially with self-proclaimed gau rakshaks (cow defenders) and victimise victims, almost all Muslim.
Read | Shameless 'beef' politics eclipses teen rape-survivor's plight in Uttar Pradesh
Others crafting the new republic use the majoritarian tone to make quiet, enabling changes or float ideas that can be translated into reality. So, Ajay Bhardwaj, a new member of the law commission — the government's adviser on legal reform — suggests that the colonial-era Indian Evidence Act should be changed. There is nothing inherently wrong with this suggestion, except that Bhardwaj — a self-declared RSS "swayamsevak" and the lawyer who defended the Hindu men who massacred 65 Muslims at Ahmedabad's Gulberg housing society in 2002 — suggests that reforms that draw on Hindu religious texts, the Vedas and shastras to "usher in an era of positivity in judiciary".
While the process of attempting to Hinduise the underpinnings of secular India gains momentum, prejudice against minorities has crept into everyday life, as the attack on a Hindu woman and Muslim man travelling on a bus earlier this month in Karnataka illustrated. Hindu vigilante groups waylaid the bus after comrades alerted them. Was the couple eloping? No, they did not know each other; they only happened to board the bus from the same stop.
Read | RSS support for cow vigilantes will only embolden them further
Nothing is more disturbing than the wilful undermining of the law to protect Hindus, particularly in the "cow belt", the backward but electorally crucial states of the Hindi heartland. There are numerous instances of new normals in subverting the law, but I refer in particular to the contrasting fates of Minhaj Ansari in Jharkhand and Suresh Yadav in Madhya Pradesh.
Last week, Ansari was arrested on charges of incitement for an allegedly anti-Hindu WhatsApp message and died in police custody. The post-mortem report found that Ansari had been tortured. A sub inspector was suspended — after his death. Now consider what happened when police in Madhya Pradesh arrested RSS pracharak Suresh Yadav last month for similar incitement over WhatsApp, allegedly against Muslims in this case. A violent mob of the RSS and BJP workers, according to various media reports, attacked the police station and tried to grab the officers who arrested Yadav. Soon, a constable was forced to register an FIR against eight of his own colleagues, who are now suspended and charged with "attempt to murder".
Read | The payment of compensation to Bisada accused's kin sets a dangerous precedent
No action was taken against Yadav or the mob, listed as "unknown assailants". The eight suspended officers are in hiding, fearing for — more than their careers — their lives. The name of the inspector who led the team? Zia Ul Haq. As he remains in hiding, Haq will have time to contemplate his place in the new republic.
Samar Halarnkar is editor, Indiaspend.org, a data-driven, public-interest journalism non-profit
The views expressed are personal