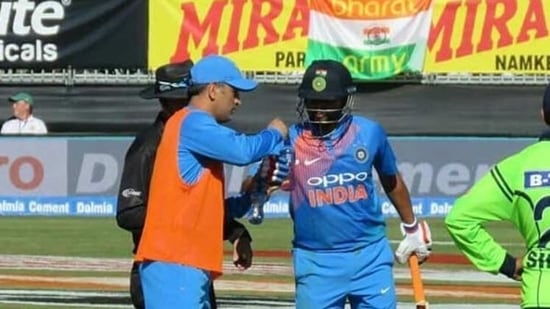 'Dhoni said take whatever you need, don't call me again. I thought of taking full revenge': Raina on banter with MSD
Raina went on to recall another hilarious episode with Dhoni during a T20I match in Ireland in 2018. Dhoni was not playing that match but was carrying drinks like any other squad member. Raina took 'full advantage' of it by calling him many times.
PUBLISHED ON JUL 17, 2021 07:15 AM IST
Former India cricketers Suresh Raina and MS Dhoni have shared a great camaraderie during their playing days. Raina was a key part of the Dhoni-led Indian team that won the 2011 ODI World Cup. The two players have also played for Chennai Super Kings in the Indian Premier League for many years, and in fact, both Raina and Dhoni announced their international retirement on the same day - August 15 - last year.
But there was a time when Raina and Dhoni had to play for opposing teams in the IPL. Raina was named the captain of Gujarat Lions (GL) while Dhoni was picked by Rising Pune Supergiant (RPS) after CSK were handed a two-year ban in 2016.
In a recent interaction, Raina recalled a hilarious banter that took place between him and Dhoni during one IPL match between GL and RPS. Speaking to sports presenter and host, Gaurav Kapur, on the latest episode of 22 Yarns Podcast uploaded on Spotify, Raina recalled that he used to feel various emotions when facing Rising Pune Supergiant because several of his CSK teammates were a part of the franchise.
Also Read | 'Sourav Ganguly was like - go on, play. I am behind you. But that's not Virat Kohli's method'
"Yes, there were mixed emotions. I remember we were playing in Rajkot and, Ashwin was bowling' McCullum was at the non-striker end; I was batting; Dhoni bhai was keeping; Faf du Plessis was standing at first slip. It felt like we were playing the Kanga League of my neighborhood! (chuckles)," Raina said.
Raina, then, recalled how Dhoni cheekily welcomed him from behind the stumps when he came to the crease.
"When I went in to bat, Dhoni bhai said, 'Aao aao captain sahab, aao', (Welcome captain) and I said 'Aare hai are hai bhai, zara peeche ho thoda!' (I am coming brother, move aside first!). This was all very fun," Raina said.
The left-handed batsman further went on to recall another hilarious episode between him and Dhoni during a T20I match in Ireland. While Dhoni was part of the squad, he was rested and was not included in the playing XI on the tour. During the 2nd T20I, when Raina came to bat, Dhoni brought the drinks to the ground.
"We had gone to Ireland in 2018, and enjoyed ourselves thereafter the matches. Dhoni bhai carried drinks for me there," Raina recalled.
"I remember one moment. Dhoni bhai thought that I often ask a lot for gloves and bats while batting, so he brought the whole kit bag to the ground and said: 'Take whatever you want, don't call me again'. I think I was batting alongside Rahul and we both had hit fifties. He (Dhoni) said 'I won't come again, it's very cold out here'. (chuckles)," Raina further said.
"I still said, 'Do one thing, bring a grip as well'. And he replied: 'Bohot bade waala hai tu, tu rukja, paani pi, mai leke aata hu'. So it was that kind of fun. I thought to myself that I'll take full revenge that day," he further revealed.
Both Raina and Dhoni will once again feature for CSK when the IPL 2021 resumes in September in the UAE. The tournament was halted in May due to the Covid breakout in the tournament's bio-bubble.
Topics
Close