ICC Women's World Cup: 'No hype for India vs Pakistan tie a blessing'
As India and Pakistan gear up to square off in the ICC Women's World Cup 2017 on Sunday, there is no hype like what clashes between their men's teams generates. Former Indian women's team wicketkeeper Anju Jain feels it is a blessing in disguise.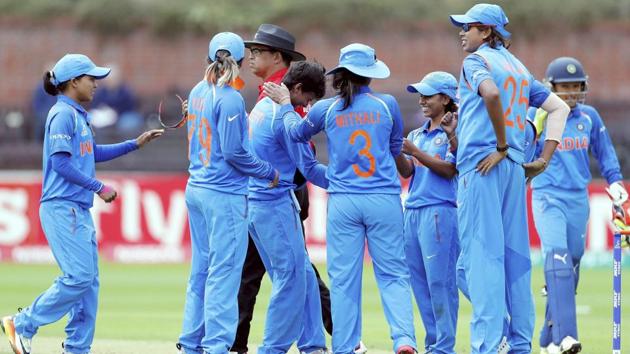 Updated on Jul 02, 2017 10:31 PM IST
India and Pakistan square off in a cricket World Cup on Sunday, Usually the hype surrounding such contests hits fever pitch. However, this is the ICC Women's World Cup 2017, and there is hardly any such build-up.
The former India women's team wicketkeeper Anju Jain, who played from 1993 to 2005, believes it is a good thing for the Indian team. Jain, who played eight Tests and 65 ODIs, told Hindustan Times, "Lack of build-up is actually a blessing in disguise. For cricketers, this contest is just another game. Without all this extra attention, they can focus on the game."
READ | Mithali Raj wants India to improve fielding ahead of Pakistan tie at WWC 2017
The Mithali Raj-led side has got off to a great start in the ICC Women's World Cup. In ICC World Cups, India women hold a 2-0 advantage over Pakistan, having defeated them in 2009 and 2013. India have never lost to Pakistan, and hold a 9-0 record in ODIs.
Early preparation key
Jain played a huge role in the 2005 Women's World Cup in South Africa. The team entered the final for the first time, but lost to Australia by 98 runs in the final in Centurion. Jain was the second-highest run-getter for India behind Mithali Raj with 155 runs at an average of 31. As wicketkeeper, she topped the list with 17 dismissals, which is still a World Cup record.
With the current team getting off to a good start, there are similarities with the 2005 campaign. Jain believes early preparation is the key to the success.
"Our preparation for the 2005 World Cup began in 2003 itself. Heading into the tournament, we played 30-35 matches. We also had a one-and-a-half month fitness camp, something we never had before. The team went to South Africa 10 days before the tournament to get used to the conditions. There was a good core of players in the team and there was clarity on each one's role," Jain said.
READ | ICC Women's World Cup: India confident ahead of Pakistan encounter
In the 2017 World Cup, the Indian team went to England 14 days before the start of the tournament to get used to the conditions there and Jain believes India can repeat the 2005 success. "There are a bunch of good players who have been playing international cricket on a regular basis. Maintaining the intensity and consistency will be the key."
Good changes in women's cricket
Jain played cricket in India at a time when women's cricket was not taken seriously. However, with the BCCI introducing central contracts for women cricketers in 2015, the situation has drastically changed.
"In the current set-up, players have plenty of financial benefits. When I played, I was never paid. The facilities and venues are now the best. With the contract system in place, players are given the incentive to perform on a consistent basis and that helps raise the standard of the game," Jain said.
However, she felt more needs to be done. "The exposure to international cricket can be better. Domestic coverage needs improvement. There must be consistent coverage of all women's games in India," Jain added.
READ | ICC Women's World Cup: Smriti Mandhana says England makes her 'happy inside'
Women's Premier League
Indian women's cricket got a shot in the arm after Harmanpreet Kaur and Smriti Mandhana became the first from the country to play in the Women's Big Bash League in Australia, for Sydney Thunder and Brisbane Heat respectively. Madhana has been the star, top-scoring with 90 and 106 not out in the victories over hosts England and West Indies.
Jain said a women's premier league, on the lines of IPL, will further boost the game in India.
"When you are playing with other cricketers, you get tremendous exposure. Sharing the dressing room with other international players only helps your game grow," Jain said.
India will be hoping to become only the fourth nation to clinch the Women's World Cup as they look to build on their good start.
Close Story