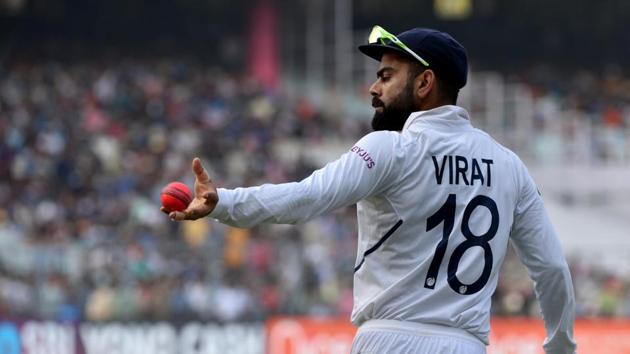 Kohli & Co to go pink in Australia
BCCI president Sourav Ganguly said after the meeting, "Day-night Test will happen and we will make a public announcement—the second Test against England next year. Yes, against Australia also."
New Delhi | By HT Correspondent
UPDATED ON FEB 16, 2020 10:55 PM IST
India will play their first day-night Test away from home during their tour of Australia at the end of the year, it was decided in the meeting of the Indian cricket board's (BCCI) Apex Council on Sunday.
BCCI president Sourav Ganguly said after the meeting, "Day-night Test will happen and we will make a public announcement—the second Test against England next year. Yes, against Australia also."
The former India captain said day-night Test will become a regular feature in all future Test series at home. India will also play a day-night Test against England when they tour India in January 2021 for a five-Test series.
India, who were among the last countries to play a day-night Test, featured in their first game under lights against Bangladesh at the Eden Gardens in November. The Test also helped BCCI assess aspects like the durability of the SG pink ball, whether batsmen could easily spot the ball during twilight and the effect of dew under floodlights.
ALSO WATCH | 'How can you forget..': Mohammed Shami slams Jasprit Bumrah's critics
The Apex Council's decision comes after India captain Virat Kohli had said the team is now prepared to play under lights. "We are ready and up for the challenge—whether it's Gabba (Brisbane), Perth... it doesn't matter to us. It's become a very exciting feature of any Test series and we're open to playing day-night Tests," Kohli had said last month.
Cricket Australia had considered playing two day-night Tests against India, but Ganguly had said that it would get a bit too much.
It is likely that India will play the day-night game in Adelaide as it will suit the TV time of Indian viewers. If Cricket Australia goes ahead with Adelaide Oval as the venue then two of the four Tests in the series could coincide with Indian viewers' day viewing hours—the other venue being Perth.
India had shown a lack of interest in playing floodlit Test matches under the previous BCCI dispensation with the team management also arguing that players cannot play one without being fully prepared for the changed playing conditions, ball, etc. However, the mood has changed since former India skipper Ganguly took over as president late last year.
India had first experimented with pink-ball cricket at domestic level in the Duleep Trophy before the issue was put on the backburner. It was revived late last year after the current office-bearers took over from the Supreme Court-Committee of Administrators.
Board gives R2 crore to ICA
The Apex Council meeting also decided to sanction an ad hoc sum of R2 crore to the newly-formed Indian Cricketers' Association (ICA), headed by former India batsman Ashok Malhotra.
It is learnt that the disbursement is to meet the expenses incurred in setting up the body. The R2 crore is meant to cover the pre-operative expenses connected with the registration of the company, expenses for meetings as well as travelling for it.
The ICA, a body of ex-cricketers, had originally sought a budget of R12 crore. Money is needed by ICA to set up its office and hire staff as well.
There had been a mixed response to its formation as there is still no clarity on the role of the association other than the stated task of looking after the welfare of former players.
Some former office-bearers have criticised it saying BCCI was doing enough anyway for former players by way of pension and medical expenses. However, many former cricketers feel it is about having a say in the working of BCCI as a male and female representative of ICA will be part of the Apex Council.
Ethics officer's extension
While the term of the current ombudsman and ethics officer, Justice (retd) DK Jain, will end on February 29, the Board is likely to speak to him regarding his extension in a day or two.
While as per the constitution they are two separate posts, the Board had given both positions to Jain to ensure there was no confusion regarding the roles. Jain has handled over 100 cases as ethics officer and about three or four as ombudsman.
The former Supreme Court judge on Sunday rendered the conflict of interest complaint against Kapil Dev as 'infructuous' after the 1983 World Cup-winning captain stepped down from his multiple cricketing roles. "Yes, the complaint against Kapil has been rendered infructuous," Jain confirmed.
Kapil, along with Shantha Rangaswamy and Anshuman Gaekwad, was part of the Cricket Advisory Committee last year before they quit in September following the filing of a conflict of interest complaint against them.
Johri's resignation
Ganguly said BCCI has not received any resignation letter from CEO Rahul Johri, following reports that he had resigned. "We will see after we receive it," he said. However, sources have said Johri, who took over his post in 2016, has already apprised Ganguly and board secretary, Jay Shah.
Close