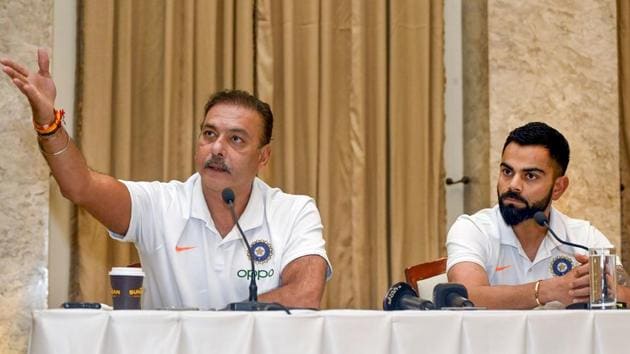 Virat Kohli pre-departure presser Highlights: 'Reports of rift with Rohit Sharma baffling'
India skipper Virat Kohli on Monday addressed the media in Indian team's pre-departure press conference. Speaking to the media, the captain made it clear that there is no rift within the team and called the rumours as "baffling". "In my opinion, it's baffling and ridiculous to read such stuff. Public talks about how well we've played, and here we're feeding lies and talking about negative things," Kohli said.Follow Virat Kohli press conference Highlights:
UPDATED ON JUL 30, 2019 08:18 AM IST
18:49 hrs IST
Ravi Shastri on World Cup performance
"Winning the World Cup would've been the icing on the cake, but that takes nothing away from the boys' performance."
18:41 hrs IST
Kohli on coaching selection
"We have a great camraderie with our coaching staff. So we would want the same coach to continue. But that is up to CAC to decide. The CAC hasn't contacted me yet. If they want my opinion, I'll go and speak to them."
18:38 hrs IST
Kohli on rumours rift with Rohit
"In my opinion, it's baffling and ridiculous to read such stuff. Public talks about how well we've played, and here we're feeding lies and talking about negative things. And I've seen this being brought up for far too long now. It's bizarre how people are creating these things. You enter the dressing room and witness for yourself the kind of healthy atmosphere that's there. The lies are made to look believable.
"We are living and breathing in getting Team India to the top, and here some people are doing there best to bring us down. The friendship and camaraderie is there for everyone to see."
18:36 hrs IST
Kohli-Rohit rift rumours
"It is absolutely baffling and ridiculous to read such rumours about the rift. The focus has shifted from the play. People are creating this stuff on outside. We are senior players. People are creating lies and fantasies about the dressing room. It is disrespectful. I don't think there's anything very alarming about where the Indian team is placed."
"We wouldn't have had the kind of performances we've had if the dressing room atmosphere wasn't a good one. The kind of performances we've had is only possible due to the camaraderie, trust and understanding in our team."
18:35 hrs IST
Virat Kohli on middle-order
"I don't know on how to answer this question on middle-order. It's not fair to be critical of the middle-order. We are looking to find someone who is consistent."
18:33 hrs IST
Virat Kohli on rift rumours with Rohit Sharma
"If the atmosphere in the team is not well, the team would not have been so consistent so far. We have climbed from no. 7 to no. 1. This cannot be done without the camraderie between the players."
18:31 hrs IST
On Ajinkya Rahane
"We chose him (Rohit) over Jinx (in the South Africa Test series) because of the way he (Rohit) was playing. But Jinx is a solid player as well. We've all seen the impact he can make with the slip catching and everything. I don't think we should jump the gun. But I think he will come around. Jinx will also come in, and he can start stringing in scores."
18:30 hrs IST
Focus on T20I World Cup
"With T20I World Cup next year, the focus was bound to shift to T20Is. But the Test Championship will keep focus on Test cricket as well. With three formats, things will continue to shift rapidly. That is the nature of the modern game."
18:30 hrs IST
On break after World Cup
"Nothing was communicated to me about rest. It's an important time for the team to regroup. I know we were all very disappointed with not going into the World Cup final, but we have to move on."
18:26 hrs IST
On T20Is matches
"The T20I matches against West Indies will be a good avenue for new blood to show their talent. Some players who have performed in IPL and in domestic tournament. These players have shown great composure in IPL. This is a great makrer for these guys and for us to have them in the squad."
18:27 hrs IST
Virat Kohli on Test Championship
Virat Kohli: Test Championship will provide more exposure to Test cricket. This will be challenging and exciting for the players and they will learn from the experience.
18:25 hrs IST
Press conference begins
Virat Kohli and Ravi Shastri have come out and the press conference begins. The captain and coach will now address the media.
18:11 hrs IST
West Indies tour schedule
T20I Schedule:
1st T20I: Fort Lauderhill in Florida (August 3), 8 PM
2nd T20I: Fort Lauderhill in Florida (August 4), 8 PM
3rd T20I: Providence Stadium in Guyana (August 6), 8 PM
ODI Schedule:
1st ODI: Providence Stadium in Guyana (August 8), 7 PM
2nd ODI: Queen's Park Oval in Trinidad (August 11), 7 PM
3rd ODI: Queen's Park Oval in Trinidad (August 14), 7 PM
Test Schedule
1st Test: Sir Vivian Richards Stadium in Antigua (August 22-26), 7 PM
2nd Test: Sabina Park in Jamaica (August 30 - September 3), 8 PM
18:05 hrs IST
The middle order muddle
HT's Sanjjeev Samyal to Star Sports - I would like to know from Virat Kohli on how he looks to find a solution to the middle order problems.
17:50 hrs IST
Did India player refuse to post 'all is well' message post reports?
The rift between senior players in the Indian ODI team appears to be getting broader by the day and the senior administrators of the Board of Control for Cricket in India (BCCI) are supposedly trying to douse the flames by getting one of the senior players to post messages of bonhomie within the team on social media.
A a senior board functionary said that one of the Supreme Court-appointed Committee of Administrators (CoA) members had spoken to a player and proposed the idea that he could write a message on social media that the team environment is "perfectly fine".
17:28 hrs IST
Expect Windies to give tough competition: Viv Richards
"India-West Indies series have always seen explosive action and I don't expect anything less this time around. With the current form of the West Indies team, I look forward to them giving a tough competition to the Indian side," Richards was quoted as saying in a media release issued by official broadcasters Sony Pictures Sports Network.
17:10 hrs IST
Kohli-Rohit rift?
Reports of a rift between Indian captain Virat Kohli and vice-captain Rohit Sharma have gathered steam over the past few days and a concerned BCCI has decided to intervene to douse the fire and speak to both the players. BCCI CEO Rahul Johri is set to fly to US next week. "In today's age when support groups get involved, things can get messy. Both are mature individuals and things should be back on track after being spoken with," a BCCI source told India Today.
16:50 hrs IST
Sunil Gavaskar speaks on India team
"Speaking of lame ducks, the Indian selection committee appears to be one. After the reappointment, he (captain) gets invited to the meeting for his views on the selecting the players for the team. By bypassing the procedure, the message that goes out is that while the players like Kedar Jadhav, Dinesh Karthik get dropped after below expectations performance, the captain continues despite much below par expectations where the team did not even reach the finals," Sunil Gavaskar wrote in a column for Mid-Day.
16:30 hrs IST
Hello and welcome
Hello and welcome to our live blog on Team India's press conference. Skipper Virat Kohli will hold the press conference in Mumbai, contrary to previous reports. The skipper is expected to face some tough questions on the reports of a possible rift between him and his deputy Rohit Sharma.
Topics
Close