India Women vs Bangladesh Women, Women's T20 World Cup Highlights: Shikha, Poonam take India to easy win
Updated on Feb 24, 2020 08:32 PM IST
India vs Bangladesh: Catch all the highlights from India vs Bangladesh match at the ICC Women's T20 World Cup.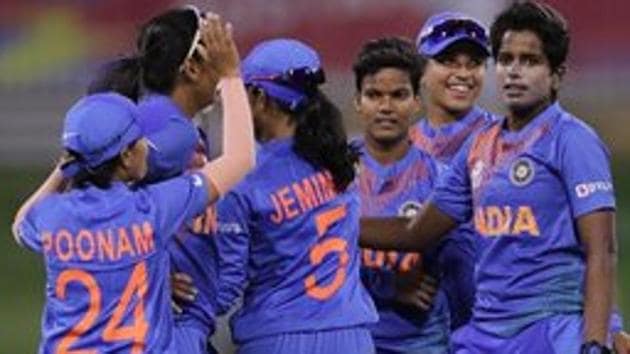 India vs Bangladesh highlights: A thoroughly professional performance from India has taken them to an 18-run win over Bangladesh. Shafali Verma (39) and Jemimah Rodrigues (34) helped India to a total of 142/ 6. Veda Krishnamurthy produced a late cameo. Poonam Yadav was the pick of the bowlers again as she picked up 3 wickets. Medium pacers Shikha Pandey and Arundhati Reddy picked up two wickets each to put Bangladesh in trouble early.
India vs Bangladesh highlights:
19:43 hrs: That's it, a win by 18 runs for India. A thoroughly professional performance by the Indians. Another easy victory and Harmanpreet Kaur's team looks pretty good in this tournament.
19:39 hrs: WICKET! What an amazing yorker by Shikha Pandey. That rattles the stumps, second of the match for Pandey.
19:37 hrs: Big over for Bangladesh but that won't be enough. 22 runs needed off the last to be bowled by Shikha Pandey. Seems like a task too big right now.
19:31 hrs: Poonam Yadav bowls another one of those loopy deliveries and Jahanara goes for the big heave and she has been stumped. Bangladesh 108/7
19:27 hrs: WICKET! Nigar Sultana tries a swepp and she has been caught at square leg. Gayakwad picks up her first, Bangladesh 106/6.
19: 24 hrs: That's a long hop from Yadav and Jahanara Alam gets an easy boundary. Bangladesh need 40 runs from 4 overs at a rate of 10 runs per over. Nigar Sultana holds the key.
19:22 hrs: WICKET! Poonam Yadav strikes, Shafali takes an easy catch as as Fahima Khatun departs for 17.
19:19 hrs: Joty hits a brilliant shot through the covers against Deepti Sharma and that brings the equation down further.
19:16 hrs: Big over for Bangladesh as Khatun manages to get two boundaries through top edges. Reddy is unlucky but it doesn't matter how they come. Bangladesh need big overs.
19:08 hrs: WICKET! Arundhati Reddy is taken for a four by Joty but she strikes back by removing Fargana Hoque Pinky. Smart catch by Bhatia behind the stumps.
19:02 hrs: Poonam Yadav has struck. This one was looped up in the air and Sanjida went for a wild swing and missed. No reaction from the keeper but Yadav was sure and Harmanpreet went for the review and ultra edge has spotted a feather edge. India pick up the third wicket and what call by Poonam Yadav.
18:58 hrs: Joty has come out and she has hit Reddy for two boundaries in the over. This is good batting by the Bangladeshis. Minimum risk and great result. This was big over, Bangladesh women 60/2 after 10 overs. The asking rate is close to 9 now and this will be a tall order.
18: 55 hrs: Poonam Yadav, India's star from last match is into the attack and she has been taken for a boundary early in the over. Not much damage eventually, just 6 runs from the over.
18:54 hrs: WICKET! Khatun looks to play in the air again and this one has gone up and an easy catch taken as mid off by Ghosh. Reddy strikes.
18: 50 hrs: MUCH NEEDED BOUNDARY - Arundhati Reddy pitches that one up and Khatun hits that straight as an arrow. That's a relief shot for Bangladesh.
18:48 hrs: Gayakwad bowls another tight over. Just 5 runs from it. This is good for India as the required rate is creeping up and now the batswomen will have to look for big shots and that is when mistakes happen.
18:44 hrs: End of the powerplay! Shikha Pandey has now bowled 3 overs and she has excellent figures of 1/11. Bangladesh 33/1 after 6 overs and still looking for another big over.
18:42 hrs: Shikha Pandey is into her third over and that's a chance straight away. Sanjida Islam steps out but the length is short and it hits teh shoulder of the bat and goes up in air. Shikha dives but teh ball is just away from her. good attempt.
18:38 hrs: Rajeshwari Gayakwad makes a strong start. The spinner has bowled a very tight over and not allowed the Bangladeshi batswomen to force the issue.
18:35 hrs: Shikha Pandey has bowled a tight over there. She has maintained a good line and length and managed to keep the runs in check. Bangladesh women 24/1 after 4 overs.
18:31 hrs: CHANCE! That was big moment in this chase. Murshida Khatuna gets a top edge and it ballooned in the air but Shafali Verma missed that completely. Big chance lost.
18:29 hrs: Three boundaries in the over, Murshida Khatun taking the attack to Deepti Sharma. She is going hell for leather and has helped Bangladesh hit back after a rather sedate start.
18:26 hrs: WICKET! And that's the first breakthrough for India. Shikha Pandey bowls that outside the off stump and Shamima Sultana miss times that and it is caught in the deep. After 2 overs Bangladesh women at 5/1
18:22 hrs: Cautious start for Bangladesh women. Deepti Sharma giving just 3 runs in the first over. Harmanpreet Kaur opting for spin first up.
18:05 hrs: India post 142/6 in 20 overs against Bangladesh and this will not make them very happy. Just 35 runs off the last five overs in this encounter and it was thanks to Veda Krishnamurthy's quickfire 20 that IND were able to post a competitive total.
17:57 hrs: Three boundaries for Veda Krishnamurthy and India are back on track! Nahida Akter conceded two in the previous over and the last one came off Salma Khatun. 19 overs gone and India are 137/6
17:48 hrs: A massive mix-up and India lose another wicket! Deepti Sharma and Veda Krishnamurthy ended up on the side of the pitch but it was the spinner who came up short as India are 113 for the loss of six wickets.
17:44 hrs: Richa Ghosh went for another big shot but was caught in the deep for 14. India are trying to increase the run rate but the efforts are not yielding the desired results right now. IND 111 for 5.
17:41 hrs: Back to back boundaries for Richa Ghosh and India are looking to score quickly with four overs to go in the match. 16 overs gone, IND are 111 for the loss of four wickets.
17:37 hrs: Deepti Sharma and Richa Ghosh have found it tough to score quickly on this turf till now and that is good news for Bangladesh. India were off to a flyer in this game and this period will allow them to control the run rate.
17:29 hrs: A mix-up and India have lost the wicket of Jemimah Rodrigues. It was a good piece of fielding from Nahida Akter and wicket-keeper Nigar Sultana completed a brilliant run out as IND are 92/4.
17:22 hrs: India 87 for the loss of three wickets after 12 overs. Good show from Jemimah and Deepti as they have steadied the innings and Bangladesh will be hoping for another breakthrough soon.
17:15 hrs: Huge breakthrough for Bangladesh. A loose shot from Harmanpreet Kaur and it went straight into the fielder's hand. Second wicket for Panna Ghosh and India are 78/3 after 10 overs.
17:13 hrs: Fielding has been a major concern for Bangladesh till now and a terrible misfield from Fatima allowed Jemima to score another boundary. Her score moved to 28 as India are 78 for the loss of two wickets.
17:07 hrs: 8 overs gone and India are 68 for the loss of two wickets. Jemimah Rodrigues and Harmanpreet Kaur are both taking a rather cautious approach and as a result, the run rate has suffered a bit since the dismissal of Shafali Verma.
16:57 hrs: Shafali departs - Fullish ball, but it did not have the pace, Shafali wanted to go downtown, but there was no timing on the stroke, the ball goes up miles in the air and the fielder at mid off holds on after multiple attempts.
16:52 hrs: Bangladesh employing spin - Nahida Akter is into the attack even as Shafali has zoomed ahead in the powerplay overs.
16:46 hrs: Shafali is absolutely racing along - This is clean hitting, India have absolutely raced ahead here and the right-hander is bossing the show.
16:41 hrs: Taniya stumped - She comes down the wicket, Khatun pushes it wide and she is stumped with ease. India have lost an early wicket here.
16:37 hrs: Shafali gets one over cover and India are off and running with a six. Good positive start by the opener, she will hold the key, more so in the absence of Mandhana.
16:34 hrs: Taniya Bhatia opens in place of Smriti Mandhana, good start by Jahanara, she is getting good shape on the ball.
16:13 hrs: India: Shafali Verma, Taniya Bhatia, Jemimah Rodrigues, Harmanpreet Kaur, Deepti Sharma, Richa Ghosh, Veda Krishnamurthy, Shika Pandey, Arundhati Reddy, Poonam Yadav, Rajeshwari Gayakwad
Bangladesh: Murshida Khatun, Shamima Sultana, Sanjida Islam, Nigar Sultana Joty, Fargana Hoque, Rumana Ahmed, Salma Khatun, Fahima Khatun, Jahanara Alam, Panna Ghosh, Nahida Akter
16:09 hrs: Smriti Mandhana is out with fever.
16:05 hrs: Bangladesh have won the toss and elected to field first.
16:00 hrs: In the last five meetings between the two sides, India lead 3-2 on head-to-head record against Bangladesh.
15:12 hrs: A confident Indian side will take on Bangladesh in their second match of the ongoing ICC T20 world cup in Perth. After a convincing win over hosts Australia, Harmanpreet Kaur and company would hope to put in a dominant performance here.
Personalise your news feed. Follow trending topics