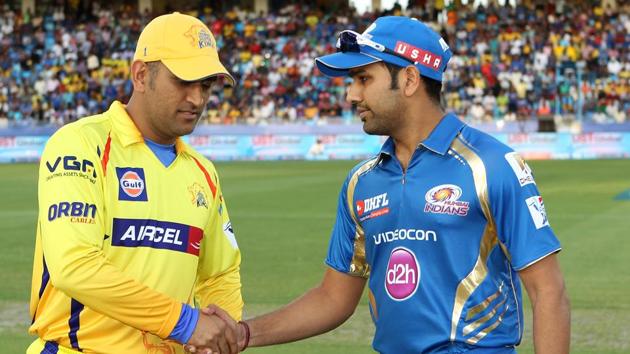 IPL 2018: Chennai Super Kings set to renew Mumbai Indians rivalry after 2-yr ban
Mumbai Indians (MI) and Chennai Super Kings' (CSK) unchanged cores mean the Indian Premier League (IPL) opener will be as needling as it was two years back.
UPDATED ON APR 07, 2018 12:07 AM IST
While the Indian Premier League (IPL) has grown over the last 10 years, so has the rivalry between Mumbai Indians (MI) and Chennai Super Kings (CSK). After a two-year ban, CSK will be taking a fresh guard. And luck of draw means the mouth-watering clash is being served first-up.
Mumbai Indians are the defending champions while in their eight-year history before being sidelined as punishment for the betting scandal, Chennai Super Kings were a formidable foe in any condition. It's the start of a new era in the tournament as well. We have a new broadcaster, the biggest stakeholder in the event, and all the teams wear a new look after the mega auction resulted in teams undergoing complete overhauls.
While there are new names added to team sheets, these two sides have retained their core groups ensuring that this clash will be as needling as ever. Rohit Sharma, captain of the home side, said he is eager to renew the rivalry.
READ: Mahela Jayawardene, Rohit Sharma back introduction of DRS in Indian Premier League
"Everyone is excited to have them back. It is always great to start off with your arch rivals. Chennai Super Kings and Mumbai Indians share a great bond and a great rivalry over the years. It will be the same again, both the teams will be fighting very hard in that first game. Whoever will absorb the pressure will win the game."
CAPTAINS' CLASH
The opener will also serve as a sub plot of the clash between two of the sharpest brains in T20 cricket – Rohit versus MS Dhoni. Both are natural leaders armed with a calm demeanour. Dhoni's team has dominated the tournament, winning back-to-back titles in 2010 and 2011, before Rohit helped Mumbai Indians break the stranglehold and turn into the most successful IPL team. They have won three of the last five editions --- 2013, 2015 and 2017.
READ: Shahid Afridi shrugs off criticism from Kashmir tweet, says 'PSL will leave IPL behind'
KEY CLASH
Rohit and Suresh Raina will be at the centre of the batting plans of both teams. Both like to bat through the innings and possess the big shots to single-handedly win a match. After being dormant for the last two seasons, Raina's return coincides with CSK's comeback. It remains to be seen at what number Rohit decides to bat. He prefers to open but here he has the option of Evin Lewis and the young dasher Ishan Kishan.
To add to the rivalry, Harbhajan Singh will go head to head against his old team. Having played for 10 seasons for Mumbai Indians, he knows every blade of grass at the Wankhede and will be battling mixed emotions. Same with Ambati Rayudu, who was the pillar of Mumbai's batting in the last decade.
Dwayne Bravo taking on his Trinidadian mate Kieron Pollard will be another interesting contest. A death-bowling specialist, Bravo is a master of variations while Mumbai rely heavily on the finishing power of Pollard.
On paper, the two teams look balanced. Wankhede's wicket is known for true bounce and both sides have the batting line-up to rake up runs. For the visitors, Raina, Faf du Plessis, Ambati Rayudu, Kedar Jadhav and Dhoni make the batting line-up look imposing. For Rohit, the main support will come from Surya Kumar Yadav, the Pandya brothers and Pollard.
In bowling, Mumbai have the edge in the pace department which is led by the irrepressible Jasprit Bumrah while Chennai will look to strangle the opposition with spin, having Harbhajan, Ravindra Jadeja, Imran Tahir and Karn Sharma in their squad. More than anything, all teams are eager to see if they got their buys right. For Mumbai Indians and Chennai Super Kings, Saturday will be the first opportunity to check that.
Close