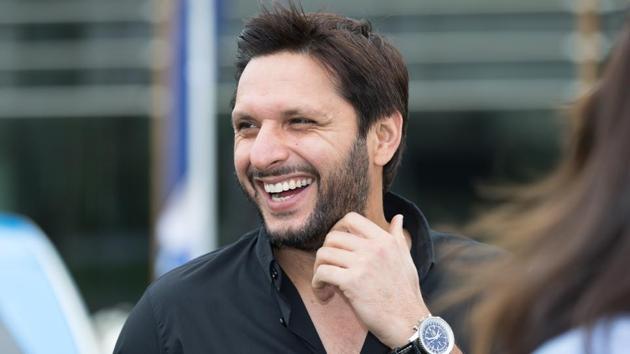 Shahid Afridi shrugs off criticism from Kashmir tweet, says 'PSL will leave IPL behind'
Shahid Afridi brushed aside the stinging criticism he received for his views on the Kashmir issue, also predicting that the Pakistan Super League (PSL) would become a bigger league than the Indian Premier League (IPL) soon.
Hindustan Times, Mumbai | By HT Correspondent
UPDATED ON APR 06, 2018 01:41 PM IST
Shahid Afridi's remarks on the Kashmir issue drew strong criticism from the Indian cricket fraternity and the Pakistan cricketer has made another statement that is bound to ruffle some feathers in India.
Shahid Afridi, who recently played for Karachi Kings in the Pakistan Super League (PSL) said that he would never consider playing in the Indian Premier League (IPL) in the future even if invited to do so by any of the league franchises from neighbouring country.
Afridi's statements were posted on Twitter by Saj Sadiq, the editor of pakistanpassion.net, on Thursday night. Sadiq also quoted Afridi as saying that the PSL would soon become a bigger league than the IPL.
"Even if they call me, I won't go to the IPL. My PSL is the biggest and there will be a time that it leaves the IPL behind. I am enjoying the PSL, I don't have any need for the IPL. I'm not interested in it and never was," Afridi was quoted as saying in Sadiq's tweet.
READ | Sunrisers Hyderabad have enough depth to replace David Warner: Tom Moody
These remarks are in sharp contrast to Afridi's earlier statements in which he had praised the IPL. In fact, Afridi is among the Pakistan cricketers who had taken part in the IPL. He represented the Deccan Chargers in the first edition of the cash-rich league.
"Although I played just once in the IPL but it is easily the biggest league you can play in and I enjoyed my experience. The IPL is clearly the best organised foreign league and it was a totally different experience playing in it," Afridi had said a few years ago.
KASHMIR TWEET BACKLASH
Afridi, fondly known as Lala among his fans and teammates, recently drew a lot of flak from past and present cricketers from India for his comments on Kashmir.
"Appalling and worrisome situation ongoing in the Indian Occupied Kashmir. Innocents being shot down by oppressive regime to clamp voice of self-determination & independence. Wonder where is the @UN & other int bodies & why aren't they making efforts to stop this bloodshed?" Afridi tweeted a few days back.
Following his comments, a number of Indian cricketer including cricket great Sachin Tendulkar, current Indian captain Virat Kohli, former World Cup winning captain Kapil Dev, Delhi Daredevils skipper Gautam Gambhir and India opener Shikhar Dhawan had come out in public and expressed their strong disapproval of Pakistan cricketer's remarks.
READ | Pakistan invite England cricket team back after 13 years
Afridi, though, stood by his comments as evidenced by some of his views which were posted by Sadiq on Twitter.
"I'm not worried about the response to my tweet from some. I believe I spoke the truth and I have the right to speak the truth."
Sadiq also quoted him saying that he thinks of himself as a soldier of his country.
"I am a soldier of my country. My country is my honour and Pakistan is everything for me."
Close