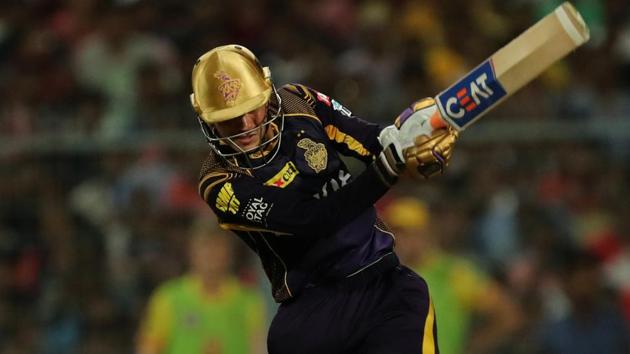 IPL highlights, Kolkata Knight Riders vs Chennai Super Kings: Shubhman 57* gives KKR thumping six-wicket win over CSK
Get IPL highlights of Kolkata Knight Riders vs Chennai Super Kings here. Shubman Gill's maiden fifty helped KKR beat CSK by six-wickets
UPDATED ON MAY 03, 2018 11:47 PM IST
Shubman Gill's magnificent maiden IPL fifty, combined with a brilliant partnership of 83 off 36 balls with Dinesh Karthik helped Kolkata Knight Riders beat Chennai Super Kings by six wickets to move up the table in the 2018 IPL. Gill and Karthik's partnership put KKR on course after they had lost some quick wickets following Sunil Narine's quick start. Earlier, Chennai Super Kings were boosted by a knock of 43* by MS Dhoni but the total proved to be slightly under-par. Get IPL highlights of Kolkata Knight Riders vs Chennai Super Kings here. (SCORECARD |STREAMING INFO)
23:46 hrs IST: That is all from here. Join us for the game between Kings XI Punjab and Mumbai Indians from Indore tomorrow. Bye Bye.
23:45 hrs IST: Sunil Narine, MoM: I'll stick to my bowling. Nice to come out with a win. Getting the freedom to play my shots. That's the key. They back me whatever happens.
23:44 hrs IST: Dinesh Karthik: Credit top the franchisee. They picked lot of under-19 players. It's little harsh on him. That boy is special. I picked it up early. Our bowlers are so confident.
23:42 hrs IST: MS Dhoni: If the wicket remained the same the total was decent, I felt this wicket was on the slower side but you have to hit the seam hard. When you are bowling the slower ball, if you can hit the seam then you can generate variable bounce. In the second half wicket became much better under the lights.
23:39 hrs IST: Shubman Gill: Obviously I am pleased to have been promoted to number 4 today. We were just talking (Himself and DK) that we need to rotate the strike in the middle overs, it was crucial to see off the spinners. It was not really to target him (Asif), we played according to the merit - if the balls were there, we just went for it.
23:29 hrs IST: Dinesh Karthik and Shubman Gill's magnificent 83-run stand off just 36 balls have given Kolkata Knight Riders a thumping six-wicket win over CSK. Karthik's 45, combined with Gill's brilliant maiden fifty has helped KKR steamroll the opposition and move up the table.
23:21 hrs IST: Shubman hits another boundary and KKR are closing in on a big win. This has been a shoddy performance in the field and with the ball from CSK and they need to regroup pretty quickly if they are to stop momentum from going away. KKR need 13 off 18. Can Shubman finish off the match in style?
23:13 hrs IST: Brilliant last couple of overs have put Kolkata Knight Riders on course for a big win. Shubman Gill changes the course of the match with two big sixes off Asif and Dinesh Karthik gets the equation down even further with another six as 21 runs come off the 15th over. In the 16th over, Shubman scores his maiden fifty and Dinesh Karthik gets a boundary as KKR require 23 off 24. Sublime batting from the duo.
23:04 hrs IST: Poor stuff from Karn Sharma. He fires a quick ball on leg stump, Dinesh Karthik shuffles and sweeps the ball to the fine leg fence. He and Gill rotate the strike cleverly as Karn concedes 11 runs in his first over. KKR need 58 off 36. They can actually do it.
23:00 hrs IST: Shubhman Gill survives a caught and bowled chance off Dwayne Bravo and he capitalises on it by launching the bowler over wide long off for a boundary. He is eyeing a fifty and along with Dinesh Karthik, he holds the key if KKR are to chase this total down.
22:53 hrs IST: A couple of good overs from Harbhajan and Jadeja. The left-armer concedes just five runs and the pressure mounts. Harbhajan capitalises on it as Rinku Singh looks to slog a flighted delivery on leg stump but gets cleaned up. Dinesh Karthik now holds the key and he gets off the mark in style with a late-cut four past backward point for a boundary.
22:46 hrs IST: KKR will be banking on their youngsters to do the job for them. Rinku Singh steers a flatter delivery from Harbhajan Singh to the third man fence while Shubhman Gill uses his skill to whip/sweep a full ball to the long leg fence. KKR are slowly building momentum but CSK will need a couple of wickets to tilt the balance.
22:40 hrs IST: Rinku Singh survives a stumping chance off Jadeja and the Saurashtra all-rounder's day gets even worse by conceding five wides. Dropping two catches, not contributing much with bat and ball, it has been a horror 2018 for Ravindra Jadeja. After nine overs, KKR are 80/3, needing 98 off 66 balls.
22:33 hrs IST: Narine hits Jadeja for a six! But what a comeback, Jadeja gets his wicket two balls later
22:28 hrs IST: Shubhman Gill hits two beautiful boundaries off Shane Watson. This chase is going to be interesting. And another one! 12 off the over
22:24 hrs IST: OUT! Robin Uthappa is out for 6! KKR in a bit of bother as they are 40/2 in 4.2 overs
22:19 hrs IST: Good first over by Shane Watson, just three of the first five deliveries then a boundary. Seven off the fourth over
22:14 hrs IST: KKR are 32/1 are three overs
22:10 hrs IST: And Jadeja drops Narine off two consecutive deliveries!
22:05 hrs IST: Now Narine gets into the six-hitting act! Big one that from the left-hander
22:00 hrs IST: Two back to back sixes and then Chris Lynn is out for 12 in the first over!
21:55 hrs IST: And we are back with the second innings!
21:44 hrs IST: Dhoni ends the innings in style as he mauls a short all off Piyush Chawla as the former Indian skipper ends unbeaten on 43 and Chennai Super Kings have reached 177/5. It is a good total and it will test the Kolkata Knight Riders batsmen. However, the pitch is good for batting and CSK need to bowl really well to defend the total.
21:35 hrs IST: Excellent over from Narine as he concedes just five runs in the 19th over. This is with MS Dhoni on strike. The spinner ends with brilliant figures of 4-0-21-2. Can Dhoni reach a fifty and propel CSK past 175 or even 180? KKR need to finish well. Who will bowl the final over? Looks like it could be either Andre Russell or Shivam Mavi. Neither, it is Piyush Chawla.
21:32 hrs IST: Kuldeep and KKR are fuming. Short ball on leg stump and Dhoni pulls it flat to deep square leg but Shubhman Gill, stationed just near the ropes, drops a simple catch. Dhoni is nearing yet another fifty and he has now hit the most sixes in the IPL 2018 season. After 18 overs, CSK are 158/4.
21:26 hrs IST: Brilliant stuff from MS Dhoni. He pulls a short ball over deep square leg off Johnson and then launches the left-arm pacer over long on for the second six in the over. Johnson concedes 15 runs in his final over and ends with woeful figures of 4-0-51-0. After 17 overs, CSK are 146/4.
21:21 hrs IST: Shivam Mavi tries the short ball barrage and succeeds moderately. However, he does not get the better of MS Dhoni as the former Indian captain clobbers a short ball outside off for a big six over deep mid wicket. After 16 overs, CSK are 131/4. More big hits needed from CSK's Thala
21:16 hrs IST: Narine is bowling a fine spell and he gets a big wicket off Ambati Rayudu, CSK's highest run-getter this season. The West Indies bowler bowls the googly and Rayudu is cramped form room as he looks to run it down to third man but gets an inside edge back onto the stumps. MS Dhoni is the key now for CSK as they eye a big total.
21:10 hrs IST: Following the end of the second time-out, Rayudu sweeps a quick ball from Chawla to the fine leg fence. Both Rayudu and Dhoni need to hang in as they look to get CSK to a total past 180. This is a good pitch and it will take some good bowling to restrict the batsman. After 14 overs, CSK are 117/3.
21:04 hrs IST: When Raina was dismissed and MS Dhoni came out, a young man in yellow entered the CSK dugout to get a feel of Dhoni. He was taken out by police. Eden lights up mobile torches to welcome Dhoni. At the other end, Rayudu gets an outside edge off Mitchell Johnson for a boundary to third man. After 13 overs, CSK are 110/3.
21:00 hrs IST: Another batsman throws away a good start. Kuldeep Yadav floats a flighted delivery outside off and Raina (31) muscles the pull shot to wide long on but again holes out to the fielder. Two wickets in two overs for KKR and they are fighting back against CSK. Dhoni and Rayudu, the batsmen who took them over the line against Royal Challengers Bangalore hold the key.
20:54 hrs IST: Sunil Narine breaks the dangerous stand. Short ball and on middle and leg stump, Watson creams the pull but holes out to the fielder at deep mid wicket. He is bitterly disappointed with his dismissal as he misses out on his fifty. Ambati Rayudu, another player in good form, comes out to bat and gets off the mark with a boundary to deep backward square leg. After 11 overs, CSK are 97/2
20:48 hrs IST: Kuldeep Yadav bowled five good balls but the last one spoils his figures. A flighted delivery on middle stump and Watson hammers the lofted straight drive over the fence for his second six. The Australian is nearing a fifty and is continuing his great run. After 10 overs, CSK are 90/0.
20:44 hrs IST: Good pace shown by Shivam Mavi. His speed is in excess of 140 and nearing close to 145 kmph. Watson and Raina hold firm and this partnership is crucial if CSK are to reach a good score. After nine overs, MS Dhoni's side are 81/1. Can KKR take some quick wickets and stall CSK's progress? A total in excess of 180 looks good.
20:39 hrs IST: Kuldeep Yadav is into the attack and Shane Watson continues on his merry ways. The Chinaman bowler floats a tossed up delivery on leg stump, Watson paddle sweeps it past the short fine leg fielder for a boundary. Watson is eyeing a fifty while Raina has started well. After eight overs, CSK are 76/1
20:32 hrs IST: Andre Russell comes into the attack and tries the short-pitched stuff on Suresh Raina. However, the bowler loses his radar. The first ball is short but outside leg stump and Raina pulls it to the fine leg fence. Another short ball is outside off and Raina plays the ball late and glides it to the third man boundary. Time for the strategic time-out and CSK are 69/1 after seven overs.
20:27 hrs IST: Action packed over from Piyush Chawla. He flummoxes Faf du Plessis with a googly to dismiss him for 27. Suresh Raina walks in and gets off the mark by lofting Chawla's flighted delivery over deep extra cover to get off the mark with a boundary. The bowler responds with a quick ball but it is on leg stump and Raina just short-arm pulls it past the gap at short fine leg for a boundary. Raina survives a dropped chance as Dinesh Karthik fails to latch on to the outside edge. After the end of the powerplay, CSK are 56/1.
20:22 hrs IST: Watson and du Plessis have opened up and Mitchell Johnson feels the brunt. A length ball is hit so hard from Watson that the bowler and umpire have to take evasive action to escape serious injury. After the initial jolt, Watson heaves a short of a length ball over deep backward square leg. Du Plessis also joins in the fun and mauls a short ball over long leg for the second six in the over. CSK have raced to 48/0 in five overs. 19 runs have come in Johnson's second over.
20:16 hrs IST: Dinesh Karthik continues to ring in the changes. Sunil Narine comes into the attack but KKR are unable to stop the flow of runs. Narine drags one delivery short on leg stump and Watson lines up to hammer the pull to the deep mid wicket fence. CSK are 29/0 after four overs. KKR need to take wickets.
20:13 hrs IST: Third change in the bowling by Dinesh Karthik and Shivam Mavi comes into the attack. The youngster troubles Watson with a bit of pace and he gets a quick single as the batsman inside edges the ball onto the pads. Du Plessis charges down the track and attempts a slog but gets an inside edge to the fine leg fence. Decent start for CSK, who are 24/0 after three overs.
20:07 hrs IST: Piyush Chawla opens the bowling at the other end and he beats Faf du Plessis first up with a lovely legbreak that just misses the off stump. However, the South African skipper responds by cutting a short ball to cover where Robin Uthappa misfields to concede a boundary. Couple of balls later, du Plessis effortlessly lofts a full and flat ball to the long off fence. After two overs, CSK have reached 18/0.
20:03 hrs IST: Brilliant first over for Chennai Super Kings. Mitchell Johnson opens the bowling and Shane Watson gets going by drilling a full outswinger outside off past the mid-off fielder for a boundary. Two balls later, Faf du Plessis chases a wide ball and edges the delivery to the third man fence. After the end of the first over, CSK are 10/0.
19:57 hrs IST: We are all set to begin. Chennai Super Kings openers will be aiming to give the team a great start while the Kolkata Knight Riders bowlers will eye early breakthroughs and restrict Dhoni's side to a below-par score.
19:34 hrs IST: Kolkata Knight Riders have won the toss and opted to bowl against Chennai Super Kings. MS Dhoni's side are unchanged while for the hosts, Rinku Singh has replaced Nitish Rana. In the previous game against Royal Challengers Bangalore, Rana suffered from back spasms and could not continue. Here are the playing XIs of both the sides.
Kolkata Knight Riders: Chris Lynn, Sunil Narine, Robin Uthappa, Dinesh Karthik(w/c), Rinku Singh, Shubman Gill, Andre Russell, Shivam Mavi, Piyush Chawla, Mitchell Johnson, Kuldeep Yadav
Chennai Super Kings: Shane Watson, Faf du Plessis, Suresh Raina, Ambati Rayudu, MS Dhoni(w/c), Dwayne Bravo, Ravindra Jadeja, Karn Sharma, Harbhajan Singh, Lungi Ngidi, KM Asif
19:24 hrs IST: For a team that has been labelled Dad's army, Chennai Super Kings are currently on top of the table, with contributions from three veterans, MS Dhoni, Shane Watson and Dwayne Bravo. The experience of these three probably proves that age is just a number. A win for Dhoni's side will help them come closer to a play-off spot.
19:14 hrs IST: Hello and a warm welcome to the game between Kolkata Knight Riders and Chennai Super Kings. It is a grudge match for Dinesh Karthik after losing the high-scoring encounter against Dhoni's team at Chepauk. At the Eden Gardens, KKR will be looking to turn the tables and consolidate their position as the race for the play-offs intensify.
Kolkata Knight Riders (KKR) go into the back-end of the league fixtures seeking the kind of consistency that seems hardwired into Chennai Super Kings (CSK), their opponents here on Thursday. CSK have the highest percentage of victories, 60.68, in IPL history and have shown that a forced two-year break has not rusted their ability to win in a format where change is the only constant.
What also unites the teams this term is the struggle to get the bowling unit to be efficient. KKR leaked 219 against Delhi Daredevils, were spanked by Chris Gayle and KL Rahul of Kings XI Punjab and failed to defend 202 against CSK. KKR have struggled at the death, haven't taken a wicket in the last four Powerplays and Sunil Narine hasn't done that in two games and seven overs conceding 73.
Close