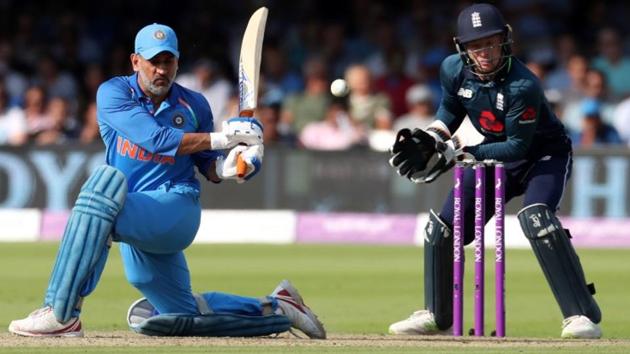 MS Dhoni, booed by fans, gets Virat Kohli, Indian cricket team's support after slow innings vs England
MS Dhoni got 59-ball 37 when the required run rate had touched 27 in India's second ODi vs England. The three-game series is now level at 1-1
UPDATED ON JUL 15, 2018 11:55 AM IST
In the end it proved to be a bizarre innings from India in the second one-day game at Lord's as they didn't as much as display they were making an effort of going for the target of 322. (Match highlights)
The in-form Rohit Sharma played a shot which hinted at complacency, while MS Dhoni waited too long to go for his big shots, and ended up becoming a target of boos from the crowd when he played a series of dot balls in a Liam Plunkett over, the 46th of the innings.
READ | Joe Root century lifts England to win over subdued India
Asked about the strange innings of Dhoni, where he got 59-ball 37 when the required run rate had touched 27, leg-spin bowler Yuzvendra Chahal said: "… Because later on there were only me, Siddarth Kaul and Kuldeep Yadav, so it wasn't like 2-3 batsmen were remaining. I think throughout the series Dhoni hasn't batted, so this was a chance to get a knock. If he had hit a shot and gotten out, maybe we couldn't have batted all 50 overs."
In his post-match comments to the official broadcaster, India skipper Virat Kohli defended Dhoni saying every player had a bad day. "This thing comes up again and again, it's unfortunate when people jump to conclusions. We all have bad days, today was a bad day for everyone. The idea was to take the innings deep and he's got the experience. Some days it just doesn't come off," said Kohli.
READ | Mahendra Singh Dhoni becomes first India wicketkeeper to take 300 ODI catches
According to Chahal, who was a rare Indian player to come out unscathed from the game with figures of 10-0-43-1, the wicket of Virat Kohli was the turning point of the game. Kohli and Suresh Raina tried to revive the innings after India lost three wickets for 60, but the India skipper fell at the total of 140, for a 56-ball 45.
"I think the turning point was the wicket of Virat Kohli, because a good partnership was going on. When you chase 322, you need wickets in the end. I also think their spinners bowled well. The way Moeen started, the boundaries weren't coming. We could only get one or two runs and the asking rate was climbing, so there was pressure on the batsmen."
READ | Joe Root confident after tackling the mystery of Indian ace Kuldeep Yadav
In batting, England took the game away in the last eight overs when Joe Root and David Willey took the score from 239 for six to 322 for seven.
"I think as a team we conceded 20-25 runs too many in the death."
Close