Rohit Sharma does not want his family dragged into matters related to cricket; says it's 'not on'
Updated on Aug 20, 2020 10:37 PM IST
Rohit Sharma,who is currently on a break from international cricket, on Monday sent out a strong message to those writing about the family members of cricketers.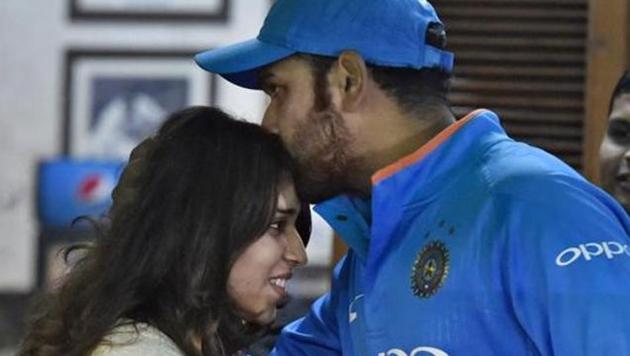 Rohit Sharma is currently on a break from international cricket and the Indian ODI and T20I vice-captain is spending quality time with his young family. Rohit though will be back in action in the ODI series against Australia later this month.
But the big challenge for him would be playing Test cricket as an opener in New Zealand in February. He was one of Indian cricket's standout performers last year. But there is something that the vice captain of India's limited overs team is unhappy about. Rohit Sharma on Monday sent out a strong message to those writing about the family members of cricketers. Rohit was speaking about the controversy that erupted after the ICC World Cup 2019 as there were stories about senior players extending their families' stay beyond the designated number of days and Rohit said he felt hurt at families being dragged into it.
Also Read: Manjrekar backs protests against JNU violence, Yogeshwar responds
"Our families are there to support us, make us feel happy. When all these things were being written about, few of my friends came and told me and believe me or not, I was just laughing.
"But then it went on and on and they dragged my family and that was not on. You talk about me but don't drag my family as they genuinely don't care about anything else. I think even Virat (Kohli) must have felt the same way as families are an important aspect of our lives," Rohit told PTI during an interview.
Also Read: Greg Chappell opens up on Irfan Pathan, recollects memory as coach
ALSO WATCH | Rohit Sharma lays foundation for international cricket stadium in Hyderabad
ALSO READ: 'He will bat at no. 4 for years to come': Rohit backs youngster to go big
On a personal front the year 2019 was another huge success story for Rohit Sharma, who was the highest run getter as an opener across all formats. He ended up breaking Sanath Jayasuriya's long standing record. He had a great outing at the ICC World Cup too, scoring as many as 5 centuries, which is the most by any batsman in a single tournament.
Also Read: 'Rishabh Pant is a special talent' - Ganguly backs wicketkeeper-batsman
Rohit also made a splashing comeback to Test cricket, this time as an opener. He dominated proceedings against South Africa and Bangladesh at home and will look to get runs under his belt in the longest format away from home too.