Draft policy on app-based cabs in Delhi-NCR to be cleared in a week
Sep 25, 2018 09:39 AM IST
In the works for over a year, the draft policy regulating mobile application-based cab aggregators in the national capital is likely to be cleared by Delhi government's "high-powered committee" this week
In the works for over a year, the draft policy regulating mobile application-based cab aggregators in the national capital is likely to be cleared by Delhi government's "high-powered committee" this week.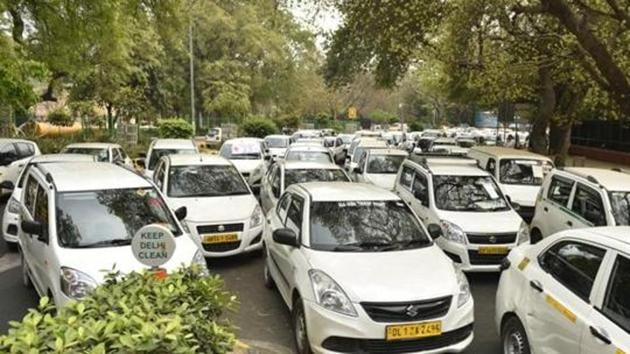 While the count of cabs under such aggregators plying in Delhi is estimated to have crossed the 1.5 lakh mark, the vital policy draft, which seeks to end the menace of "surge pricing", was first prepared by the transport department a year ago.
Transport minister Kailash Gahlot, a member of the committee, said "modalities" of the policy were worked out by the panel on Monday. "Another meeting, to take a final decision on the policies, will be held this week in all likelihood. Most of the issues have been discussed," he said.
Experts said the government must fast track the policy as cabs under such firms are mushrooming, adding to Delhi's already peaking congestion, parking and pollution problems. "If you go around the city at night, including residential areas, you'll find lines of Ola and Uber cabs parked on the roads. Within a span of three years, the numbers have spiked. Some UP or Haryana registered cabs are even diesel-run that adds to Delhi's pollution. A policy is urgently needed," said K Ravinder, principal scientist, transportation planning division, CSIR-Central Road Research Institute (CRRI).
Once cleared, the 'Licensing and Regulation of App Based Cab Aggregators' Rules, 2017' will make it mandatory for cabs to show proof of parking before getting their vehicles registered. It also states that a maximum fare will be fixed for such cabs. Charging beyond that fare would attract heavy fines.
For cab users, a rainy day or a festival means shelling out more money on rides. "How do you justify a change of Rs 100 in a span of 15 minutes? You can actually see this when you schedule cabs. Be it rain, or even high demand when cabs in an area are fewer, these cab aggregators find some reason or the other to show surge pricing, which has no limit," said Siddhartha Das, a consultant with a private firm.
The proposed rules also state that an aggregator will have to take a licence from the transport department for operating in Delhi, the cost of which would vary from Rs 10 lakh to Rs 5 crore depending on the number of taxis attached.
This licence would need to be renewed every five years.
Constituted on January 3 this year, the panel, as per the issuing order, was to submit a report on the policy with its recommendations within 10 days. It also has to review and clear two other city oriented mobility policies including the app-based AC Bus Service project and the city taxi scheme (meant for the kaali-peelis).