Handwritten notes indicate Delhi family believed God would save them the moment they hanged themselves, say police
Updated on Jul 02, 2018 10:10 AM IST
A family of 11 were found dead – 10 of whom were found hanging – at their home in north Delhi's Burari area. Police said clues in the house indicated the family observed some spiritual or mystical practices.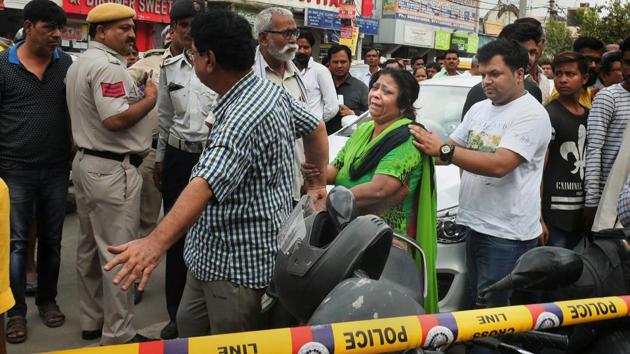 Hindustan Times, New Delhi |
Karn Pratap Singh
Handwritten notes found at the house in north Delhi's Burari where 11 of a family were found dead, indicate observance of spiritual or mystical practices by the family, police said on Sunday.
Ten people were found hanging — blindfolded, gagged and hands tied — on the first floor of the house whereas the dead body of an old lady was found in an adjacent room in the house in Sant Nagar.
They seemed to have reposed their faith on one thing — that God will miraculously appear and save them the moment they hanged themselves.
Almost every step mentioned in the notes seem to be have been religiously followed by the family," said a police officer.
"The moment they hanged themselves and began gasping for breath, they would see God saving them," said the officer, paraphrasing the note.
The deceased were identified as Narayan Devi (77), her two sons Bhavnesh (50)and Lalit (45), her daughters-in-law Savita (48) and Teena (42), her daughter Pratibha (57), her grandchildren Priyanka (33), Nitu (25), Monu (23), Dhruv (15) and Shivam (15).
Neighbours confirmed that the family was religious. "Every member of the family prayed thrice every day," said Praveen Mittal, a close friend of the family.
An accident and a subsequent "miracle" turned the Bhatia family deeply religious, said relatives and neighbours of the 11 people who were found dead on Sunday.
Around 10 years ago, Lalit Bhatia, 45, had an "accident". According to Hemant Sharma, a family friend, the accident had occurred when a plank of wood had fallen on Lalit, who ran a plywood business.
"As a result, Lalit lost his speaking ability. The family tried all possible medications, but when that did not work, they began praying. When Lalit was cured of the problem, his family attributed it to their prayers. It made the family very spiritual," said Sharma.
The district crime team and FSL Rohini mobile forensic team reached the spot after being informed at around 7.30 am and examined the site.
A board of doctors has been constituted to conduct post-mortem on the bodies of the deceased.
Topics
Personalise your news feed. Follow trending topics