Delhi family turned deeply religious after an accident and 'miracle' 10 years back: Relatives
Updated on Jul 02, 2018 01:41 PM IST
The two men, seven women and two boys girls were found hanging in Delhi's Burari from an iron grill used as a ventilator in the courtyard.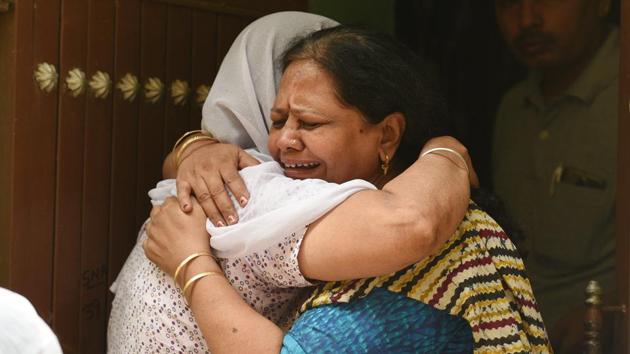 Hindustan Times, New Delhi |
Karn Pratap Singh and Shiv Sunny
Eleven members of a family found dead in north Delhi's Burari on Sunday were deeply religious, said their relatives and neighbours.
Police are investigating whether the dead – seven women, two men and two boys aged 15 – killed themselves or were murdered. Nine persons were found hanging from an iron grill in a hall in the first floor of the three-storyed building in Sant Nagar area of Burari. They had cotton and pieces of cloth tied over their eyes.
The deceased were identified as Narayan Devi (77), her two sons Bhavnesh (50)and Lalit (45), her daughters-in-law Savita (48) and Teena (42), her daughter Pratibha (57), her grandchildren Priyanka (33), Nitu (25), Monu (23), Dhruv (15) and Shivam (15).
Relatives said the Bhatia family turned deeply religious after an accident and a "miracle" .
Around 10 years ago, Lalit Bhatia, 45, had an "accident". According to Hemant Sharma, a family friend, the accident had occurred when a plank of wood had fallen on Lalit, who ran a plywood business.
"As a result, Lalit lost his speaking ability. The family tried all possible medications, but when that did not work, they began praying. When Lalit was cured of the problem, his family attributed it to their prayers. It made the family very spiritual," said Sharma.
Neighbours said that the family would use plywood from their shop to propagate religious teachings. "Every day, someone or the other from the family would write a religious quote on a plywood and would put it outside their shop," said a local.
During the search of the Bhatia house, police found handwritten notes that indicated that the family observed certain spiritual or mystical practises. These were similar to the manner in which the mouths and eyes of the deceased were tied and taped, police said.
Arjun Thukral, a relative of the family who lives in the same neighbourhood, said he ran to the victims' house as news of the deaths spread, the Associated Press reported.
"I saw the bodies hanging, stools lying around, and my wife's aunt sprawled on the floor by the bed. I couldn't bear watching anymore," he said.
.
Personalise your news feed. Follow trending topics