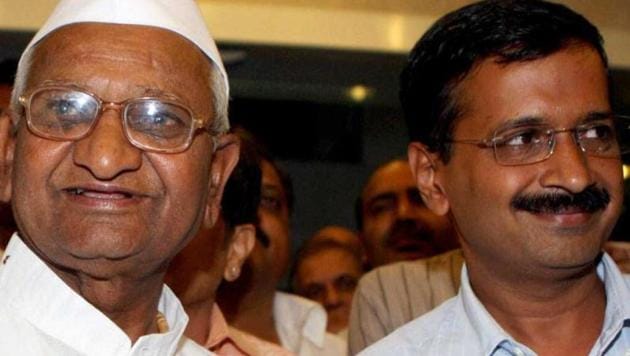 Hazare says Kejriwal has lost credibility; Yadav trashes 'faulty EVM' claims
With AAP facing rout in MCD elections, Arvind Kejriwal's former colleagues Anna Hazare, Yogendra Yadav and Prashant Bhushan raised questions about the party leadership.
UPDATED ON APR 26, 2017 07:19 PM IST
Following the crushing defeat of Aam Aadmi Party in Delhi municipal elections, Arvind Kejriwal's former Jan Lokpal movement allies — Anna Hazare, Yogendra Yadav and Prashant Bhushan — blamed the party leadership for failing to live up to expectations and losing mandate within a short period of time. The BJP swept the elections on Wednesday while AAP and Congress were a distant second and third, respectively.
Swaraj India co-founders Yogendra Yadav and Prashant Bhushan took to Twitter trashing AAP's allegations of EVM tapering. "No point blaming EVM for MCD rout. AAP must realise that this is because they betrayed the promise of clean,transparent,accountable politics," Bhushan tweeted.
Anti-corruption crusader Anna Hazare also questioned Kejriwal's leadership on Wednesday saying the party has lost credibility. He said there was a difference between AAP's "words and actions" which led to their defeat. "Unki kathni aur karni mein bahut antar hai," Hazare told reporters in Ralegan Siddhi adding that Kejriwal had promised not to take official residence but availed every benefit from the government.
On several occasions in the past, Hazare has been critical of the Delhi CM. "People's expectations had gone up when AAP entered politics. However, AAP's credibility went down very soon," Hazare said.
He also criticised AAP leaders for alleging that the EVMs had been tampered with. "The party leaders did not prove allegations of EVM tampering even after the Election Commission asked them to give proof of the allegations," Hazare said.
The social activist further said that AAP should have focused on governance in Delhi after people gave a huge mandate to the party. "Instead of focusing on governance in Delhi, Kejriwal and his colleagues became over ambitious and started focusing on Punjab, Goa and Gujarat. Finally, the voters of Delhi taught them a lesson."
(With inputs from Delhi)
Close