Supreme Court orders demolition of buildings in Faridabad's Kant Enclave
New Delhi |
HT Correspondent
Sep 12, 2018 02:21 AM IST
The Supreme Court ordered the demolition of all buildings in Faridabad's Kant Enclave, which were constructed after August 18, 1992. Kant Enclave is located in the Aravalli Hills.
The Supreme Court on Tuesday ordered the demolition of all buildings in Faridabad's Kant Enclave, which were constructed after August 18, 1992. Kant Enclave is located in the Aravalli Hills. A bench of Justices MB Lokur and Deepak Gupta ordered compensation to those who will be adversely affected in the process.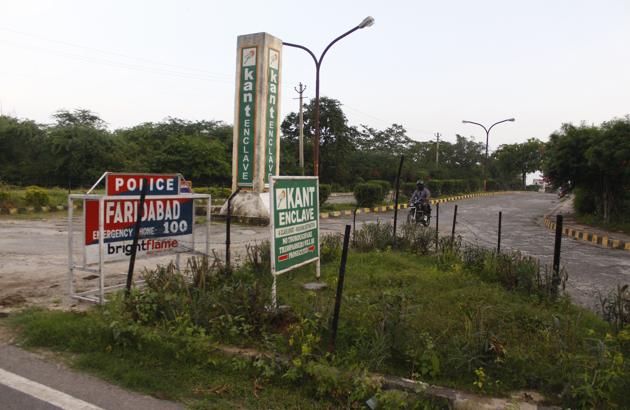 Tuesday's ruling also bodes well for about 30,000 acres of the Aravallis in Gurugram and Faridabad currently notified under the PLPA, which have now been has confirmed as forest land. This would mean that no further construction can be carried out in these areas, and any construction carried out there.
The top court said that Kant Enclave was built on forest land on which construction activity was permitted only till August 18, 1992. The Haryana government on August 18, 1992 had banned construction on forest land under the Punjab Land Preservation Act, 1900.
The bench also came down heavily on the Haryana government and said, "The rule of law seems to have broken down in Haryana. It has become the rule of men only to favour the applicants (builder). The damage caused to the Aravalli hills is irreversible."
It also ordered the builder, R Kant and Company and Haryana Town and Country Planning Department, to pay ₹50 lakh to each person whose construction were ordered to be demolished. An annual interest of 18% would also be payable to those who invested in land from the date of investment.
The court applied the "puller pays principle" and gave a month's time to R Kant and Company to deposit ₹5 crore in the Aravalli Rehabilitation Fund to restore the forest land.
Liberty was extended to the affected parties to claim more damages from the builder and the Haryana Town and Country Planning Department if they were not satisfied with the compensation amount fixed by the court. Appropriate legal remedy can be taken, including filing of a civil suit.
Haryana's chief secretary was asked to comply with Tuesday's judgement in "letter and spirit" by December 31, 2018. The court will, however, hear the matter again in middle of November to ensure compliance.
Sixteen hundred plots were carved out by R Kant & Company in Kant Enclave. However, conveyance deeds had been executed only for 284 residential plots and three commercial plots. Only 33 houses had been constructed and not one of them was a single-storey hutment, the court noted in its order.
Senior advocate Ranjit Kumar, who assisted the court in the matter, said action against Kant Enclave should have been taken way back in 2008 after a three-judge bench held that developing a plot and making construction there would amount to clearing up or breaking up of an area and would be in violation of the August 18, 1992 notification banning construction.
"This litigation was an attempt to re-agitate the issue," Kumar said. The authorities have no choice but to abide by the judgement, he said.
A state government lawyer, who did not wish to come on record, said an appropriate course of action would be taken after the judgement is perused.
"Exciting news! Hindustan Times is now on WhatsApp Channels
Subscribe today by clicking the link and stay updated with the latest news!"
Click here!