Autonomy to DU colleges a move towards privatisation, say teachers
A large section of students and teachers are already opposing the Delhi University's decision to grant autonomy to its constituent colleges, alleging that it is government's move towards privatisation.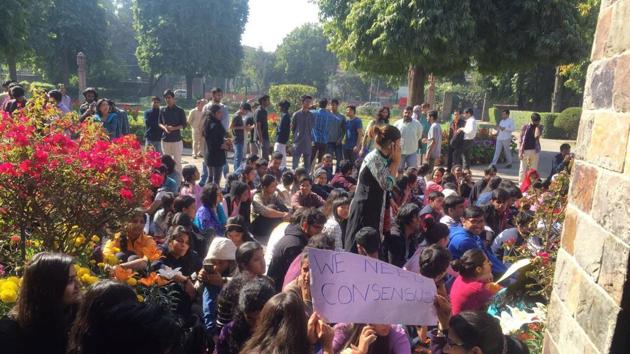 Updated on Mar 07, 2017 07:27 AM IST
A large section of students and teachers in Delhi University are already out protesting against the government's move to give autonomy status to colleges. Their main contention is that this is a step towards privatisation, in the light of University Grants Commission (UGC) fund cuts by the Union ministry for human resource development.
Explaining how the move will lead to privatisation, Rajesh Jha, a teacher at Rajdhani College, said, "Once colleges become autonomous, the trusts running the colleges will have the right to set up similar institutions anywhere in the country with self-financing courses. Using the brand names of these DU colleges that have a long legacy and history, the government is trying to push privatisation, with trusts being the owners of the colleges, and the university no longer being a part of the administration."
In DU, it is mostly the trust-run colleges that have been asked to apply for the autonomous colleges. There are 24 trust-run colleges under DU.
Teachers also added that this will destroy public-funded institutions, as after the autonomy the UGC will not provide continuous funds. The UGC's 12th plan says that the fund given by commission as autonomous grant cannot be used for creation of posts, payment of salary to any of the college staff, payment of honorarium, or to meet normal college contingency requirement or to subsidies.
It also adds that the examination fee should be fixed so that income from fee can meet the expenditure on examinations and other staff appointed in examination cell.
"At present, UGC gives 95% of funds for trust-run colleges, only 5% is contributed by the trusts themselves. If the UGC fund is withdrawn, then the trust will have to levy exorbitant fee on students. We are not at all in favour of this," said Nandita Narain, president of Delhi University Teachers Association (DUTA).
A principal of a renowned college said that the DU colleges have been flourishing under the brand name of the university.
"There is no need for the colleges to go forward with this system. What will happen to poor students who can presently think about studying in any DU college if they perform well?" asked a principal, on condition of anonymity.
Teachers' representatives have said they will oppose this move in the executive council meet scheduled for Tuesday.
Close Story