JNU protesters call off 20-hour blockade of vice-chancellor over missing student
Students at Delhi's Jawaharlal Nehru University called off a blockade of the vice-chancellor and top officials inside a building on Thursday after 20 hours over a student's disappearance five days ago.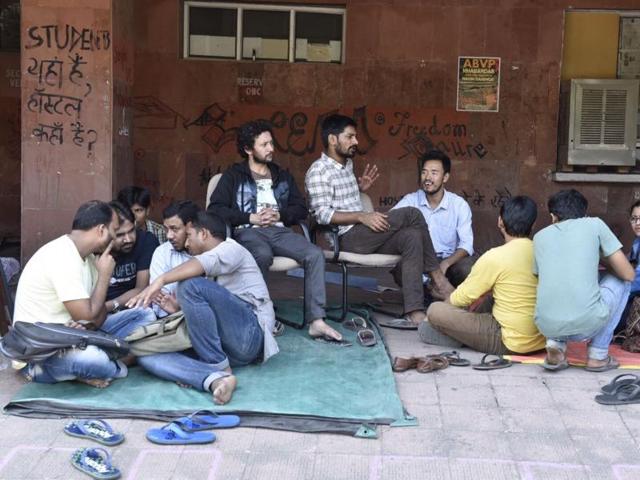 Updated on Oct 20, 2016 11:36 PM IST
Students at Jawaharlal Nehru University (JNU) called off a blockade of the vice-chancellor and top officials inside a building on Thursday after 20 hours over a student's disappearance five days ago.
They dispersed after Union home minister Rajnath Singh asked Delhi police to set up a special team in addition to the 10 squads already searching for missing biotechnology student Najeeb Ahmed in the national capital and neighbouring states.
"Spoke to CP Delhi regarding the incident of JNU student gone missing. I have instructed him to constitute a special team to look out for him," Singh tweeted.
Ahmed disappeared after an alleged altercation with members of the RSS-backed Akhil Bharatiya Vidyarthi Parishad (ABVP).
"We have some leads and these are being explored to ensure a safe rescue. Details cannot be shared now," additional DCP (South) Nupur Prasad said. A cash reward of Rs 50,000 has been announced for information about him.
Vice-chancellor M Jagadesh Kumar, who was detained allegedly without food and water along with his colleagues, termed the blockade illegal confinement and warned that the "law will takes its course" if officials are not allowed to work.
The protesters countered Kumar's no-food, no-water accusation, saying no one was confined illegally and food was sent to the officials. "You all know the proctor was outside and he freely walked into the building," student union president Mohit Pandey said.
For his part, the vice-chancellor said the union was blatantly lying.
"They laid a siege to the gate. How could we walk over them? We had little option but to go back to our rooms. There was no food and we slept on the floor."
The crisis in one of India's top educational institutions began on Friday, when violence was reported from the Mahi-Mandvi hostel on the campus. A faction of students says ABVP members thrashed Ahmed, while another group alleges that the Muslim youth slapped a fellow hostel ward.
The situation worsened after he disappeared on Saturday and his family lodged a police complaint on Tuesday. An FIR was registered for kidnapping and wrongfully confining a person.
"Let me see the face of my child once. "I am from a very small place ... I want to see my child safe," a sobbing Fatima, Ahmed's mother, said. She rushed from Badaun in Uttar Pradesh after receiving her son's frantic call on the night of October 14.
The Left-controlled JNU student union alleged the university was doing little to trace Ahmed and punish members of the ABVP. The union said the protest would continue till he is found.
"The mode of the protest has changed. We will protest tomorrow at the home ministry. We want action against those who beat up Najeeb. There should be a fair inquiry," said Rama Naga, former JNUSU general secretary.
JNU has been rocked by protests and an ugly row over nationalism after a controversial event commemorating 2001 Parliament attack convict Afzal Guru in February. Classes in the university were suspended for days and students went on strike against the government's move to arrest and charge top student union leaders with sedition.
(With inputs from Karn Pratap Singh in Delhi)
Close Story