AAP crisis: Kejriwal, Sisodia call urgent meeting to resolve Kumar Vishwas conflict
Updated on Jun 01, 2017 05:08 PM IST
Kumar Vishwas sparked the crisis in the AAP after he challenged the party's stand blaming electronic voting machines (EVMs) for the defeat in the recently held municipal polls.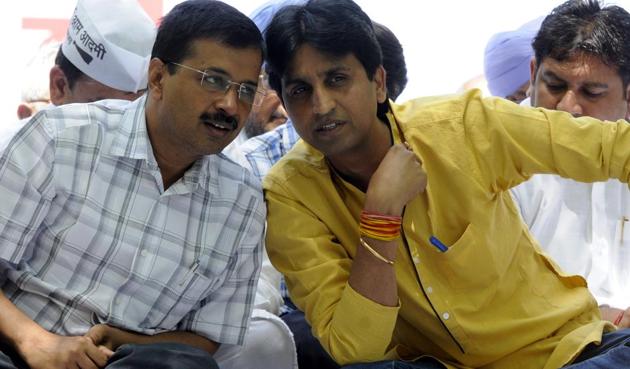 Hindustan Times |
, New Delhi
HT Correspondents
Delhi chief minister and AAP convener Arvind Kejriwal has called an urgent meeting of party's political affairs committee (PAC) on Wednesday to settle the discord with old confidant Kumar Vishwas. (LIVE UPDATES)
In a desperate bid to keep party together, Kejriwal and his deputy, Manish Sisodia, visited Vishwas's residence in Vasundhara late on Tuesday night where senior leaders Sanjay Singh and Ashutosh were already holding a meeting with him.
"Vishwas is an integral part of the party. He is angry but will come around. We are going to my place to have tea," Kejriwal said after the meeting following which they left for the CM's residence in Civil Lines.
Vishwas is also attending the PAC meeting at 11 am.
Aam Aadmi Party (AAP) leader Kumar Vishwas on Tuesday accused a section of party colleagues of conspiring against him and said he will "take a decision tonight", potentially hinting at quitting amid raging dissension in Delhi's ruling party.
Within hours of the announcement, Sisodia criticised Vishwas for speaking "only to the media", indicating the leadership's disapproval of the poet-turned-politician's public statements.
Vishwas sparked the crisis in the AAP after he challenged the party's stand blaming electronic voting machines (EVMs) for the defeat in the recently held municipal polls.
A few days later, another AAP leader Amanatullah Khan – the Okhla legislator – described Vishwas as an "RSS agent" and accused him of conspiring to take control of the party, led by Delhi chief minister Arvind Kejriwal.
Kejriwal is struggling to keep the party together after a series of election setbacks, including the drubbing in Punjab and the municipal polls.
On Tuesday, a teary-eyed Vishwas said Amanatullah Khan was just a "mask" used by some AAP leaders to attack him.
"And then I realised this is not being said by an MLA (Khan)...he is only a mask and someone else is speaking behind him," Vishwas said.
Vishwas also blamed a "coterie" within the AAP for its election reverses but did not elaborate.
Though Vishwas said he will not join "any other party", he kept his options open for leaving the AAP.
"I don't want to become the chief minister, deputy chief minister, convener of a party and neither do I want to join any other party.... I didn't come to do this. I will take a decision tonight...."
An hour later deputy, Sisodia criticised Vishwas for speaking to the media rather than raising his concerns in the party forum.
"We have gone to meet him several times. Arvind himself met him and spoke to him for three hours at his house. Still, he is not coming to attend the PAC (political affairs committee meetings), and is only talking to TV," Sisodia said.
"Party workers know very well which party or which power is benefitting from his repeated statements on TV channels," the deputy CM said, seen as a reference to the BJP.
He also rubbished Vishwas' claims of being one of the founders of the AAP.
"He (Vishwas) is repeatedly saying this party was founded by three people – Arvind Kejriwal, me and Kumar Vishwas. This is totally worng. This party was formed by the lakhs of party workers in India and abroad."
Kejriwal had earlier defended Vishwas by terming him a "brother". But political experts believe that Vishwas may have have crossed the red line for the temperamental chief minister, who is often accused of building the party around himself.
Personalise your news feed. Follow trending topics