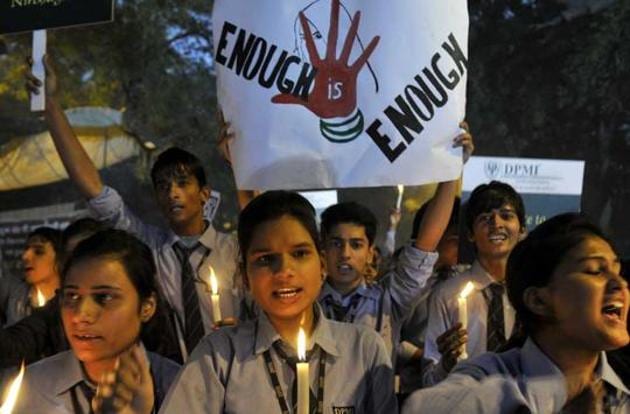 Three-year-old raped by neighbour in Delhi, undergoes surgery
The accused, a 22-year-old daily wage worker was thrashed by locals at Anand Parbat after they caught him allegedly raping a 3-year-old girl. He was handed over to the police later.
Hindustan Times | By Karn Pratap Singh
UPDATED ON MAY 06, 2017 05:52 PM IST
A three-year-old girl was raped allegedly by her neighbour in central Delhi's Anand Parbat on Wednesday morning. The girl suffered injuries in her private parts. The girl underwent a minor surgery and is under observation, said police. They said the condition of the girl was stable and she was recuperating.
The accused, a senior police officer said, was arrested after he was caught red-handed by the girl's parents and neighbours. They beat him up, called the police control room and handed him over to the police. The accused was identified as Vijay, a 22-year-old daily wage worker. Vijay was produced before a city court that sent him to jail, said the officer.
According to the officer, the crime came to light around 7.30am on Wednesday. The girl lives with her family in a slum cluster in Baljeet Nagar near Anand Parbat in Delhi. Her father is a rickshaw puller while the mother works as a domestic help. Vijay lives in the same locality and worked with the girl's parents. As Vijay was known to the girl's family, he often visited them.
On Wednesday around 7am, the girl's parents were busy in some work when the girl went out to play with friends. Finding her playing alone, Vijay approached the girl and allegedly lured her to his jhuggi with the promise of giving her chocolates. "Vijay raped the minor girl after threatening to harm her and her parents if she screamed or told anybody about it," said the officer.
Meanwhile, the girl's parents found her missing and went looking for her in the locality. As their daughter knew Vijay, they entered his jhuggi to search her. The parents were shocked when they saw Vijay allegedly forcing himself on their daughter. The mother raised an alarm after which Vijay tried to flee. However, the girl's father overpowered him with the help of some neighbours.
A neighbour called the police control room and the injured girl was rushed to a nearby government hospital. "The girl underwent a minor surgery to stop the bleeding. She was later discharged," the officer said.
"A case under relevant sections of protection of children from sexual offences (POCSO) act and Indian penal code (IPC) was registered at the Anand Parbat police station and the accused was arrested," the officer added.
An NGO has been roped in to provide counselling to the girl.
Close