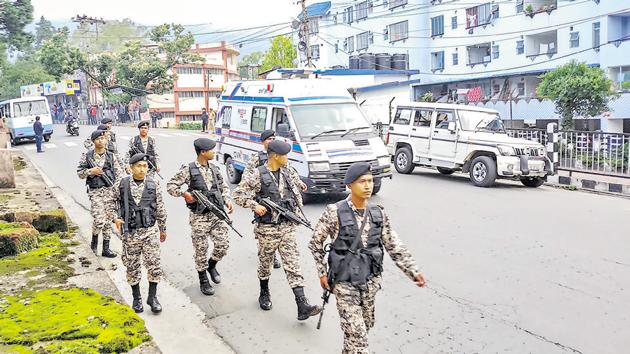 The violence in Shillong shouldn't surprise anyone
What makes the Shillong problem more dangerous is the absence of any tangible civil society, which often functions to calm tensions and bring people together. The new government of Conrad Sangma is on test here and so far, despite attempts to effect a reconciliation between the two sides, its performance has not been as encouraging
UPDATED ON JUN 05, 2018 07:33 PM IST
The ongoing violence in Shillong with the local Khasis pitted against Mazhabi Sikh settlers is not without precedent. In the 1979, it was the Bengalis who faced the ire of the locals and later in 1987, the Nepalis and Biharis were forced to flee town. The latest trouble began when an altercation between a Khasi bus driver and Sikh women careened out of control after initially being contained by the police. An inflamatory and fake Whatsapp message on some Khasi boys being killed is believed to have intensified hostilities to the point that the army was called in. Yet again, fake news on a messaging platform was behind a situation. Finally, the land occupied by the Punjabis who were brought in by the British in the 19th century to work in the state has also been a source of tension for some time now.
The resourceful Punjabis who have enjoyed a modest degree of prosperity by sheer dint of hard work have invited the wrath of locals who feel that jobs are being taken away by outsiders. Much of this sentiment is driven by the fact that economic space is limited in Meghalaya and there is very little by way of job generation. The Sindhis and Marwaris who have also been there for generations have managed to stay under the radar and go about their businesses quietly. The Punjabis happen to be on land which is centrally located leading to some demands that the colony be relocated.
The tendency to view settlers who have lived in a locality for generations as outsiders is not characteristic of Meghalaya alone, it is seen across India. In Mumbai, the concept of outsider tends to change along with political compulsions. Outsiders are blamed for using up scarce resources and contributing to social ills.
This must be curbed at all cost as there are many such potential flashpoints across many states. The location of the Punjabi settlement in what is now prime land is another problem, though the original settlers had no choice in the matter. Attempts at relocating them have failed. It is unfortunate that this comes at a time when the tourism industry in the state, with its promise of more jobs, is picking up.
What makes the Shillong problem more dangerous is the absence of any tangible civil society, which often functions to calm tensions and bring people together. The new government of Conrad Sangma is on test here and so far, despite attempts to effect a reconciliation between the two sides, its performance has not been encouraging.
Close