Live
Assam HS Result 2022 LIVE: Dhritiraj Bastav Kalita tops in AHSEC 10th Science
Jun 27, 2022 10:56 AM IST
Assam HS Result 2022 Live: AHSEC has declared Class 12th results at 9 am on ahsec.assam.gov.in and resultsassam.nic.in. Live updates
Assam Board AHSEC HS Result 2022 Live Updates: Assam Higher Secondary Education Council (AHSEC) has declared Assam HS result 2022 today, June 27, at 9 am. Once results are announced, students can go to resultsassam.nic.in, assamresult.co.in, assam.resut.in, and board website ahsec.assam.gov.in to check their scores using roll number.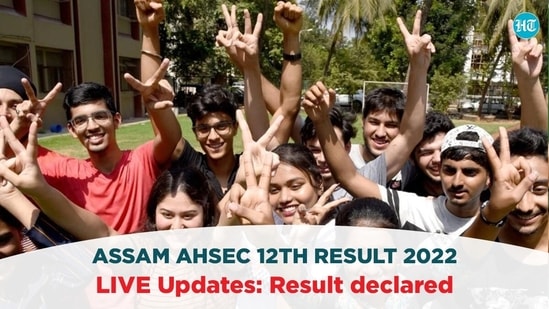 As many as 156107 students appeared for Higher Secondary exam in Arts stream and of them, 130324 or 83.48% have passed. Sadhana Devi of Kamrupa Girls' Senior Secondary School and Cherry Gohain of Womens College Tinsukia have topped with 487 marks.
A total of 33534 students took the exam in Science stream and 30915 or 92.19% have been declared pass. Dhritiraj Bastav Kalita of Deomoroni HS School has bagged the first position with 491 marks.
In Commerce, 15199 students had appeared and 13264 or 87.27% have passed. Sagar Agarwal of Vivekananda Senior Secondary School, Cachar (482 marks) is the Commerce topper.
Apart from the official website, Assam HS results will also be available on some unofficial websites. Students are advised to check their result on official websites for authenticity.
Follow all the updates here:
Jun 27, 2022 10:56 AM IST

Assam HS result 2022: Arts pass percentage in 3 years

Here is a comparison of percentage of students who passed HS exams in 2020, 21 and 22.

2020: 78.28%

2021: 98.93%

2022: 83.48%

Jun 27, 2022 10:54 AM IST

Assam HS result 2022: What result data shows

Result data released by AHSEC shows that pass percentage has dropped in all streams compared to 2021. However, it is also important to note that last year's results were based on alternative assessment criteria, not final exams. The pass percentage has improved in Science and Arts and decreased in Commerce, when compared to 2020, when exams were held.

Jun 27, 2022 10:08 AM IST

Assam HS result 2022: CM Himanta Biswa Sarma congratulates students

Congratulating students after Assam Higher Secondary results, Chief Minister Himanta Biswa Sarma wrote on Twitter: Congratulations to all students who passed the HS exams, results of which were declared today. May you all continue excelling in your academic pursuits.

"However, those who couldn't perform well shouldn't lose heart but keep trying. I'm sure you too will be crowned with success," he added.

Jun 27, 2022 09:50 AM IST

Assam AHSEC HS result 2022: Arts stream

Appeared: 1,56,107

Passed: 1,30,324

Pass percentage: 83.48%

First division: 29,487

Second division: 52,944

Third division: 47,893

Jun 27, 2022 09:45 AM IST

Assam HS results 2022: AHSEC Commerce stream results at a glance

Appeared: 15,199

Passed: 13,264

Pass percentage: 87.27%

1st division: 5,018

2nd division: 5,186

3rd division: 3,060

Jun 27, 2022 09:40 AM IST

Assam HS result 2022: 92.19% students pass AHSEC Science stream

As many as 92.19% students have passed in the Science stream, which is highest among the three streams.

Appeared: 33,534

Passed: 30,915

First division: 20,171

Second division:9,833

Third division: 911

Jun 27, 2022 09:37 AM IST

Assam HS results 2022: Science stream toppers

DHRITIRAJ BASTAV KALITA
ALANGKRITA GAUTAM BARUAH
SURAJIT SUTRADHAR
RITTIK KUMAR SUT, ALDRIN NATH
AYMAN SHOAIB, RUHAN SAIKIA
AVILASHA DUTTA
DEBABRATA KALITA, VAIBHAV SONOWAL
GAURANGA BHUYAN
SAPTARIKHI KALITA, DEBASHISH SHARMAH, BIKIRAN NATH, PRITAM SARKAR
SUPRAJIT SAHA, ANTARIKHYA MAJUMDAR, DEBAGYAN BORDOLOI, KISHAN HARLALKA, BEDANTA SARMA

Jun 27, 2022 09:30 AM IST

AHSEC Assam HS result 2022: Commerce toppers

SAGAR AGARWAL
MANOSH JYOTI BORTHAKUR
NIKHIL GUPTA
NANCY KHETAWAT, PRIYAKSHI GHOSH
PRATHAM AGARWALLA
MRINAL RAY, DEEPAK LODHA
VANDANA BALDEWA
SIMRAN SURANA
CHANDAN BORA
PRIYANGSHU DAS

Jun 27, 2022 09:26 AM IST

Assam HS results 2022: Arts stream top 5 ranks

SADHANA DEVI KAMRUPA GIRLS' SENIOR SECONDARY SCHOOL, KAMRUP (RURAL) and CHERRY GOHAIN, WOMENS COLLEGE, TINSUKIA
BIDISHA MISRA, SANKARDEV ACADEMY (SENIOR SECONDARY SCHOOL), NALBARI
SUDIPTA DEBNATH, SANKARDEV SENIOR SECONDARY SCHOOL, HOJAI and NILOY KURMI, RAMANUJAN SENIOR SECONDARY SCHOOL, NAGAON
PRIYANKA BAISHYA, ASSAM VALLEY ACADEMY, NALBARI
MADHUSMITA BEZBARUAH, ANUNDORAM BOROOAH ACADEMY, BARPETA and PRATYOSH PRATIM BORAH, CONCEPT SENIOR SECONDARY SCHOOL, NAGAON

Jun 27, 2022 09:20 AM IST

Assam AHSEC Class 12th result 2022: HS result direct link

Direct link to check HS result 2022:

Jun 27, 2022 09:15 AM IST

Assam HS result 2022: AHSEC Commerce topper

Sagar Agarwal of Vivekananda Senior Secondary School, Cachar (482 marks) is the Commerce topper in Assam HS Class 12th results.

Jun 27, 2022 09:14 AM IST

Assam HS result 2022: Science stream topper

Dhritiraj Bastav Kalita of Deomoroni HS School has bagged the first position in Science stream with 491 marks.

Jun 27, 2022 09:13 AM IST

Assam HS result 2022: Meet Arts toppers

Sadhana Devi of Kamrupa Girls' Senior Secondary School and Cherry Gohain of Womens College Tinsukia have topped with 487 marks.

Jun 27, 2022 09:06 AM IST

Assam HS result 2022 declared

Assam Higher Secondary final exam result 2022 has been declared.

Jun 27, 2022 08:55 AM IST

HS result 2022 Assam: 5 minutes remaining

Only 5 minutes remaining for Higher Secondary results. Link will be added here soon.

Jun 27, 2022 08:54 AM IST

Assam AHSEC HS result 2022: Steps to download marks sheet

Go to ahsec.assam.nic.in, resultsassam.nic.in or any other website
On the homepage, click on the Higher Secondary result link
Login with your final exam roll number
Check HS result

Jun 27, 2022 08:48 AM IST

Assam HS result 2022: Keep these details ready

Students are advised to keep their Higher Secondary admit cards ready. They will need to use board exam roll numbers to download Assam Class 12th result.

Jun 27, 2022 08:36 AM IST

Assam AHSEC HS result 2022: Number of candidates

Here is number of candidates who appeared for Higher Secondary final exam in Assam:

Arts: 1,56,107

Science: 33,534

Commerce: 15,199

Jun 27, 2022 08:29 AM IST

Assam HS result 2022: 30 minutes remaining for AHSEC Class 12 results

Only 30 minutes remaining for Assam HS result 2022. Students are advised to keep their admit cards ready.

Jun 27, 2022 08:23 AM IST

Assam HS result 2022: Press conference at 9 am

The press conference for Assam HS result begins at 9 am. Students can check names of toppers, direct link for results, pass percentage etc. here at 9 am.

Jun 27, 2022 08:06 AM IST

Assam HS result 2022: How to check marks sheets

To check marks sheets, students can go to ahsec.assam.gov.in or resultsassam.nic.in and login with their roll numbers after 9 am.

Jun 27, 2022 08:04 AM IST

Assam HS result 2022: Last year's pass percentage

Last year, the pass percentage in Assam HS result in different streams were:

Arts: 98.93%

Science: 99.06%

Commerce: 99.57%

Jun 27, 2022 07:37 AM IST

Assam HS result 2022: Science, Arts and Commerce toppers

Who are toppers in Science, Arts and Commerce streams this year? Stay tuned for the latest updates.

Jun 27, 2022 07:22 AM IST

AHSEC HS result 2022: When can students check scores

AHSEC HS 2nd year results will be officially declared at 9 am at a press conference. Students should visit the board website at 9 am to check their marks sheets.

Jun 27, 2022 07:10 AM IST

Assam HS result 2022: How to apply for photocopy of answer sheet

If students want photocopies of their answer sheets, they can apply for it July 9 onwards on ahsec.assam.gov.in. The last date to apply is July 25.

Jun 27, 2022 06:53 AM IST

AHSEC Assam HS result 2022: Mark sheets

After downloading e-mark sheets, students should check and ensure their names, roll numbers and other details are correctly mentioned. If there is an error, they should immediately inform their schools/colleges about it.

Jun 27, 2022 06:52 AM IST

Assam HS result 2022: Re checking of answer sheets

In a recent notification, AHSEC said that students who want to apply for re checking of HS exam answer sheets can do it fro July 1 to 7 (5 pm) on ahsec.assam.gov.in.

Jun 27, 2022 06:29 AM IST

Where to check AHSEC HS Class 12th results 2022

Official websites for Assam board HS results are: ahsec.assam.gov.in, resultsassam.nic.in, assamresult.co.in and assam.resut.in.

Jun 27, 2022 06:13 AM IST

AHSEC HS result 2022: Assam board exams held after a year

Last year, AHSEC did not conduct Higher Secondary Final exam in Assam. After much discussion, these exams were cancelled in view of the second wave of Covid. The board used an alternative assessment method, giving weightage to previous exam marks and internal assessment to prepare HS final result. No toppers were announced last year as there was no exam.

Jun 27, 2022 05:56 AM IST

Assam Higher Secondary Class 12th results: Toppers will be announced

In the result press conference, AHSEC officials will announce names of Higher Secondary Science, Commerce and Arts toppers.

Jun 27, 2022 05:55 AM IST

Assam HS result 2022: Press conference

AHSEC will hold a press conference at 9 am to declare Higher Secondary results. After that, students can go to board websites and download marks sheets.

Jun 27, 2022 05:53 AM IST

Assam HS 2nd year result 2022 date

Assam HS 2nd year results will be announced on June 27 at 9 am.

Jun 27, 2022 05:48 AM IST

Assam AHSEC HS result 2022: How to check scores

After 9 am, visit the AHSEC website and follow these steps to check marks sheets:

On the homepage, click on the HS 2nd year final result link
Enter your roll number and/or other details
Submit and view scores

Jun 27, 2022 05:30 AM IST

Assam HS result 2022: What Himanta Biswa Sarma said

Assam Chief Minister Himanta Biswa Sarma on June 25 tweeted, "Results of the Assam Higher Secondary (HS) final examinations will be declared on June 27 (Monday) at 9 am. My best wishes to all the students who had appeared in the examinations".

Jun 27, 2022 05:22 AM IST

Assam HS result 2022: What is required to check AHSEC Class 12th scores

In order to check Higher Secondary results, students will have to use their board exam roll numbers. They are advised to keep admit cards ready.

Jun 27, 2022 05:14 AM IST

Assam HS Class 12th result 2022: Websites to download marks sheet

These are the official websites to check Assam HS final result:

ahsec.assam.gov.in
resultsassam.nic.in
assamresult.co.in and
assam.resut.in

In addition to these, many private portals will also host results.

Jun 27, 2022 05:08 AM IST

AHSEC Assam HS result 2022 date and time

Assam HS result 2022 date: June 27

AHSEC Class 12th result 2022 time: 9 am

Jun 27, 2022 05:06 AM IST

Assam AHSEC HS result 2022: Class 12 results today

Assam Higher Secondary Education Council will declare Higher Secondary (Class 12) final examination result on June 27.

Jun 26, 2022 08:26 PM IST

Assam HS 12th Result 2022: How to check AHSEC results

Go to resultsassam.nic.in or www.ahsec.nic.in
On the homepage, click on the Assam HS result link
Login with your roll number
Submit and view scores

Jun 26, 2022 07:54 PM IST

Assam 12th Result 2022: Where to check AHSEC HS results

Websites to check Assam HS results are:

resultsassam.nic.in
assamresult.co.in
assam.resut.in
ahsec.assam.gov.in

Jun 26, 2022 07:52 PM IST

AHSEC Assam HS 12th Result 2022: Login credentials to check Higher Secondary results

To check AHSEC result 2022, candidates need to use their board exam roll numbers. They are advised to keep their admit cards ready.

Jun 26, 2022 07:34 PM IST

Assam Board Result: AHSEC result press conference

Assam Board Result 2022: AHSEC will hold a press conference at 9 am to announce Assam board results and soon after that, students can check their scores on the board website, ahsec.assam.gov.in and resultsassam.nic.in.

Jun 26, 2022 07:32 PM IST

Assam board HS result 2022 date and time

Assam Class 12 Result Date: June 27

Assam HS 12th Result 2022 time: 9 am

Jun 26, 2022 07:30 PM IST

Assam HS result 2022: Class 12th results tomorrow

Assam Higher Secondary Education Council will declare HS result 2022 on June 27.

Topics

Story Saved